This article is now out of date. Lots of new material is now available! Read more here: Where to get content in OpenSim.
One of the great advantages of using OpenSim as a virtual world platform is the availability of free or low-cost ready-made worlds.
OpenSim allows world owners to save backups of regions in the form of OAR files — and then to load those OAR files back up into new or existing regions.
This also allows OpenSim users to give away or sell their OAR files. Educational institutions can create educational worlds and share them with the wider community. OpenSim designers, developers and architects can make and distribute OAR files as free samples of their work.
So how are they distributing the OARs? Well, as with Website templates, individual designers can make them available on their own Websites, and educators can pass them around to colleagues, or post them on educational forms.
But there are also a few centralized locations for OAR files that OpenSim users can keep an eye on.
So far, the selection of available content is slim, and there is duplication among the sites.
This may change as more designers start looking for ways to promote themselves and the various outlets differentiate themselves.
Rexxed
At Rexxed, you can find not only OAR files but also individual objects and tools, skins, terrains, and even animations.
The Maya Pyramid on left, for example, is part of an OAR file created by Dave Pentecost. In addition to the pyramid, the region also contains other Mexican architecture –  large houses with courtyards and small thatched palapas, or grass huts.
The selection of OAR files is limited, with no new OARs uploaded since July.
MyOpenSim Hypergrid Store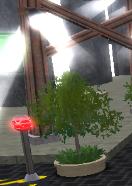 OpenSim-based MyOpenGrid's MyOpenSim Hypergrid Store offers a selection of OAR files.
The Nu Athen build, for example, is a free download and the license allows for the modification and distribution of the contents, as long as the original designer continues to be credited for the work.
It's a futuristic city design, which could serve as the basis of an office environment.

As with Rexxed, OARs aren't the only types of content available. But, again, the selection is limited and overlaps a bit with that of Rexxed.
MyOpenGrid, by the way, is one of the mid-sized grids in the OpenSim universe.
ReactionGrid Outpost
ReactionGrid's Outpost is developing to be a major distribution point for educational and business-related OpenSim products.
The current selection includes free-to-download region files such as this futuristic "Skybar Lounge" from the Cube3 design firm.
The selection here is small, as with the other sites, but unique and very professional, with some region files priced up to US $1,100.
The Outpost is also a place to pick up education and collaboration tools.
OpenSim Worlds
OpenSim Worlds is a self-serve clearinghouse for OpenSim OAR files.
Sharing a world is as simple as filling out a form with the price of the region, an image file, and a link to where to get it.
In addition to the region pictured at left, OpenSim Worlds also features the Greenbush CSI Lab educational build.
And if you're tired of holding your business meetings in the same old locations, check out the Mars Simulator.
Latest posts by Maria Korolov
(see all)