Press Release: Virtual Obama, Palin & Trump Set Stage for Most Entertaining Political Season Yet
Utherverse Re-Creates Popular Political Figures As 3D Characters For Fun & Free Speech On Virtual Wide Web
Vancouver, BC – If the recent friction between President Obama and Donald Trump is any indication, the 2012 political season promises to be an interesting one. Utherverse Digital Inc., creator of the Virtual World Web (VWW), hopes to add to the entertainment with its creation of lifelike, computer-generated versions of Obama, Trump and Sarah Palin, just released from Utherverse. Members of the Vancouver based software company's virtual community can use these political avatars for fun and free speech during the upcoming elections.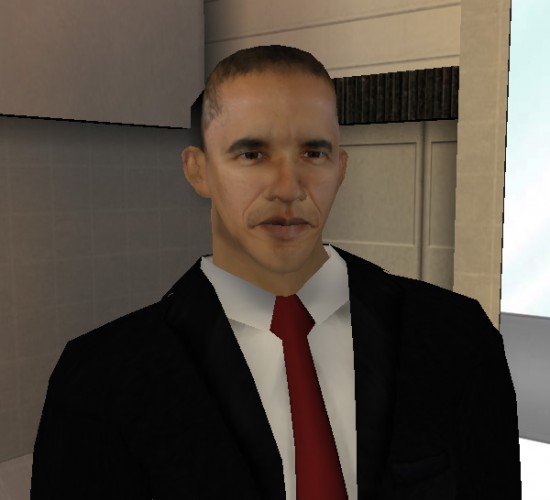 Utherverse's introduction of real political celebrities as avatars follows the success of its Charlie Sheen, Prince William and Kate Middleton avatars, and its recent hosting of the virtual Royal Wedding. Obama, Trump, and Palin are the first of many high profile political figures whose 3D likeness will be made available to users of the virtual world web, making it easy for users to create playful or serious videos of animated "machinima" scenes, high-quality political "still shot" cartoons, and endless possibilities for parody and political debate. Candidates themselves will even have the opportunity to use Utherverse's wide-reaching platform to interact with millions of registered voters like never before.
The VWW has 7 million online members that use Utherverse's PC & Mac compatible 3D Web browser to navigate a network of 57,000 virtual 3D communities – interacting, socializing and conducting business in sophisticated ways not possible on the "flat" Internet. In this virtual universe, every person has a video game-like avatar they can use to perform at karaoke bars, try on clothes at actual virtual stores, and even teach or attend live online classes at UtherAcademy.
"People used our Charlie Sheen avatar to create incredibly entertaining, viral videos, and I have no doubt such high profile political avatars will inspire similar creativity," said Brian Shuster, Utherverse founder and CEO. "Anyone with a computer will be able to use these characters to put out professional looking commercials for or against candidates, make parody spots that really drive home a point, and easily create cartoons that are fun and engaging. Situations like the recent sparks between Barack Obama and Donald Trump will no doubt provide fodder for all kinds of fascinating, potentially viral YouTube videos."
Though Utherverse's main goal in adding political avatars is to provide a voice for its users, the company also plans to give the actual candidates the opportunity to be heard on the virtual world web. Politicians can hold virtual town hall meetings, give speeches, and host meet and greets in a safe environment where they can actually interact with voters and address millions of users from any location in the country.
"Utherverse presents the most wide-reaching speech platform ever developed, going way beyond what YouTube, Facebook, or the rest of the internet can do," noted Shuster. "In the 2012 election cycle, we think our next generation 3D web platform will be the social media of choice. I wouldn't be surprised if President Obama himself showed up in Utherverse because he is a very forward thinking, progressive minded guy. I think he would easily see the value of being able to interact so intimately with the electorate."
About Utherverse
Utherverse is the leading developer of the 3D Web, the Virtual World Web (VWW), which currently consists of more than 50,000 independently operated virtual worlds. The company was formed in 2002 with the goal of supplementing the flat web with a 3D web that could bring a new kind of efficiency to businesses and users, in entertainment, education, commerce and charity.
Among Utherverse's offerings are the Virtual World Web –TheVWW.com – which provides simple software that enables anyone to create their own Virtual World, and Virtual-Vancouver.com, a music-focused online community.
For more information, please see http://www.utherverse.net

Latest posts by Press Release
(see all)