Linda Kellie, whose free content has made her website a go-to destination for folks making their move to OpenSim and needing content, has released her first OAR file (free download here).
This complete region includes a small freebie store with starting avatars, animations, and a large collection of textures. There is also a sandbox with a building tutorial, a school house with classroom, an office building, and a commercial block with an eclectic collection of quaint stores.
Everything on the region — from the lilies in the pond to the buildings — is an original creation, licensed as Creative Commons Attribution 3.0.
That means that schools and companies setting up new grids can take the region and all of its content and use it or modify it in any way they see fit, even in commercial work, as long as Linda Kellie is credited as the original designer.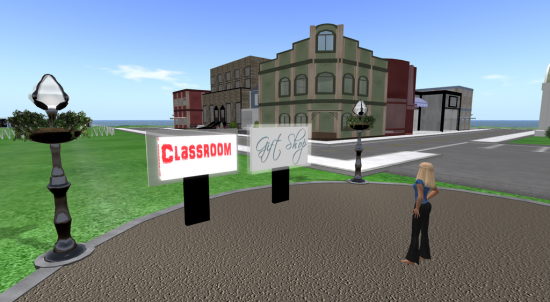 "I don't really care what you do with them or how you do it," she says. "I will never file a DMCA on anything I have ever made. I really just want people to have the freedom of having something with no rules, no TOS, and no fears."
Companies or schools looking to redistribute the content can credit Linda Kellie in the item descriptions, or in attached note files, if the creator credit gets lost during the import process.
Some items may have been previously sold in Second Life under one of Kellie's avatars, which include Ayla Holt, Jayce Tearfall, Sin Delight and Betray Resident, but are now available free.
Kellie said she plans to add some more content to the OAR, including more clothing. And she's already begun work on her next OAR, which will be winter-themed.
An OAR file is a complete OpenSim region, together with terrain, landscaping, objects, textures scripts. Uploading an OAR to a grid is a quick way to import a large amount of content. Kitely allows instant OAR uploads whenever a user launches a new region, and many OpenSim hosting providers also support OAR uploads.
Kellie is not available for paid custom design work — but she does take requests, she says.
"I don't charge for anything I do," she says. "I will take requests and if it's something I can do, I would do it for sure. I really would like to contribute as much as possible to the educational grids. I also like knowing that the average opensim player is getting some enjoyment because of something I provided to them."
A copy of the Linda Kellie OAR is available on Kitely, for those who have Facebook accounts. The OAR can also be visited on other regions, where it's been uploaded to the Galicia and Westhall regions on OSGrid, and on NeoGrid at hbase42.hopto.org:8002:hbase42test.
Schools and companies have recently seen an explosion in both free and paid OpenSim content with enterprise-friendly license terms. Last month, OSGrid president Michael Emory Cerquoni — also known as Nebadon Izumi in-world — released the four-region Universal Campus, originally designed for the Institute of Genomics and Bioinformatics at the University of California Irvine. And several websites — LindaKellie.com, OpenSim Creations, Total Avatar Shop, FleepGrid Shop, among others — offer OpenSim and Second Life-compatible content for download.
Latest posts by Maria Korolov
(see all)