OpenSim's 40 largest grids passed the 30,000 region mark this month, with a new total of 30,214Â regions, a record high. The number of registered users on those grids reached 324,021Â — with more than 4,000 new registrations over the past four weeks. Active users numbered 18,615.
The non-profit OSgrid was the biggest gainer, with 452 new regions, followed by Kitely with 176 new regions, Metropolis with 96 new regions, and Lost Paradise with 79 new regions. Other grids gained 30 regions or less.
There were 267 public grids active at least some of the time over the past month, 214 of which reported statistics. There were a total of 32,458Â regions, 341,193Â registered users and 21,056Â active users on those 214 grids.
This count does not include private grids, such as grids run behind school firewalls, or grids set up to run large corporate simulations, or the more than 9,000 regions running on personal New World Studio installations.
The top 40 OpenSim grids now have nearly 4,000 Â more regions than Second Life.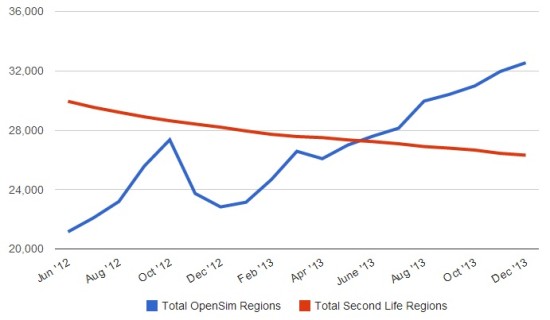 OpenSim has an edge over Second Life when it comes to land because individuals can set up regions for free, or rent regions from a number of vendors competing on both price and service at about a tenth the price of similar Second Life regions.
However, active OpenSim user numbers on the public grids are a tiny fraction of Second Life's active user base.
Popularity
For company and school grids, relative popularity is not an issue — the grids are set up for a specific purpose, and if they meet that purpose, then they are successful. The same is true for grids run by niche communities or that serve a special purpose not found elsewhere.
But when it comes to general-purpose social grids, the rule of thumb is: the bigger and busier, the better. People looking to make new friends look for grids that already have the most users. Merchants looking to sell content will go to the grids with the most potential customers. Event organizers looking for the biggest audience… you get the idea.
With that in mind, here are the 10 most popular grids this month:
The single biggest change on this list was the loss of AviWorlds, which closed again this past month, possibly for good. Craft was the big gainer, with 138 new active users, Lost Paradise gained 52 new actives, Dorena's World gained 32, and Metropolis gained 29. InWorldz lost 366 active users over the past four weeks, Avination lost 147, Kitely lost 75, Island Oasis lost 61, and Virtual Highway lost 40.
Overall, there was a net loss of 678 active users on the top 40 grids, about half due to AviWorlds, the rest possibly due to seasonal effects. People may be spending more time with their families, and school grids may be scaling back their activities, during the holiday season.
News from around the grids
The big news this month, as mentioned above, was the closing of the much-troubled Brazilian social grid AviWorlds.
The grid had 279 regions and 347 active monthly users at last count, but all the regions were operated by and paid for grid owner Alexsandro Pomposelli, also known as Alex Ferraris in-world.
"The plan was to build, get content, so that later on the grid would grow on its own," Pomposelli told Hypergrid Business in an email sent via his Android phone. "But I'm sleeping in my car now and taking showers in my gym. I'm really in a bad time now unfortunately. I did not want to close it down this time but it seems like it always has to be something."
AviWorlds has repeatedly changed hosting providers, suffered outages, and had been closed — or was on the brink of closing — scaring users away from making significant investments in the grid through either land or inventory.
"The first time, Dreamland Metaverse corrupted our database and oversold," Pomposelli said, explaining one of the outages. "The second time, I had an accident and was in a coma. And now that the grid seemed to be okay, people just did not care enough and did not donate — and I had to leave my home."
Dreamland Metaverse  CEO Dierk Brunner denied this account of events.
"In fact the database was okay," Brunner told Hypergrid Business. "His new hosting guys just turned out not able to restore such a huge database. And what he calls 'oversold' probably means that against our strong recommendation he put too many regions onto a single OpenSim region process, causing the expected stability issues with much content or many visitors."
Commonwealth Grid moves to Lost Paradise
Commonwealth Grid was a group of themed OSgrid regions donated by Sam Greenway and organized by Mattie McBride, with the goal of eventually growing to become its own grid. But as of last month, the community had outgrown its current hosting, and began to look for an alternative.
"We found that a Commonwealth-only grid was not only cost prohibitive at this time, but also did not make sense," the group announced in a recent blog post. "We wanted to continue to improve our regions, finish the building, terra-forming, and neighborhood creation, open up our Learning Center and most of all, concentrate on resident development. And not necessarily did we need to do this on our own, lonely grid."
The group turned to Lost Paradise, instead.
"Not only is Lost Paradise classy but it has a mature and established resident base," they said. "And they were willing to take on Commonwealth, not as a separate grid, but a bit more than a simple estate. More like an alliance and a promise to grow together, to be mutually beneficial to each other."
Lost Paradise owner John Cloneu said that the move to his grid accounted for most of this month's 79-region increase. Commonwealth Grid now has 65 regions on Lost Paradise, out of a total of 436 regions.
"They are now making sure that everything transferred properly and they are all running as they should," Cloneu told Hypergrid Business.
Kitely delays hypergrid, announces pricing changes, drops plugin
Kitely residents and merchants anticipating hypergrid travel and marketplace sales will have to wait a little longer, as the grid has postponed hypergrid connectivity to the beginning of 2014.
The grid has also announced that it will be changing its pricing structure as of the first of the year, and that it has eliminated its viewer launcher plugin.
Kitely's plugin automatically configured and launched a user's preferred OpenSim viewer, which was a particular convenience to new visitors.
However, Firefox and Chrome are ending support for executable plugins, forcing Kitely to switch to a manual login process like those used by other grids.
The delay in hypergrid support is due to Kitely's recent upgrade to 0.7.6, and to preparation for the new pricing system.
As part of the upgrade, Kitely fixed a number of bugs and added new features such as materials support, multiple attachment, more scripting commands, better maps, and improved performance. The bug fixes will be donated back to the OpenSim community.
As part of its new price structure, Kitely will no longer be giving out two free hours a month to every registered user, will be scaling back its metered pricing plan, and will be expanding the options for customers who prefer unlimited use pricing similar to that offered by most other grids and hosting companies.
Kitely originally launched with only a metered option, in which customers paid for the time they spent in-world and regions themselves cost about $1 each.
But according to Kitely CEO Ilan Tochner, the metered billing made customers anxious.
"The option isn't going away," he added. "It's just changing."
Today, customers can choose from a free plan that comes with two hours of usage a month and one free region, a $5 "Bronze" plan that comes with 30 hours of usage and two regions, a $20 "Silver" plan that comes with 120 hours and 10 regions, and a $35 "Gold" plan that comes with unlimited hours and 20 regions. There is also as a standard unmetered plan that ranges from $40 a month per 100,000-prim region to $100 a month for a block of 16 regions that share 100,000 prims.
All Kitely regions are on-demand, meaning that they are stored away when nobody is on them and boot up automatically when someone logs or teleports in. This allows Kitely to offer lower prices than any other hosting provider.
Starting on January 1, the Bronze, Silver, and Gold plans are all going away, replaced by a single $19.95-a-month "Premium Account" which includes five regions and unlimited access to any metered world. Existing Silver and Gold users will be able to stay on their plans, with an upgrade in hours, and 10 more regions on the Gold plan.
Kitely users who do not sign up for the Premium Accounts will still get one free region, but will need to buy time a-la-carte to access it, or so that other Regular Account users can access it, while Premium visitors will be able to access it at no additional cost. More details about the free plan are yet to come, Tochner added.
Meanwhile, Kitely will add more options for those who prefer fixed-price, unmetered regions like those available elsewhere.
"The average person will be able to reduce or eliminate their cost of using Kitely following these changes," he said.
The bottom line is that Kitely is taking a big step towards the traditional OpenSim model where all region owners pay a fixed price for their regions, and all users visit them for free. They're not all the way there yet, however, so some customers may stay confused and anxious for a while longer.
Meanwhile, Kitely Market continues to grow, with a total of 3,551 product variations now listed, up from  2,500 this time last month, an increase of 42 percent.
OSgrid to hold annual meeting
OSgrid will hold its first annual membership meeting on Bade Plaza on Sunday, December 29 at noon Pacific time.
"This will be an organizational meeting, where questions can be made and they will be answered to the best of our ability," said OSgrid secretary Lawrence Roberts, who is also known as Albertlr Landar in-world.
OSgrid also holds town hall meetings, which used to be weekly events, but were significantly scaled back in 2013 after a management change. The last town hall meeting was held in July.
Littlefield to hold holiday parties, art event
Littlefield is celebrating Christmas and New Years Eve with parties this month.
The Christmas party will begin at 9 p.m. Pacific on Christmas Eve, December 24, and run all night both nights on the Stonehaven Party Island region. Littlefield is hypergrid-enabled, and visitors can teleport to lfgrid.com:8002:Stonehaven Party Isle to attend the party.
The same region will also be the location of a formal dance party on New Years Eve, with tuxedos and gowns available in Littlefield's main mall The party starts at 9 p.m. Pacific and will run all night, with a ball drop and fireworks at midnight Pacific time.
The Littlefield Arts Group will hold an Art Gallery event on the BioTech region on January 16.
"We hope to do this every two months where we have artists come in, and then have an opening gala where artists can explain their works," said grid founder Walter Balazic. "We also have many artist stalls still available and if any artists would like to participate in displaying their art we would be honored to have them."
Littlefield is hypergrid-enabled, and visitors can teleport to lfgrid.com:8002:BioTech to visit the exhibition.
Adult-themed Karmalot Kingdom holding grand opening
The adult-themed Karmalot Kingdom grid will hold its grand opening party on January 4 from noon to 8 p.m. Eastern time.
"The goal of the Kingdom is to be the hub of the virtual world for all adult fetishes," grid spokesperson Karma Fride told Hypergrid Business. "We have a region set aside for advertising that allows other grid owners to advertise their grid and the fetish it offers."
For example, Karmalot focuses specifically on the dominance and submission lifestyle.
The grid has an unusual approach to virtual currency — its Karmalot Coins can be acquired by picking fruit and vegetables, mining, or gathering lumber on the grid.
Transitions
We're listing 46 grids as suspended this month because we haven't been able to get to their grid info pages or websites this month, including 3D Lavachat, A3D, Adrianopolis, CEHS Game Design, ChatCafe3D, Dankoville, DeasantaGrid, Digital Art and History, El Rayo Verde, EnglishGrid, Esoteric, FeelGood, Homeland3D, Huskyland, IHK Augsburg, Jameson Grid, Kinc Grid, Laboratorio GIAA, Marble Isle, Model Center Demo, Novus, Olantica, OpenSim Fuchs, Paradisia, Prim Grid, Prince of Songkla University, Realms of Eorith, S-Grid, Shangdu, Snoodle Life, SpotOn 3D, Survivor, Tu Lugar Virtual, Unica Universe, Universidad, VIBE: SCRATCH, VirBELA, Virtual Reality, Virtual Ryukyu, Virtual Theology University, Wimurion, Wonda Worldz, World of BassUnited, World-DC, Yaps, and Yiffstud.
Meanwhile, we've added several new grids to our database, including Virtual Universe, Another World, Next Grid, Next Reality, Raz Cafe, Rissland, HomeTown, Bereft Living, Campus MINT, Esoteric Island, The Itakos, OpenSim Shop, The Jungle Isles, Olimar, and Pillars of Mist.
If there's a public grid we're not tracking, please email us at [email protected]. There's no centralized way to find OpenSim grids, so if you don't tell us about it, and Google doesn't alert us, we won't know about it.
The stats page for the Diva Distro, a user-friendly distribution of OpenSim, reported 631 downloads this month, for a grand total of over 27,000 downloads since the distribution was first released in May of 2011.
Sim-on-a-Stick, a packaged version of the Diva Distro, was downloaded 1,152 times this month, for over 25,000 downloads total since the distribution was first released in May 2011.
Both the Diva Distro and Sim-on-a-Stick were recently updated to OpenSim version 0.7.6, which offers increased performance, out-of-the-box support for groups and offline messages, better teleports, a few new scripting commands, and support for a new export permission.
The New World Studio, which allows people to set up private grids in just a few clicks with a fully automated installer, recently began publishing its usage statistics. As of today, it reports 9,185Â  regions on 1,806Â different active grids running on this distribution of OpenSim. That's an increase of 568 new regions, and 117 new grids.
Meanwhile, according to data from The Hypergates, the number of hypergate jumps on their network this month increased by 484, to 3,297. The system now has 752 registered hypergates, down by five  from last month, on 58 different grids.
This data is very limited, however. For example, not all hypergates are part of The Hypergates network — anyone can create their own hypergate by dropping a script on any object, such as our touch or walk-through single-destination hypergate script. In addition, many people do hypergrid jumps without using any gate at all, simply by typing a hypergrid address into Map-Search, or by using a hypergrid landmark created during a previous jump. There is currently no way of tracking that traffic.
Meanwhile, Second Life continued to lose land, according to data from GridSurvey, with 121 fewer regions today than the same time last month. The Second Life grid now has 26,318Â regions total, down 1,885 Â regions from this time last year, and 5,567 fewer regions than its peak in June of 2010. According to GridSurvey, the last time the grid was this small was in May of 2009.
December Region Counts on the Top 40 Grids
The list below is a small subset of existing OpenSim grids. We are now tracking a total of 771 different publicly-accessible grids, 267 of which were active this month, and 214 of which published their statistics.
Many school, company or personal grids do not publish their numbers.
The raw data for this month's report is here. A list of all active grids is here.
Latest posts by Maria Korolov
(see all)