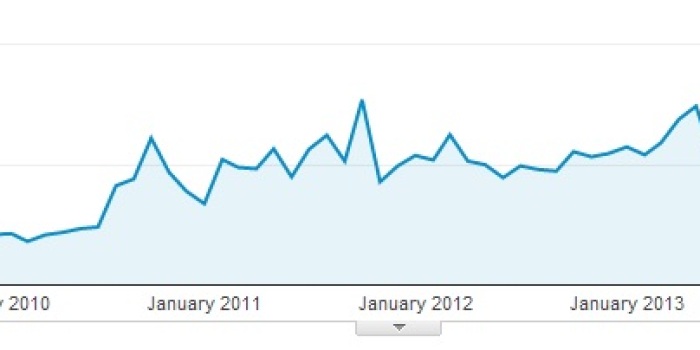 Information for advertisers
All ads are for one-month periods, beginning within 48 hours of purchase. Ads can be purchased for several months at a time — please ask about discounts. All ads are sold on a first-come, first-served basis. Hypergrid Business reserves the right to reject any ad that has inappropriate or illegal content.
Hypergrid Business is an online publication focused on the enterprise uses of virtual worlds. Our readers are developers, educators, and other professionals interested in the use of virtual environments for training, simulations, collaboration, architecture, and other business uses, as well as the consultants, experts and designers who provide products and services to them.
In addition, some of our readers are early adopters of virtual platforms learning how to create their own grids, or setting up new sim-based businesses.
Hypergrid Business was launched in late spring of 2009, and total monthly visitors have been steadily climbing. As of June 1, 2014, Google Analytics reports that Hypergrid Business has had over 495,000 unique visitors, who have visited the site more than 890,000 times and viewed more than 1.5 million pages.
During the first six months of 2014,  we had more than 90,000 different visitors who viewed over 238,000 pages, for an average of 15,000 unique monthly readers and 40,000 monthly page views.
Each Hypergrid Business ad runs on the home page and on every editorial page. Some non-editorial pages, such as "About Us" and "FAQ" pages, do not carry advertising.
Ad rates are current as of June 1, 2014. Ad rotation refers to the percentage of visitors that see a particular ad — an ad in full rotation will be seen by each visitor that visits a page. An ad in half rotation will appear 50 percent of the time. An ad in quarter rotation will appear 25 percent of the time.
All rotations are scheduled by a third-party advertising service. All advertisers get accounts on this service, are are able to track, in minute detail, how many people have viewed on their ad and how many have clicked on it. In addition, advertisers can easily swap advertising images in and out in order to test different advertising formats. Advertisers interested in running two simultaneous ads to see which performs better should buy two half-rotation ad slots. They will be able to track each ad's performance separately. We also recommend the use of landing pages to better gauge an ad's performance.
Advertisers can reserve ad slots by purchasing several months at once, with a ten percent discount for prepaying for six months.
Ads are sold on a first-come, first-serve basis.