Press Release: AI Learning Center Being Built in Second Life
The IEEE Computer Society is developing an Artificial Intelligence Learning Center (AILC) on IEEE's island on Second Life and is looking for participation from those interested in showcasing the use of AI technologies in virtual worlds, robotics, Web, and smart phone applications.
According to virtual designer Dave Fliesen, from Sonalysts Inc., the AILC aims to take the mystery out of AI and bring it to the layman's level. "Technology gains acceptance when it's accessible and useful," said Fliesen. "We hope to make it easy enough that even grandma can not only use artificial intelligence, but also program it."
In addition to fostering knowledge-sharing, the AILC is intended to help shape AI's future use. The center will include information on a wide range of AI technologies from free open source solutions to high-end AI used by government, academia, and private industry. IEEE hopes that virtual world AI applications can help AI to be better understood and its potential more fully realized.
"With the smart phone apps we see today — like on iPhones and BlackBerrys — a great deal of capabilities and knowledge are now available to anyone at the touch of a few buttons," Fliesen said. "And that's really changing the global reach of knowledge and technology. We want to challenge other computing professionals to help make AI that simplistic and easy to use. Those apps focus on delivering technologies to a mass audience with an easy-to-use and modern graphic user interface.
The AILC's conceptual design calls for a robotic building with rooms to showcase AI knowledge areas. Using the latest in holodeck and Web services technologies, the rooms will be reconfigurable to provide a fully immersive learning experience on the IEEE sims in SL.
Several rooms will be located inside of the robotic structure, including the:
• AI Room—a place inside the robot's head where people can learn about various AI technologies, see demos, download free code and scripts, and obtain information about where to purchase more advanced AI technologies;
• Robotics Room—a place inside the robot's body where people can learn about AI used in robotics; and the
• Gathering Place—a place inside the global sphere in the robot's outstretched hand which will provide a scenic setting for collaboration, social gatherings, and classes on artificial intelligence.
A Virtual Guide modeled after ancient Chinese military strategist Sun Tzu will serve as the AILC's Guardian of Knowledge. Sun was King Ho Lu's general circa 500 BC and the reputed author of "The Art of War." This automated avatar will use advanced artificial intelligence technologies from Daden Ltd., which will provide him with capabilities for guided tours, avatar movements and teleportation, Web scraping of Web services, chat, instant messaging, emotions, automated social networking, and the ability to learn from his environment. For more information on Sun Tzu and the Greybeards Project, see: http://openvce.net/greybeards.
"People want technology that is easy to understand and that gives meaningful functionality. We can do that with AI. Virtual worlds are providing a new way to see the capabilities of artificial intelligence—in a different manner than we've ever been able to see before—as AI possibilities are seen for training, virtual guides, and automated design and production."
For more information or to volunteer to help with the IEEE's Artificial Intelligence Learning Center, contact avatar Joey Aboma in Second Life. For more information, see: http://openvce.net/sites/default/files/David%20Fliesen/AILC%20Brief%20for%20SL.pdf. You can also visit the IEEE 2 sim in Second Life at http://slurl.com/secondlife/IEEE%202/57/159/27.
The AILC group is looking for help in the following areas:
• AI research
• Architectural design
• 3D modeling
• Texturing
• Scripting
• AI programming
• Web services, and
• Virtual world integration.
Tom Starai, Computer Society Northern/West Virginia Chapter Chair, is leading AILC efforts in his area. An introductory virtual technical meeting has been held on SL. A technical meeting schedule is in the process of being drawn up. For more information, visit http://ewh.ieee.org/r2/wash_nova/computer/cms/
About the IEEE Computer Society
With nearly 85,000 members, the IEEE Computer Society is the world's leading organization of computing professionals. Founded in 1946, and the largest of the 39 societies of the Institute of Electrical and Electronics Engineers (IEEE), the Computer Society is dedicated to advancing the theory and application of computer and information-processing technology. The Society serves the information and career-development needs of today's computing researchers and practitioners with technical journals, magazines, conferences, books, conference publications, certifications, and online courses.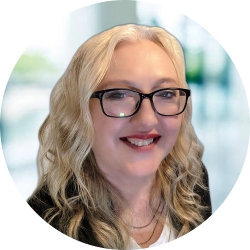 Latest posts by Maria Korolov
(see all)