Virtual events platform provider InXpo rolled out a suite of social networking features last week – including built-in support for Twitter, Facebook and LinkedIn – as well as a social gaming platform.
InXpo is a "pseudo 3D" virtual meeting platform. InXpo's Web-based virtual meeting platform combines multimedia – video, presentations and chat channels – with the ability to track where attendees go and who they interact with.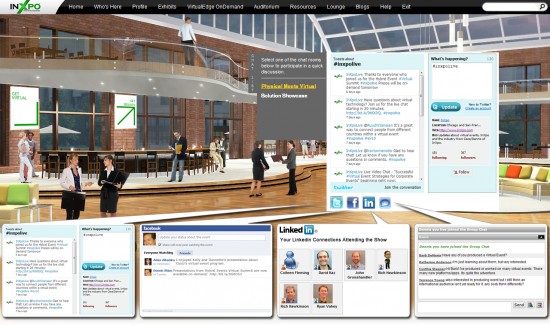 The various rooms in a particular conference venues are shown as if they were located in a 3D virtual environment, but the platform doesn't actually allow visitors to create avatars and physically enter 3D spaces. The advantage is that companies can conduct online conferences for thousands – or tens of thousands – of simultaneous visitors using a standard browser interface.
Now, these visitors can share what they learn at a conference with their Twitter followers or Facebook friends, or arrange to meet LinkedIn contacts at the event, product marketing director Dennis Shiao told Hypergrid Business.
"The Web is increasingly about social events," said Shiao.
In fact, social media is already being used in conjunction with virtual conferences, he said. For example, attendees will often use Twitter as a back channel for communication about the event by creating Twitter "hashtags" – a keyword or acronym related to the conference.
"For the most part, the Tweets happen in parallel, off the side of the virtual event," he said. Now, those Twitter hashtags will be integrated into an InXpo conference, as a little window of related Tweets. That window can added to conference locations such as virtual booths or auditoriums by using a simple interface, Shiao said.
Facebook is integrated through its Live Stream Box function.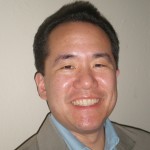 The Twitter hashtag can be accessed from outside the InXpo conference setting, but the Facebook Live Stream Box is limited to conference attendees.
"But all messages that you post also go to your Wall and is visible to all your friends," Shiao said.
With LinkedIn, the InXpo platform can search a visitor's LinkedIn connections to find colleagues who have registered for the event.
"You can click through their their event profile info, chat with them, or send an email through the InXpo platform," he said.
The social gaming features allow conference organizers to create games for attendees to play either individually or as teams.
"We see games as a very effective vehicle to enable learning," he said. "Learning can be more effective in a game than a 40-minute Webinar or reading a 10-page white paper."
The games are targeted at enterprise users, he added. InXpo plans to roll out a library of games that can be customized by conference organizers.
The two available now are a word scramble game and a multiple choice trivia game modeled after "You Don't Know Jack."
By the end of the year, InXpo plans to roll out a total of ten games, developed with help from the Tribeca Flashpoint Media Arts Academy. Some possibilities include golf, Missile Command, and Blackjack.
InXpo customers aren't just limited to these games.
Last summer, Cisco Global Sales Experience conference rolled out a four-week alternate reality game called "The Threshold." the game revolved around a kidnapping mystery, and 13,000 Cisco employees from around the world played the game, which was developed in conjunction with Juxt Interactive on the InXpo platform. (See the case study here.)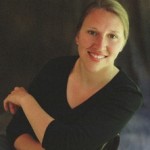 "If you are looking for ways to increase engagement—for example, increase the amount of time prospects spend on your Web site or attending your virtual conference or trade show, or retain employees or customers longer—adding games to your interaction portfolio may be a boon," said Erica Driver, founder and principal at industry analyst firm ThinkBalm, in a note last week. "Especially games that have a strong social element and allow people to compete with each other in a fun, challenging way."
Cisco won a major event marketing award last week for its break-through virtual programs, the Event Marketers Grand Ex Award – the first time a business-oriented event has won instead of a consumer event, and the also the first time a hybrid event won.
"The games, especially 'The Threshold,' were over the top cool and forced you to learn and collaborate in a fun and exciting way," said Carlos Dominguez, Cisco's senior vice president for US Service Providers Sales, in his wrap-up of the event.
InXpo isn't the first virtual events platform to integrate social networks into its offering. On24, its leading competitor, rolled out "Social Webcasting" last month, opening up its platform not only to social platforms but also to third-party developers.
"Social media have emerged as critically important to all online marketing and communications initiatives," said CEO Sharat Sharan in a statement. "With the extensible On24 Webcast Center platform, open to third-party components such as popular social media widgets, the customization possibilities are limited only by your imagination."
These capabilities include group chat, Twitter, moderated Q&A and sharing tools, the company said, and future releases will include support for customizable resource widgets.
"We will open the widget platform, enabling the subcontracting of widget development and the building of custom, customer-specific widgets," Sharan said.
The other major player in the virtual events space is Unisfair, which rolled out its social media integration last September.
"Marketers today are looking to squeeze as much value as possible out of every budget dollar," said Unisfair CEO Hoang Vuong, in a statement. "Our platform meets this requirement by allowing the impact of any virtual event to be amplified with social media tools."
These tools include Skype integration, allowing both voice and video chat, as well as Facebook and Twitter links that allow participants to share events with friends and followers.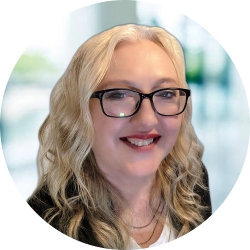 Latest posts by Maria Korolov
(see all)