Press Release: Turnkey Portal Ensures Business Communications through Interruptions
Chicago, IL — Business continuity planning is an imperative business practice for organizations.  Business interruptions are difficult – whether they are related to volcano eruptions, supply chain issues or key employee announcements – and communications are imperative.  UBM Studios today unveiled a virtual platform specifically for business continuity – the Virtual Business Continuity Center ensures business communications through interruptions of any kind.
"Business interruptions are challenging for any organization and it's critical for organizations to have plans in place which guarantee business continuity," said Kate Spellman, SVP/Managing Director of UBM Studios.  "The Virtual Business Continuity Center provides businesses with a virtual solution that can be used in the event of a business interruption that limits attendees from attending an event in person or to bring a company or group of individuals within a company together quickly."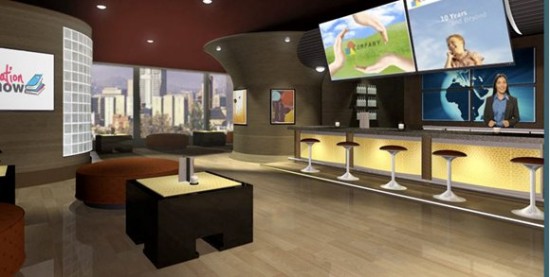 Businesses have embraced virtual business solutions as an effective communication tools for their audience experience, to improve communications and gain a competitive advantage.  The Virtual Business Continuity Center is a turnkey virtual communications portal that enables businesses to deliver vital communications in a secure, interactive environment and can be functional for any organization to connect and communicate in just days.
Components of the Virtual Business Continuity Center include:
•       Auditorium with optional group chat and a complete list of upcoming and available presentations.
•       Resource Library that hosts relevant materials such as presentation slides and supplemental material all in one handy location.
•       Help Booth for technical support.
•       Multiple options for interactivity including search, user profiles, pre-, during and post-event activities including group chat, one-to-one chats, email, blogging, surveys and polls.
The Virtual Business Continuity Center is a cost-effective solution that allows users to easily communicate and share content.  The Virtual Business Continuity Center is scalable for an organization of any size and complexity and can be created for both large and small events.
Virtual Business Continuity Center customers control the entire virtual solution by building and scheduling a webcast, conference and training, inviting target audiences and analyzing the results.  Additionally, using the templates provided, sponsorships and branding can be applied easily for each presentation.
The Virtual Business Continuity Center is highly interactive and engages attendees by including pre-, during and post-event activities including group chat, one-to-one chats, email, blogging, surveys and polls.  In addition, the Virtual Business Continuity Center is easy to use and does not require a download; all audiences are able to access the platform through a web browser and the Internet.  Access is security-controlled, ensuring that only registered attendees are able to participate.
For additional information on UBM Studios or to purchase the Virtual Business Continuity Center, contact Kate Spellman, SVP, Managing Director, UBM Studios at 516 562 7383 or [email protected].
To follow UBM Studios on Twitter, visit http://twitter.com/UBMStudios, to follow on Facebook, visit UBM Studios and to follow on LinkedIn, visit UBM Studios.
About UBM Studios (www.ubmstudios.com)
UBM Studios is a leader in virtual events and virtual business solutions.  A pioneer with virtual platforms, UBM Studios delivers deep expertise in live and online events that brings business value to customers.  UBM Studios connects, educates and enables virtual communications through a portfolio that fits every budget.  UBM Studios is the only virtual event provider to offer platform, content, audience recruitment, reporting and social marketing and gaming.   UBM Studios virtual events include Virtual Trade Shows, Virtual Career Fairs, Virtual Seminar Centers, Virtual Resource Centers, Virtual Product Launch, Virtual Business Continuity, Virtual Corporate Meetings, Virtual Sales Meetings, Virtual Focus Group Centers and Virtual Training.  UBM Studios delivers a complete global communication solution in Asia, Europe and North America in industries including health, finance, technology, building and education.
About United Business Media Limited
UBM (UBM.L) focuses on two principal activities: worldwide information distribution, targeting and monitoring; and, the development and monetisation of B2B communities and markets. UBM's businesses inform markets and serve professional commercial communities — from doctors to game developers, from journalists to jewelry traders, from farmers to pharmacists — with integrated events, online, print and business information products. Our 6,500 staff in more than 30 countries are organised into specialist teams that serve these communities, bringing buyers and sellers together, helping them to do business and their markets to work effectively and efficiently. For more information, go to www.ubm.com

Latest posts by Press Release
(see all)