Press Release: UBM Studios Expands its Virtual Recruitment Fairs with the Acquisition of Astound LLC
Adds Fortune 500 Clients to UBM Studios' Customer Roster
Chicago – Building on its track record of producing successful virtual recruitment fairs, UBM Studios today announced it has acquired Astound LLC, the creator of Milicruit and Unicruit virtual career fairs targeted at placing veterans/military personnel and graduating college students in the workforce.  By adding Astound to its portfolio of virtual business solutions, UBM Studios adds Fortune 500 clients including GE, Raytheon, CSX, Walgreens, Stryker, Verizon, Booz Allen, Amazon, Target, 3M, Accenture and FedEx to its roster.
"The Astound business nicely complements our existing virtual business offerings.  By combining the strength of our two businesses, we now deliver a best in class solution for virtual career fairs.  This is the first step in our strategic initiative to significantly enhance our portfolio," said Kate Spellman, SVP, Managing Director, UBM Studios.  "We are pleased to harness our technology expertise to offer virtual career solutions that will streamline the recruitment process for recruiters and individuals seeking employment."
"We are very excited to become a part of UBM today.  UBM is a forerunner in the virtual event marketplace and is poised for growth in the virtual events sector.  We are pleased to expand the UBM Studios virtual recruitment fairs portfolio with new offerings, industries and customers," said Kevin O'Brien, Managing Partner of Astound.  "We have seen tremendous success with our niche events and we are very proud to help veterans as well as college graduates find employment.  The media coverage we have received surrounding our Milicruit events reinforces the critical importance of our virtual career fairs."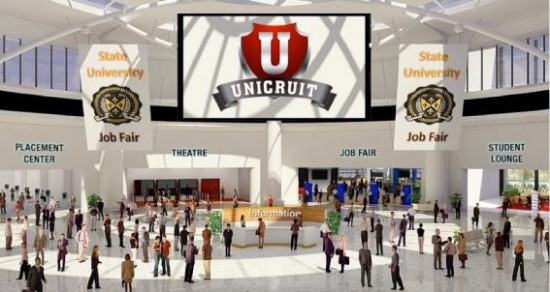 UBM Studios has produced the following virtual recruitment fairs:
UBM Studios produced UBM Medica's Psychiatric Times Virtual Career Fair.  The virtual career fair provided recruiters and hiring organizations exposure to psychiatrists actively searching for positions.  Interactive booths allowed companies to post available positions, while candidates had the opportunity to attach resumes and upload written/videotaped profiles as well as facilitate real-time chats with recruiters.  The virtual event drew 908 registrants and 363 live attendees.
UBM Studios produced UBM Asia's MBAwired APAC virtual event, the first international virtual event for future MBA students from Asia to meet global business schools.  The virtual recruitment fair offered candidates and admission officers an unprecedented opportunity to engage in communications independent of their location and time zone.  The event drew prospective MBA attendees from across Asia, spending an average time of 100 minutes in the virtual environment attending presentations and visiting exhibitors' booths.
UBM Studios created UBM Build Environment's Housing Now 3D virtual recruitment event which brought together the housing industry's leading figures to address the issues and challenges facing the housing sector.  The event drew 905 housing professionals, spending an average of three hours in the virtual environment.
The real strength and power of online recruitment is not only to attract candidates, but to also interact with them. UBM Studios' platform enables online interaction, streamlining the hiring process and widening the geographical reach at a lower cost.
Astound has created Virtual Career Fairs in two niche areas:
Milicruit.com is a job fair for veterans/military personnel to come together in an interactive 3D virtual setting. Â Each year 350,000 veterans leave active duty and many of them enter the civilian job market, Milicruit.com aids them in their search by providing a virtual career fair that brings veterans and employers together. Â Veterans have the opportunity to register for virtual career fairs by building a profile and employers are able to fully interact with the individuals. Â The career fairs offer virtual booths; job postings; company videos; company presentations; live chat with company representatives; video interviewing; and resume and interview assistance. Â The traditional recruiting environment of veterans is costly, time-consuming and often times ineffective. Given the large number of veterans currently looking to reenter civilian life and the large number of employers seeking to hire veterans, milicruit.com allows both parties to meet and interact in an online setting.
This summer, several broadcast media outlets such as CNN, MSNBC, Fox News, NY1, ABC Philadelphia, CBS and WGN showcased Milicruit's career fair and highlighted the critical importance of helping veterans.
To register to attend the next Milicruit career fair, visit: Â http://www.jobtarget.com/c/login/login.cfm?site_id=9552
Unicruit.com is a university-centric job fair in which universities help students find work with corporations. Â On-campus fairs are an important part of career development for the student, university, and corporation. Â However, they can be costly, time-consuming and often times ineffective. Â Unicruit.com partners with universities and corporations to create a digital environment which provides students with access to multiple employers. Â The career fairs offer virtual booths; job postings; company videos; company presentations; live chat with company representatives; video interviewing; and resume and interview assistance. Â Through a single campus or a regional event, recruiters are able to attend all campus career fairs to reach more campuses with less resources and no travel, while students are able to participate from the comfort of their dorm room.
Unicruit.com will offer two career fairs in the third quarter of 2010 – the Big East Career Fair and The Delaware Valley Virtual Career Fair, co-sponsored by NBC 10.
To register to attend the next Unicruit career fair, visit: Â http://www.unicruit.com/student-form
O'Brien will become Vice President, Business Development and Sales of UBM Studios and will continue to handles sales and new business development.  He will report to Kate Spellman, SVP/Managing Director, UBM Studios.
To follow UBM Studios on Twitter, visit http://twitter.com/UBMStudios, to follow on Facebook, visit UBM Studios and to follow on LinkedIn, visit UBM Studios.
About UBM Studios (www.ubmstudios.com)
UBM Studios is a leader in virtual events and virtual business solutions. Â A pioneer with virtual platforms, UBM Studios delivers deep expertise in live and online events that brings business value to customers. Â UBM Studios connects, educates and enables virtual communications through a portfolio that fits every budget. Â UBM Studios is the only virtual event provider to offer platform, content, audience recruitment, reporting and social marketing and gaming. Â  UBM Studios virtual events include Virtual Trade Shows, Virtual Career Fairs, Virtual Seminar Centers, Virtual Resource Centers, Virtual Product Launch, Virtual Business Continuity, Virtual Corporate Meetings, Virtual Sales Meetings, Virtual Focus Group Centers and Virtual Training. Â UBM Studios delivers a complete global communication solution in Asia, Europe and North America in industries including, health, finance, technology, building and education.
About United Business Media Limited
UBM (UBM.L) focuses on two principal activities: worldwide information distribution, targeting and monitoring; and, the development and monetisation of B2B communities and markets. UBM's businesses inform markets and serve professional commercial communities — from doctors to game developers, from journalists to jewelry traders, from farmers to pharmacists — with integrated events, online, print and business information products. Our 6,500 staff in more than 30 countries are organised into specialist teams that serve these communities, bringing buyers and sellers together, helping them to do business and their markets to work effectively and efficiently. For more information, go to www.ubm.com

Latest posts by Press Release
(see all)