Press Release: "Create Once, Experience Everywhere" 3D/VR Format Unveiled for Immersive Education
Cross-platform Open File Format Enables "Create Once, Experience Everywhere" 3D/VR Content for OpenSim, Open Wonderland, Open Cobalt and other platforms

BOSTON, MA – November 09, 2010 – The Immersive Education Initiative today unveiled iED 3D/VR™, the open and royalty-free cross-platform 3D/VR mesh file format that enables 3D and virtual reality (3D/VR) content to be created once and experienced across a range of virtual worlds, games, simulators and mixed/augmented reality applications. The culmination of over two years of work conducted through the Open File Formats Technology Working Group (OFF.TWG), iED 3D/VR is aligned with the COLLADA™ standard and supported by official iED virtual world platforms realXtend, Open Wonderland, Open Simulator ("OpenSim") and Open Cobalt in addition to the candidate iED platform Sirikata.
A range of hands-on workshops will be given at iED 2011 to teach educators how to create cross-platform 3D/VR content using a variety of authoring tools, including Google SketchUp and Blender, and starting immediately virtual training sessions will be provided to Initiative members online and free of charge.
Create Once, Experience Everywhere™
The international consortium today released screenshots and videos that show the same 3D objects residing natively in a variety of iED platforms, illustrating 1) the "Create Once, Experience Everywhere" objective established to guide this work when OFF.TWG launched in October 2008 and, 2) high resolution scholarly content cited as a goal by the Initiative for next-generation platforms [see the "High resolution avatars, objects, and environments" 2008 meeting audio transcript and videos].
iED 3D/VR is designed specifically to enable 3D and virtual reality content to be exchanged between all official Immersive Education Initiative platforms. To this end, iED 3D/VR is a functional subset of COLLADA that is tested across conformant iED platforms to ensure consistent content representation from platform to platform. The current baseline profile for iED 3D/VR features static 3D mesh models and textures. New features and capabilities, such as animation and skinning, are now being added.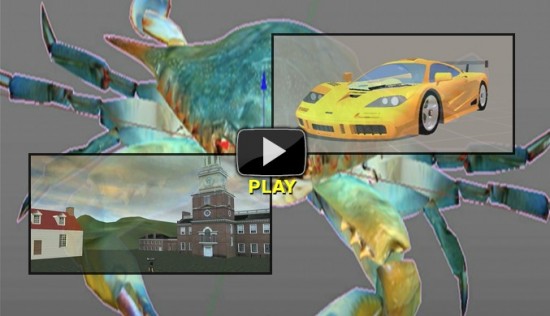 Case Study: The Smithsonian Latino Virtual Museum
In partnership with the Immersive Education Initiative, The Smithsonian Latino Center's signature virtual museum model, The Smithsonian Latino Virtual Museum, will soon exist simultaneously in multiple open source virtual world platforms.
The virtual museum's creative director, Melissa Carrillo says, "We have been working closely with the Immersive Education Initiative to make our virtual museum content cross-platform accessible. Our current body of work with the Initiative, aside from working toward creating best practices and standards that museums and cultural organizations can adopt for representing their collections and resources online, focuses on collaboration with the Smithsonian Environmental Research Center (SERC) to represent current research conducted on the Chesapeake Bay Watershed. This project illustrates a baseline prototype simulation of a selection of species and habitats unique to the area around the Rogue River where SERC facilities are located. The 3D learning objects in the simulation (such as the Maryland blue crab, opossum, and osprey) can now be experienced in multiple virtual world platforms thanks to the iED 3D/VR open file format, which in turn makes our work available to a wide range of learners and end users."
Open, Royalty-Free Standards
The iED 3D/VR open file format, which was developed in accordance with the open and royality-free intellectual properly process under which the Initiative operates, is based on and closely aligned with the COLLADA standard.
"The Khronos Group is pleased that the Immersive Education Initiative has chosen COLLADA as the standard format for interoperable 3D and virtual reality content. The Initiative's willingness to work with Khronos, for example by co-sponsoring the COLLADA 2009 contest, has strengthened both communities," said Mark Barnes, chairman of the COLLADA work group at Khronos. "Going forward, the Immersive Education Initiative will develop software that passes the COLLADA conformance test suite and form a close liaison with Khronos to advance this important work."
Open Virtual Worlds
iED 3D/VR marks a signficant step forward for open and interoperable immersive learning environments, starting with the virtual world technologies that comprise the Platform Ecosystem first announced at iED 2008. By mandate the Initiative's Platform Ecosystem consists only of freely available open source technologies, and today consists of realXtend, Open Wonderland, OpenSimulator, and Open Cobalt. Sirikata is a candidate platform that is expected to be announced as an official iED platform at iED 2011.
realXtend
"Standardizing content delivery and enabling the 'Create Once, Experience Everywhere' approach to content creation is vital for virtual worlds. The first step is a standard file format that different platforms can support either natively or through conversion. At realXtend we have been working with the Immersive Education Initiative to add support for the iED 3D/VR format, initially through an external transcoder and soon natively. Education is one of the most prominent use cases for virtual reality technology, making it an ideal starting point for standardization and interoperability for virtual worlds."
Antti Ilomäki
Project Manager, realXtend
Open Wonderland
"From its inception, Open Wonderland has been based entirely on open standards, including open file formats. Our philosophy has been to use open standards to provide our developer and end-user communities with as much flexibility as possible. Open standards and open file formats enable people to re-use existing materials, share content with others, and generally tailor the virtual environment to meet their exact needs. By directly supporting the iED 3D/VR file format, and the COLLADA file format it is based on, Open Wonderland world builders can take advantage of the tens of thousands of models already available in the Google 3D Warehouse or other content collections. Open Wonderland world builders can also create their own high-fidelity 3D/VR content, taking advantage of advanced rendering features supported by a range of 3D modeling tools. Importing 3D/VR content into Open Wonderland is simply a matter of drag and drop."
Nicole Yankelovich
Executive Director, Open Wonderland Foundation
OpenSimulator
"As well as indirectly supporting meshes via the realXtend project, members of the OpenSimulator community are also contributing support for the mesh features recently introduced in Second Life beta viewers. Various aspects of this are working already, such as iED 3D/VR and COLLADA upload, mesh display, collision detection and transport via OpenSim Archive (OAR) and OpenSim Inventory Archive (IAR) formats. Others should follow as both the OpenSim and beta viewer implementations mature."
Justin Clark-Casey
Core OpenSimulator developer
Open Cobalt
"As educators continue to leverage the extraordinary power of immersive eLearning, open source software platforms, resources, and curricula provide a way to avoid vendor lock-in and ensure customization and service continuity that are essential in meeting the unique needs of 21st century learners."
Julian Lombardi
Assistant Vice President, Duke University
Open Cobalt project lead
Sirikata
"As an open source platform for networked environments the Sirikata community has been acutely aware that a major pain point is getting people access to the technology. We believe that this friction is the final barrier to unlocking a mainstream potential. The emerging HTML5 and WebGL specifications, both of which are fully open technologies, are the right solutions at the right time. No plugin, no download, no install; just a modern web browser and you can join in. With this barrier coming down the next issue to address is the availability of cross-platform content, which is now enabled by open file formats such as iED 3D/VR and the COLLADA standard it is based on. Sirikata is proud to partner with the Immersive Education Initiative in this forward looking activity."
Henrik Bennetsen
Associate Director, Stanford University Humanities Lab
Sirika project lead

Latest posts by Press Release
(see all)