Six Boston-area bands are scheduled to perform at Webstock 3D, kicking off the first of a virtual concert series run on Digitell's VirtualU virtual world platform.
The free concert will be held on Tuesday, April 26, from 8 to 10 p.m. eastern time, and the virtual doors will open at 7 p.m.
The six bands – MindWalk Blvd., Fox Pass, Ript, Woodbury, Stu Mac & Clive and B.R.A.W.L. — will perform on one of three separate virtual stages.
Attendees can create an avatar ahead of the event at the website. Customizations include band T-shifts, tattoos and piercings. Users who already have a VirtualU avatar can log into VirtualU and teleport to the WS-VCS space.
Digitell's VirtualU immersive environment in built on top of the Activeworlds virtual world platform. Users have to download separate software, and the environment is similar to that of other proprietary virtual world vendors like Teleplace, ProtoSphere and Blue Mars. Instead of editing content in-world, customers create virtual content off-line and upload it as mesh objects. There is only limited ability to edit objects inside the world, mostly by moving them around or resizing them.
As with the other proprietary platforms, avatars don't have personal inventories, and can't create or share content with one another.
Digitell is best known as a conference platform, since it integrates the 3D environment with a 2D, Web-based virtual event platform similar to On24, Unisfair, and InXpo. (Read more about their platform here.)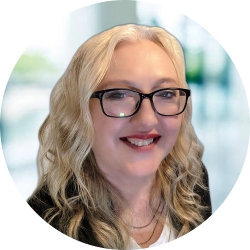 Latest posts by Maria Korolov
(see all)