Press Release: InWorldz, LLC and CariNet Inc. To Power Virtual World Technology and Hosting Through Joint Venture
Venture to focus on quality of service, scalability, and core software to promote growth and technical innovation
NY and SAN DIEGO, CA – InWorldz, LLC a leading provider of virtual world services, and CariNet Inc., a quality-oriented provider of dedicated servers, server clusters, and cloud computing, announced plans today to form a joint venture to build a redundant 3D virtual world grid capable of high performance and fast growth.
The venture builds around the original vision of the InWorldz founders. Known to their customers mainly by their pseudonyms, Elenia Llewellyn (real name Beth Reischl), Legion Hienrichs (real name John Arnolde), and Tranquillity Dexler (real name David Daeschler) have supported the continuing vision that everyone should be able to experience virtual world technologies and services in a way that enhances their lives and their own vision.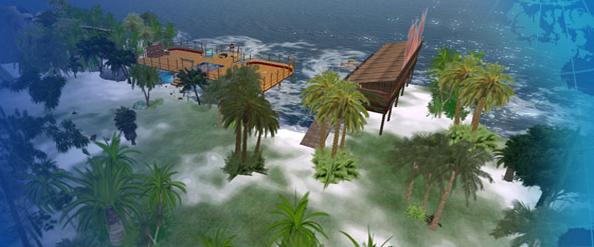 Since its inception in February of 2009, InWorldz, LLC has listened to customer feedback and demand to provide its residents with the software, hardware, and tools they need to create dramatic simulations ranging from vast and mystical oceans, to artistic depictions of real world cities. Building on a strong customer community and a solid technical background, the InWorldz grid has grown to over 800 customer-owned regions on word of mouth alone.
CariNet Inc. has been a hosting leader since 1997, offering a wide variety of hosting options including dedicated servers, server clusters, public and private cloud offerings as well as server virtualization hypervisors. CariNet Inc. builds, owns and operates all of their datacenters and are capable of handling customers and demands of any size. CariNet Inc. currently services more than 7,500 customers around the globe.
CariNet Inc. provides a strong background and expertise in all things hosting. The CariNet team consists of a dedicated group of individuals willing to go the extra mile to make sure they have a quality product their customers can rely on. From power, to network, to hardware and software, CariNet Inc. has created a strong backbone for any business to tether their dreams to and let them run.
Enablement is the shared theme that has brought CariNet Inc. and InWorldz, LLC together. The joint venture will provide InWorldz with access to the latest in hardware and software technology available to support efficiency and scalability.
Powered by this venture, InWorldz will have access to systems and expertise that will increase the effectiveness of their business processes, free up development resources, and increase profitability.
The joint venture will provide both companies with the opportunity to continue to explore the growing virtual world market and provide the services and support that enable the individual as well as organizations who will use virtual world technologies in the future.

Latest posts by Press Release
(see all)