A French virtual design firm has created a virtual command center for organizations looking to have all their business intelligence dashboards in a single virtual location.
Internet 3 Solutions' Cockpit Entreprise 3D is already used by a university and two regional organizations, and was built on top of the Open Wonderland open source immersive environment platform.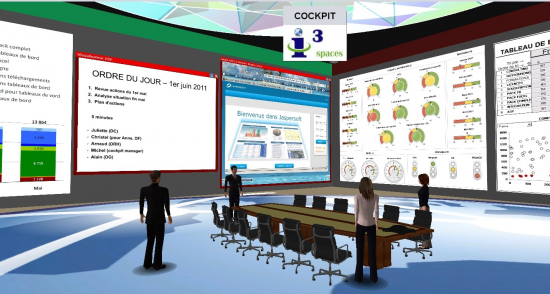 A couple of multinational corporations based in France are also looking at the product, company president Michel Denis told Hypergrid Business.
"And we are soon targeting the international market," he added.
Cockpit features
Cockpit Entreprise 3D most resembles a military war room or command and control center. There's a conference table in the center where avatars can meet, and large monitors cover the walls showing views of key company functions.
The idea is that senior executives will be able to collaborate, make decisions faster, and see all important information from their business intelligence applications all in one place — without having to spend money on travel or teleconferencing rooms.
Voice is directional and fades with distance, and there is also a "cone of silence" tool that isolate sidebar conversations from the rest of the meeting.
The platform also ensures security, so that top-level conversations are kept confidential.
And the platform includes tools to create mixed reality environments that bring together video and audio in real time, to bridge physical meeting rooms with the virtual cockpit.
In addition to business intelligence applications, other Windows and Linux applications can run in the platform as well, including Web browsers. There are also built-in tools for audio and video recording.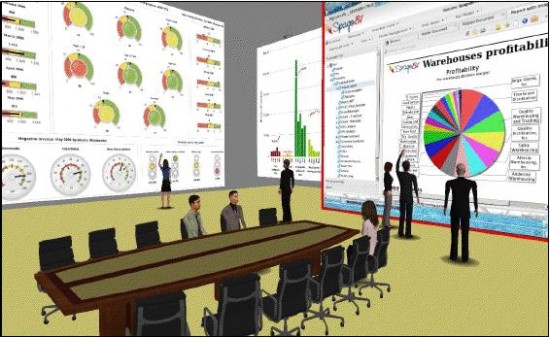 The number of avatars that can simultaneously use a single cockpit is a function of the power of the server running the platform, and the number of outside business intelligence applications that are shared with all the visitors. In testing, however, a single environment has supported up to 56 avatars using a typical server. Additional servers can be added to distribute the load of visitors in a single environment, as well.
Several cockpits can be joined together via teleport portals. The basic version of the cockpit includes three conference rooms, as well as some editing tools to change the configuration. Additional world design can be done by authorized users, or by Internet 3 Solutions. Open Wonderland supports the import of Collada mesh objects and, once in the world, users can move, rotate, and scale them. (More information here.)
Cockpit Entreprise 3D has a fixed license model, so that a single company can run as many meetings, with as many avatars, as it likes. That will pay for itself in three to six months in terms of saved travel costs, the company says.
Basic cockpit installation takes a few days. Integrating with business intelligence vendors can take a longer time, as does training staff in using the platform.
Platform choice
The choice of Open Wonderland is an unusual choice, since most corporations tend to prefer either a high-end enterprise-quality platform like Teleplace or ProtoSphere, or an easy-to-use, Web-based platform like Venuegen or Avaya's Web.alive.
"Web-based and the like platforms of today look pretty young for business solutions," Denis said. "Many of them might be out of business within the next six to twelve months."
Web-based products are also limited in their functionality, he added. In addition, none of these platforms are open source, he said, which was a major requirement.
As a result, the company zeroed in on two potential platforms for the product — Open Wonderland and OpenSim.
Denis previously worked on the Open Wonderland project when he was program manager for virtual worlds at Sun Microsystems, when Open Wonderland was called Project Wonderland. After Oracle bought Sun the project was discontinued, and its staff laid off. The Open Wonderland developers continued to work on the project, forming a foundation to keep it going.
But Denis said he wasn't wedded to Open Wonderland.
"I'm not religious," he said. "For instance, my virtual corporate headquarters on the OpenSim-based FrancoGrid, my region is called 'Rochegude'."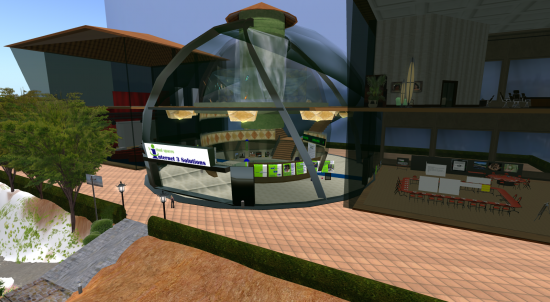 Open Wonderland versus OpenSim
Both OpenSim and Open Wonderland can run either behind a corporate firewall or on the Internet, but OpenSim does not currently offer easy integration with outside applications.
"We needed to get any standard business intelligence application from the marketplace — including ones from SAP, IBM, Oracle, Microsoft and Jaspter — to run flexibly in-world, unchanged, anywhere," he said. "This led us to reject OpenSim."
With Open Wonderland, application windows can be embedded so that they run as live, active applications.
By comparison, OpenSim is currently limited to just displaying live webpages in-world, if a compatible viewer is used.
In addition, Open Wonderland allows files to be dragged and dropped right into the virtual world and has integration with telephone systems. In addition, Open Wonderland is currently localized in seven different languages.
There are disadvantages to working with Open Wonderland as well, he says.
For example, Open Wonderland is still recovering from being an R&D group inside Sun — or Oracle — and transforming to an independent organization, he said.
"This means that key new functionality might take some time to appear," he said. "But for this project, the functionality was already well advanced, so no problem for us."
Another disadvantage is that Open Wonderland requires up-to-date equipment, but since this project targets senior executives this is less of a challenge.
"There's no problem to get large French corporations to buy six or eight excellent desktops for their executive management team to meet in the cockpit," he said. "These people drive the corporate budgets."
The other major drawback of Open Wonderland — the fact that is graphics lag behind that of Second Life and OpenSim — was also not an issue for the corporate command center environment, which is intended to be business-focused.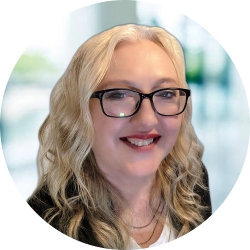 Latest posts by Maria Korolov
(see all)