Designing Digitally Inc. is at National Association for College Admission Counseling's 2011 National Conference this week showing off its 3D Virtual Campus Tours product. You might remember the virtual campus tour they created for the Air Force Academy.
It took 10 developers, and was one of the most ambitious campus tours ever done. It combined a smooth and realistic virtual recreation of the academy, both traditional human-led and interactive automated tours, and virtual games.
"It's nothing like what the rest of our competition is doing inside Unity," Designing Digitally president Andrew Hughes told Hypergrid Business. "We've taken this software far beyond what OpenSim and Second Life could do, and what other Unity developers have done."
The Air Force Academy "soft launched" the virtual campus tour from January through March of this year, with a heavy launch scheduled for this fall. So far, around 4,000 visitors have been through the tour.
The Air Force Academy liked it so much, Hughes said, that they have awarded a follow-up contract to Designing Digitally for 2012, to implement improvements that the company suggested, plus another five-year hosting contract.
It is a result of this startup funding from the military that Designing Digitally was able to originally create the platform, said Hughes, and the ongoing support will help the platform evolve.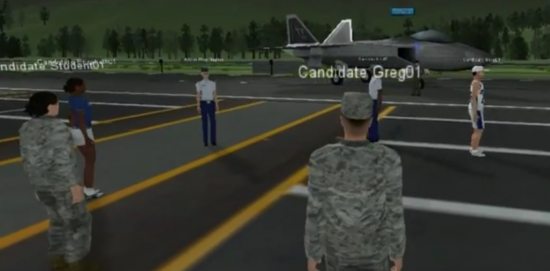 Meanwhile, five  more universities have already hired the company to create custom tours.
Hughes recently took me on a tour of a demo campus and I was very impressed with the platform's ease of use. It's slick and polished, and does exactly what you would expect it to do, the way you expect it to work, without the compromises involved in other platforms. For example, the voice — which runs on Flash — just works. Navigation is simple and intuitive. I haven't seen any other tours — campus or otherwise — that look this good. (If you have one, email me: [email protected].)
Virtual tours
The 3D Virtual Campus Tours platform has a built-in content management system to schedule in-world events and tours.
Once each event is in progress, it gets not only its own voice channel, but its own world.
"You won't see other users until you go back and leave the event," Hughes said. "Universities give multitudes of events at the same time, and I don't want to talk over another tour."
The platform can handle up to 800 simultaneous tours, with up to 5,000 total concurrent users — between 250 and 300 in each voice channel.
To keep the tours running smoothly, tour guides can take control of visitor avatars and move them to the correct locations — the platform takes care of spacing between avatars, so that they don't run into one another.
Back-end systems
But what really separates 3D Virtual Campus Tours from its competitors is its rich back-end analytics.
The administration tools allow colleges to see where visitors went during their tours, whether they played any games, what they were looking for, even what they chatted about in either public or private conversations.
The virtual campus environment can then be reconfigured based on this data, Hughes said.
When human tour guides aren't available, bots take prospective students on customized tours, based on a questionnaire filled out ahead of the time.
"The bot is able to recognize and read that stuff and change the menu of what they're going to show you based on your interests," said Hughes.
Detailed environments
To create the virtual campuses, 3D Virtual Campus Tours sends a team to the university to create digital models of key buildings.
Not every single building is fully rendered into 3D, and buildings may be spaced closer together in the virtual campus than in real life to make the tours more accessible.
"Our team actually goes on an admissions tour and shadows the admissions rep," said Hughes. "We meet with the admissions department and get the script from them — we get a strong understanding of exactly what needs to happen."
The final product includes just those buildings that are key for the campus tours.
"We don't need to make all the parking lots," Hughes said. "We do as much as we can to scale but why make streets a mile long to the next building — why not push the buildings a little bit? Say you've got an equestrian area three miles away — why not push it closer so people can visit without having their avatars walk three miles?"
In addition to copying the actual external campus of the university, as well as building interiors, Designing Digitally can also create games, vehicles, custom branding on the viewer, custom animations, and custom clothing.
"Anything you can do in a video game, you can do here," he said.
A single building can take between two and three weeks to convert to digital form.
"We take digital pictures of the walls in the university and use those actual textures in the 3D environment," said Hughes. "AÂ lot of people who work for us previously worked for game developers, so the quality you get is going to be a lot higher."
After the virtual campus is finished, a Designing Digitally team attends the first tour to make sure everything works smoothly on the technical side.
"We work with their admissions team to train them and make sure they know how it works," Hughes said. "And we also have a marketing package that allows for PR, marketing, and outreach."
Future plans
In the second phase of development, users will be able to change height, facial features, and other appearance elements.
Designing Digitally also has licenses in place to roll out Android and iPad versions of the tours.
Also in the works are competitive rankings and score boards for the in-world games, quizzes and simulations.
Today, the platform can show pre-recorded videos in-world, but not live websites — that is something that's in the works.
And another big improvement is going to be the conversion to Flash. Unity pre-announced this feature earlier this month, and it will make the platform even more accessible than it now is.
Flash is installed on 99 percent of all computers (98 percent in emerging markets). By comparison, the Unity player has been  downloaded more than 74 million times — but that's less than 4 percent of the world's 2 billion Internet users.
"We have already looked at it, and already went through all the testing we have to do," said Hughes. "Once it comes out, you'd better believe our company will be all over it. We're looking for the convenience factor"
Pricing
The cost of a virtual campus tour depends on the size and scope of the build. Hughes declined to provide any specifics, or even price ranges, but did say that universities should be prepared to spend some money.
"This does not go for the prices that an OpenSim build would go for, or what any other Unity build will go for," he said. "It goes for what a regular campus tour will go for. It's not cheap."
Educational institutions can get a free price quote by contacting the company.
A history of campus-building
Since 2004, Designing Digitally has built 50 virtual campuses inside Second Life.
And the company learned a lot from this experience, Hughes said. In particular, that Second Life campuses were great for teaching and for collaboration — but not so good for marketing.
"A lot of universities using [Second Life] for recruitment have left," he said.
Using Second Life involved a large number of technical hurdles. For example, admissions counselors had to install Second Life on their computers, open up ports, install upgrades — and university IT departments were not happy.
Plus, prospective students also had to install Second Life and learn how to use the platform. In Second Life, it takes time and effort to do everything from dressing an avatar, to moving around, to getting voice working.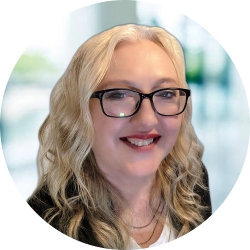 Latest posts by Maria Korolov
(see all)