Two new social worlds announced launches today — SmallWorlds, which is live, and Interactive City, which still seems to be the process of getting off the ground.
SmallWorlds is a cartoonish, Flash-based, 2.5D, Lively-style virtual world more closely akin to Farmville than of Second Life.
Built by New Zealand's Outsmart, the world immediately begins with game-style quests that teach navigation, though the interface is simple enough that you don't really need it. Users gain experience points and gold coins as they progress, which they can spend on in-world items. Of course, cash is welcome, as well.
However, the platform may become more immersive in the future, the company said. "The SmallWorlds platform is built to be 'client agnostic,' and we will be extending the reach of SmallWorlds from lightweight mobile modules, to a rich and immersive 3D client."
Until then, SmallWorlds does offer a couple of features missing in most other 2.5D, isometric virtual worlds — the ability to rotate the camera view 90 degrees, and the ability to add interactions such as teleports or chats to objects.
But for the most part, like in Farmville, customization is all about acquiring items and arranging them on the screen. Unlike Lively, which allowed the import of 3D models from the Google 3D Warehouse, SmallWorlds users are limited to what's available in the platform. Also like Farmville, SmallWorlds is integrated with Facebook and immediately starts trying to connect you to your Facebook friends when you join.
Interactive City, built by Sweden's  ICYou AB, promises better graphics, and an immersive fully 3D setting, but it's not clear yet what it will actually deliver.
"You will be able to enter Interactive City via a free application for your mobile device, your computer's web browser or even gaming console – featuring state-of-the-art graphics and an intuitive user interface," the company says. "What you do in your real life can be done virtually in Interactive City — discover new places, go shopping, play games, get an education, catch up with friends or just hang out. At a later stage in the development of Interactive City you will also be able to start your own company, do business and make money."
Users will also be able to create and customize avatars, have their own virtual apartments, chat via text or voice, and buy virtual goods.
There's no indication that users will be able to create their own content or environments.
It's clear that the trend is towards increasingly interactive Web-based environments with easy interfaces.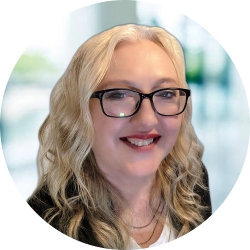 Latest posts by Maria Korolov
(see all)