According to virtual worlds research firm KZero, the lack of a marketing budget is the single biggest mistake made by virtual world startups.
"Virtual worlds and MMOs with insufficient marketing budgets are floating around in the market and failing to ramp up," the company said. "This isn't because their worlds are boring or don't have great games or quests – worlds are not built to be boring. It's primarily because when initial funding was raised for the development of the world, insufficient funds were allocated to user acquisition."
This is because some founders are arrogant enough to think that their worlds would be so great that they will go viral, with no need for marketing, the analysts said. Other founders were too focused on the technical side, budgeting enough for development but forgetting about the commercial aspects of running a company.
KZero tracks virtual worlds with millions of users, but the analysis applies just as well to small startup grids.
Many grid owners seem to have an "if we build it, they will come" approach to starting a company. Many over-estimate the value of their business proposition. In addition, many of the founders have a technical background, but lack marketing, community-building, and sales experience.
KZero advises a starting marketing budget of at least $750,000. This isn't reasonable for startup grids, which are often founded on a shoestring.
But the analysts also estimate that the cost per new sign-up should be around $0.50 to $0.80 cents.
How should this translate for OpenSim grids?
I just crunched numbers from our database and, taking out the non-profits, education grids, home-based grids, and Kitely, there are between 2 and 7 active users per region, or between 30 and 90 registered users per region, on the main commercial grids.
Let's say our grid decides to shoot for 1,000 regions in order to break even, and estimates 70 registered users per region to generate enough traffic to spur land sales. This means it needs to register 70,000 users, for a total cost of $35,000.
That money can be spent on staff, in the form of marketing, public relations, community building, and social media outreach employees. Or it could be spent on direct advertising.
The best place to buy ads to promote commercial grids is in places where people looking for virtual social activities and virtual land are likely to gather — blogs dedicated to virtual life, or popular in-world locations on other grids. We're also happy to take ads here at Hypergrid Business, but unless you're selling grids to companies and educational institutions, you'll get more bang for your buck elsewhere. For example, check out this directory of around 2000 Second Life blogs.
And if you are buying ads, go beyond just your company name and a logo. Here are ten tried-and-true advertising tactics and some examples of using them for OpenSim grids, and some advice for creating landing pages and a marketing strategy.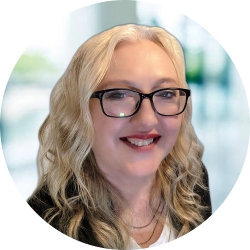 Latest posts by Maria Korolov
(see all)