If there's anyone still out there who doubts that sex helps drive technological development, they should have attended the Adult Entertainment Virtual Convention earlier this year in Utherverse.
Utherverse is a 3D immersive virtual world, similar to Second Life, based in Vancouver, Canada. The company received a patent in September for its technology that allows an unlimited number of avatars to attend the same event.
This technology was on display at the adult industry convention, where around 8,000 people attended over three days last February. The opening party, for example, drew 2,410 simultaneous attendees.
Utherverse has also played host to an authors convention for self-publishers, as well as large-scale Utherverse user conventions.
"We've had speakers who had in excess of a thousand users watching their presentation and asking questions, and we were only able to do this as a result of having this technology," Utherverse CEO Brian Shuster told Hypergrid Business.
A typical Utherverse convention draws between 6,000 and 8,000 visitors, he said. These kinds of gatherings would have been impossible otherwise.
"I have always believed, from the beginning, that the limiting factor for virtual worlds becoming dominant was been the number of avatars in a single space," Utherverse CEO Brian Shuster told Hypergrid Business. "Imagine if Web pages were limited in the same way, that the maximum number of Web page users was limited to 50 or 70 — that would mean the Web would never be successful for commercial ventures."
The next Adult Entertainment Virtual Convention is scheduled for late February, he said, with around 15,000 people expected to attend. There will be two primary convention halls, around 10 smaller vendor halls, two lecture halls, and a "bunch" of hotel suites for private meetings.
"It's going to be the largest space we've had for a convention so far," he said.
How it works
When it comes to packing a large number of avatars into a single area, there are two main challenges to overcome.
One is that avatars take up space. If you try to squeeze too many in, they'll be standing on each others' heads.
Another problem is that every avatar has to be able to see and interact with other avatars — and the number of potential interactions increases much faster than the number of avatars, requiring significant computing resources.
Massive multiplayer online games solve the first problem by sharding — creating multiple copies of the game with a smaller number of people in each one.
And the second problem has recently been solved by Intel with its Distributed Scene Graph technology, which is distributed as part of OpenSim and available on customer request from OpenSim hosting vendors like Dreamland Metaverse. Intel's solution was to take a single region — which is normally generated by a single server — and split up functions so that they can be managed by more than one server. By adding sufficient servers, a single region can hold up to 1,000 avatars or more.
Utherverse takes yet a third approach to solving the problem.
As with the big multiplayer games, once a region is full, additional copies of the region are created to hold the excess avatars.
Unlike with video games, however, avatars can move between the different versions of the region — or, as Utherverse calls them — dimensions. In addition, avatars can interact, through local chat and local voice, with avatars in the same region, but can also send instant messages to friends in other dimensions.
Meanwhile, not only is the physical environment duplicated between the different dimensions, but so are the presenters and event hosts. So, say, if someone is giving a keynote address, or performing in a band, every visitor can see them across all the dimensions.
According to Shuster, users aren't assigned to dimensions randomly, but are sorted based on language choice, or where most of their friends are.
The hosts or presenters are allowed to interact with their environment and their changes can be immediately reflect across all the dimensions. A presenter, for example, can bring an empty chair onto a stage in order to hold a conversation with it.
But changes can also be limited to one dimension, Shuster added, which can be useful for putting up signs in other languages for foreign language dimensions.
By default, the hosts and presenters can see and interact with the avatars in the first dimension, but they can also choose to cycle through the other dimensions to directly interact with the users there.
Rollout schedule
Portions of the technology have already been used for events, Shuster said.
That includes the ability for users to move between dimensions, he said.
The full implementation will be unveiled in late December, and rolled out into production in the second quarter of next year.
How much does it cost?
A Second Life region costs $300 a month, with a $1,000 setup fee. A typical OpenSim region runs between $20 and $100 a month, depending on hosting provider.The Distributed Scene Graph would be an extra feature, only available for OpenSim, at an extra charge, and only from some hosting providers.
An Utherverse space capable of holding, say, 1,000 avatars for a business convention, would run around $100 for a month, said Shuster.
That would include a space large enough for a trade show floor, a lecture hall, and additional areas for meet-and-greets.
But large convention organizers tend to negotiate individual deals with Utherverse that include a wider range of services and alternate pricing options, such as revenue sharing.
"The pricing is generally low," said Shuster. "We don't make our revenues from renting space. When people are introduced to our software, they really like it, and they tend to stay on as members of the community. If you were to bring in 1,000 people, we would be just overjoyed to have 1,000 users downloading our client viewers and creating accounts on the system."
To inquire about pricing and other details, contact Utherverse at business@utherverse.com.
The Utherverse platform
Unlike Second Life and OpenSim, Utherverse is not based on a flat world map where users can walk or fly between adjacent regions. Instead, it's based on scenes that users teleport between.
Like Second Life, Utherverse has Vivox voice. Utherverse also has basic in-world editing tools which can be used to move objects around, and make them bigger or smaller. Users can also build new objects out of basic building blocks, but with a smaller set of possible manipulations than Second Life or OpenSim. However, users cannot currently upload their own mesh objects, a feature which is currently supported by both of the other two platforms.
Utherverse also supports in-world media, where any surface can be turned into a live screen showing a Web page, webcam feed, or a window of a software application running on a user's computer.
"It's a very dynamic system for delivering any kind of video or software content," said Shuster.
Second Life and OpenSim have support for Web pages on in-world surfaces, but do not currently support application streaming except through third-party services that create Web-based streams.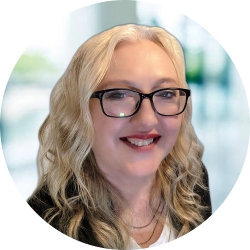 Latest posts by Maria Korolov
(see all)