Update: OpenSim Creations has posted a take down policy. It requires that the original owner of the content file the complaint, and provides an email address to send the complaint to. OpenSim Creations is currently the top content-sharing site for OpenSim, and having a take-down policy in place is a big step forward for copyright protection in the metaverse. See comment from Vanish below. (And my response here.)
—
OpenSim Creations, a popular content-sharing site, will not honor DMCA requests, founder Vanish Seriath told Hypergrid Business today.
If a content creator finds their work is being shared on the site without permission, they will need to "get an attorney and go to a German court," said Vanish.
"I won't be judge or jury on alleged infringements," he added.
"I will honor takedown requests that are valid under German law," he said. "Usually, these will have to be at least Einstweilige Verfügungen (injunctions) issued by a court."
He declined to say whether he would ban users if they repeatedly uploaded infringing content, or if there were any other content protection measures in place.
The DMCA — the Digital Millenium Copyright Act — is a US law that offers "safe harbor" to sites where users share content. The law protects such sites from lawsuits as long as they immediately take down infringing content.
Most countries have similar laws on the books and even where such laws are not in place, hosting companies are typically willing to comply with DMCA or DMCA-style take-down requests in order to avoid lawsuits.
A nice overview of the DMCA takedown process is here.
The basic principle is that if a site allows users to upload content, it should also have an easy mechanism in place to take down infringing content.
Implications for enterprise users
OpenSim Creations' decision not to honor take-down notices is not good news for enterprise users of their content.
By making it difficult for copyright holders to take down infringing content, it makes it more likely that infringing content will, at some point, appear on the site.
Right now, anyone can register for free, create an account, and upload content to the site. For example, I uploaded these megaregion OAR terrain files.
I have not seen any reports of infringing content on OpenSim Creations. And the only complaint I've received from a creator so far was not valid since the content was originally posted on the site by the creator themselves.
So it would be incorrect to label OpenSim Creations as a site where copyright infringers share stolen content. In fact, there might never be any infringing content on that site.
However, enterprise users particularly concerned about complying with copyright laws would do well to take extra precautions before using content from OpenSim Creations. For example, they could  search the Second Life Marketplace to see if similar content is available for sale there — if the same content is for sale on one site, and distributed for free on another, it's a big warning sign. They could also contact the original creators and confirm that the content, is, in fact, original, or request a license contract in return for a payment, or for public credit for their work.
Other options
Content creators who can't afford an international copyright attorney do have some alternative steps they can take, however, if they find their content distributed on a foreign site. That includes filing complaints with the hosting company, and the domain registrar.
For example, OpenSim Creations is hosted with 1&1 Webhosting, according to Network Solutions. Most hosting companies will look at valid DMCA-style takedown requests, especially if a particular site is a repeat offender.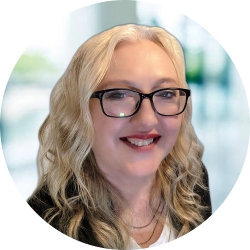 Latest posts by Maria Korolov
(see all)