Low costs and ease of use are inspiring educators to use the OpenSim virtual world platform to build historical recreations, several of which were presented last fall in Paris at the European Immersive Education Summit.
OpenSim is free, open source server software that allows the creation of Second Life-style virtual environments.
Collaborative building environment
OpenSim allows users to build collaboratively and then explore those builds in real time.
"It provides a nice collaborative space,"  said Allen Miller, a computer science lecturer at the University of St Andrews in Scotland. "It's possible whilst the development is taking place to have meetings and walk-throughs and try out different configurations. As people see the building re-emerging it challenges even the experts' preconceptions about what the building would have been like."
Miller's presentation focused on a recreation of the historically significant St. Andrew's Cathedral.
According to Miller, OpenSim historical recreations offer the potential of multiple modes of access in the future.
For example, visitors to the modern location of the cathedral could potentially use a tablet as a virtual window into the past, or get a similar effect with augmented reality glasses, he said.
"The open source nature of the [OpenSim] servers and clients allows us to extend them so that these things are achievable," Miller said.
In addition, hypergrid connectivity allows various historical recreations to be hyperlinked, so that users can easily travel to other builds, even if they are located on foreign grids.
"For me, the key challenge is finding out where the good stuff is," said Miller.
A challenge remains, however, in that users can't simply go to a webpage and access the 3D environment.
"We have quite a way to go for that part of it," Miller said.
The 3D environment, however, offers a significant improvement over the typical perception of old architecture that people get from photographs and movies.
"We think that the 3D technology offers the possibility for people to experience what it was like to have lived in the past, in a way that they couldn't have before," he said.
For example, he said, when people think of castles they normally think of old, aged stone — not how they looked when they were new, and freshly painted. "Nine times out of ten, to go to the effort of painting the whole thing and making it look like it would have looked like 700 years ago, isn't something that people are likely to do."
New tech and OpenSim
The openness of the OpenSim platform allows educators to expand on the technology in innovative ways.
For example, using the arrow keys on the keyboard to move is not particularly difficult, but adding video game controllers makes getting around even simpler.
"It's amazing how even young children can pick up an Xbox controller and feel completely at home exploring," said Colin Allison, a reader at the School of Computer Science at the  University of St Andrews.
And St. Andrews research student John McCaffery created software that allows the use of Microsoft's Kinect in conjunction with OpenSim.
"He can now wander through the cathedral just by wandering through free space and gesturing," said Allison.
Read more about the project on McCaffery's blog.
Another interesting input mechanism is laser scanners, which are increasingly becoming less expensive.
"Using laser scanners and creating point clouds, it can obviously be imported into a lot of formats," said Allison. "But by importing into OpenSim it is then possible to build a walk-through virtual world that really brings it to light."
OpenSim recreations in the schools
Allison's colleague teaching fellow Lisa Dow helped bring a virtual recreation of the Linlithgow Palace to Scotland's Linlithgow Academy, which involved installing OpenSim on the school's application server and Firestorm clients on library computers.
Linlithgow Palace was the birthplace of Mary Queen of Scots and the Stewart Kings.
The platform allowed quick placing of student-created materials, such as drawings, right into the virtual environment, she said.
Children enjoyed flying through the environment and teleporting, she said.
"But really, what they seemed key on was interacting with non-player characters or other avatars," Dow said.
Historic recreations to visit on public grids
Some educators have begun taking advantage of the low cost and easy setup of OpenSim regions on the Kitely platform to create historic recreations.
For example, you could tour the virtual recreation of the Titanic.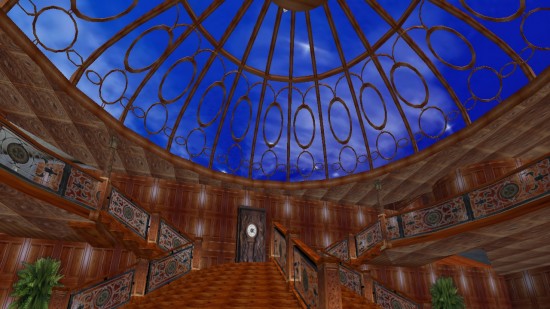 Kitely offers one unique advantage for historic recreations in that region owners can keep a region up indefinitely, at no cost, by setting the access controls so that all visitors cover their own access costs.
Another historical recreation on Kitely is that of Lisbon prior to the 1755 earthquake, developed by  the Centre for History of Art and Artistic Research of the University of Évora and the company Beta Technologies, a virtual environment development firm.
Latest posts by Merrie Schonbach
(see all)