Editor's note: This article was updated on 1/27/2023 to remove dead links and links to malicious sites.
In late June, I was among 94 people who participated in a scalability and training scenario test on the military's MOSES grid.
The goal of the test was to help work out the kinks in creating immersive training environments with large numbers of simultaneous users, using a new technology donated to the OpenSim community by Intel, called the Distributed Scene Graph.
But, from my perspective as a military trainer, this test also offered some lessons in how to design training simulations.
The Scenario
Ten years in the future, the (fictional) country of Atropia signed a cease-fire agreement with its neighbor after 18 months of war.
Atropia possesses significant oil and gas reserves in both the northeast and a major pipeline, one of the most critical infrastructure components in the region, originates near its capital city. These rich natural resources generate potential threats from external forces.
The cease-fire agreement was brokered by the UN and a joint coalition force that includes U.S. units has been deployed to the region to render aid and perform policing actions. The town of Brentville, the site of the training simulation, lies within an area patrolled by the U.S. military forces.
I was assigned a role in this scenario, as "Mael Reynolds," owner of the village tea house.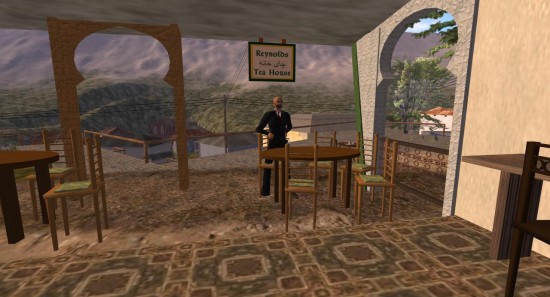 Other public fixtures included a clothing shop, market, courthouse, and mosque. Citizens identify with family and clan first, and town and country second. Other volunteers played the role of military personnel, area residents, and other key roles in this simulation.
At the start of the simulation, the Army has discovered an unusually high amount of fertilizer in a warehouse. The Army suspects the fertilizer may be used for explosives, and were questioning citizens around my tea house.
Creating this kind of simulation outside a virtual environment would have been extremely expensive. Not just in terms of creating the sets, but also the travel costs of bringing all the participants together.
But this kind of large-scale simulation also poses its own challenges. The following are five lessons that I drew from this particular test, that could be useful for other trainers designing similar situations.
1. Goals should be achievable in the available time frame
There is a definite constraint to what can be reasonably accomplished within a two or three hour time frame. Within a virtual world environment, this would be comparable to putting on a two hour stage play, without the benefit of adequate rehearsal time.
In this particular simulation, the goal was to discover what the fertilizer was meant to be used for, and who was involved. There were players with key information within the population.
In a virtual environment, this means that the clues to who these players are must be more obvious than in real life. In the field, investigators would have more time, and would also be able to look for subtle clues like nervousness which would not be apparent in a virtual setting.
2. Neutral forces also need training
for the participants playing bystanders, there is less of a sense of being part of a team or community as there is, say, for the participants playing the active military roles. In addition, when people role-play stereotypes, they tend to play the extremes of the roles they are given.
To create a sense of community, there will be separate orientations for the civilian population in the next test.
3. Training should simulate effective procedures
The simulation did an excellent job with establishing that women soldiers need to speak to the women.
But what was overlooked was that in a rigid culture men may need to speak to men as well.
In our test, Captain Ripley, a female character, questioned local resident Barney Vife, which could have been inappropriate in real life, and led to an unwanted response.
In addition, she immediately tried to bribe Vife for information, instead of first trying to establish a relationship.
Forging a real relationship might not be a goal that can be accomplished in the limited time frame available, but there is an opportunity here for having participants practice the steps necessary for a successful negotiation or information gathering procedure.
4. Prepare for, and manage, 'Show Stoppers'
A "show stopper" is an event that would cause the individual or mission to fail immediately.
One of the purposes of the simulation is to help participants uncover possible critical mistakes so that they can avoid them in the future.
For example, during the simulation, the character "Army Specialist Gibbs" walked into the tea house and asked the entire group there, "Do you guys sleep with goats?"
Resident "Barney Vife" gave a humorous answer, but other citizens where not amused. One citizen shortly appeared with a shotgun strapped to his back.
In another example, "Specialist Cyber" repeatedly said, "shoot one villager and they will all talk." Obviously, this ends any meaningful discussion, and alienates the civilian population. This is even more important in a situation where only limited citizens have any knowledge of any wrongdoing.
If you shoot one villager, you end the possibility of getting good information. In real life, everyone will talk — but will provide false, yet believable information.
5. Hold an effective after action review
The MOSES team held an after action review the next day and all the participants were encouraged to send in suggestions. Several of the suggestions have already been incorporated into the next scenario, most notably separate orientations for the neutral players and the Army. Subject matter experts will go over basic responsibilities and behaviors of the soldiers as well as culturally relevant advice for the civilians.
The next exercise will be conducted on July 20. If you would like to participate, pre-registration starts July 11. Please visit militarymetaverse.org for more information. Participating in the MOSES scalability test does not require having an avatar on the MOSES grid.
Latest posts by David Winfrey
(see all)