With the cost of plane tickets and hotels rising all the time, travelling is getting increasingly expensive. This is bad news for small businesses, who still need to attend conferences and offer off-site training, but it's also a drain for large corporations, non-profits, and any other group looking to hold an event. One answer, of course, lies in virtual worlds.
Cost savings
A new cost savings calculator release earlier this year allows users to see how much money could be saved by switching to virtual meetings instead of in-person business trips. The calculator asks for the total amount of money spent on travel, and the number of trips per year, and calculates the average ticket price automatically. The calculator then offers the amount of savings provided by switching various percentages of trips to virtual meetings instead.
Meetings, however, is not the only area which can be virtualized to save money. Training can be very expensive, and training on-site is often not as effective as training off-site, as well as disrupting the normal work flow. Virtual training is an obvious solution. Instead of shelling out to send employees on costly training trips, have them do their training in a virtual world, or online elsewhere. Although OpenSim is one of the most popular virtual platforms, there are many others that may suit a specific need better.
Conferences are also very expensive, not only to host, but also to attend. Holding conferences virtually, like upcoming the OpenSimulator Community Conference in September, can save a lot of money. And holding a conference in a virtual world instead certainly doesn't deter people — the OpemSimulator Community Conference is already sold out of in-world venue tickets. The conference offers the same events, social gatherings, workshops, and keynote sessions that a standard conference would offer, except everything happens virtually.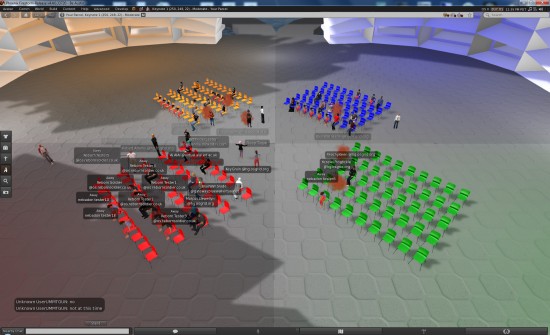 Virtual conferences also save people from the hassle of travel. The uncomfortable plane ride, the unfamiliar hotel room, and the difficulties of navigating in a new city might deter some people from attending. By holding the conference virtually, you allow people to attend the conference and interact with others without ever leaving their home. And no one has to pay for a plane ticket.
This calculator could be the push businesses need to switch to virtual meetings. By seeing exactly how much money they could save, businesses may finally see the benefits that virtual worlds can offer.
Environmental and energy benefits
Switching to virtual meetings benefits the environment as well. According to a recent study done by GÉANT [link to pdf], "there is a saving of 66% of the total GHG [greenhouse gas] emissions due to transport as a result of the use of videoconferencing for NDLR board meetings in the period studied."
Although the study discusses the benefits of videoconferencing, the results can be applied to any form of virtual meeting. The report looks at energy savings from not travelling to the location.
"Using the NIIF calculator, the savings may now be as much as 1896 kg of GHG emission, just calculating how much saving was made by using VC; had all attendees used VC rather than travelling, a further 1918 kg of GHG could have been saved," the report said.
The energy saved by switching to virtual meetings also offers an environmental benefit as well. By cutting out travel, not only are greenhouse gas emissions, but less fuel is used.
Latest posts by Amanda Green
(see all)