A little more than a year ago, I wrote a blog post entitled Why Anyone Who Cares About the Metaverse Needs to Move Beyond Second Life; Now, Not Later. It version said, "If we want to see the metaverse happen in our lifetime, we need to invest our time, money, creativity, and resources into making it happen. It isn't going to come from Second Life or Linden Lab, and the metaverse can't wait." Shockingly to me, that post generated over a hundred comments, a bunch of blog posts, and a huge discussion that ultimately had more impact than even the act of writing the post itself.
It was the first time I'd publicly acknowledged my decision to mostly leave Second Life behind, and it may have been the first time I really crystallized even in my own mind why I felt that was the right thing to do. It was not an easy decision to make, as anyone who has known me in real life or virtually over the last seven or eight years can attest. It's difficult to walk away from something you've made such a deep commitment and investment in, and it took many years and many disappointments, and the terribly hard — and sad — decision to stop organizing the Second Life Community Convention, before I was even capable of stepping back enough to get a little perspective.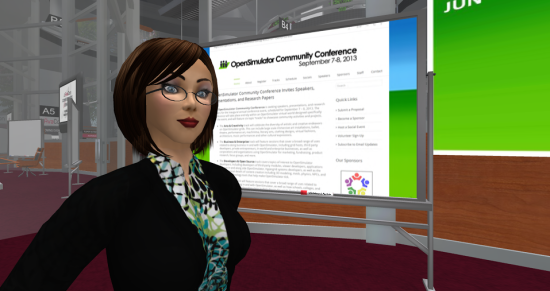 I won't rehash that post here, you should go read it if you're interested, but by the fall of 2012 I had finally reached the conclusion that the metaverse I wanted to see would not grow out of Second Life. And I resolved to take my own advice and start finding ways to invest my time and energy into other technologies, platforms, and people who share the same passion and vision for making the metaverse a reality that I have. I felt the need to put my money where my mouth was, so to speak, and to not just talk about what we should do differently, but to actually start doing differently.
So that's the context and history of where I was when a few months later I began to broach the topic of an OpenSimulator focused virtual conference with the board of AvaCon and with members of the Overte team. The members of AvaCon had been involved with organizing SLCC for many, many years, even before AvaCon itself came into existence, and we had a wealth of experience organizing large scale real and virtual events. And it seemed to me that the OpenSimulator platform was progressing and maturing in ever faster and more stable iterations over the past few years, so perhaps the time was right for AvaCon to take the energy and experience we'd previously brought to Second Life focused community events and try to offer that to the OpenSimulator community, if there was any interest…
Organizing people & organizing code aren't the same thing, but they both have to work really well for a completely virtual conference to be successful
Now it's a funny thing when you bring together a group of community builders who tend to be very people focused and a group of programmers and developers who tend to be very code focused. That isn't to say that either group didn't know or care about the other side of the equation, of course we did, but I think it's pretty safe to say that initially AvaCon and Overte were coming from very different perspectives and cultures and ways of thinking about and doing things, and those first meetings were really all about trying to come to a meeting of the minds about what we hoped to accomplish if we were going to collaborate with one another to organize an event.
For any of you who have been working in the metaverse for a while, you know how tentative those first steps of working with a new group of people you've never met in-person can be. Even in real world projects, there's always that period where the initial enthusiasm for a new project or idea starts to wear off, when you begin to get down into the nitty gritty of making something happen, and suddenly you're not quite sure if you're going to be able to pull it off. And that's only exacerbated when you're working with people entirely virtually and you've never met face to face and you can't look into each other's eyes and read the body language and all the unspoken messages we send. For all the advancements in virtual world technology we've seen come to pass in the last decade, that's an area where the technology is still woefully, woefully inadequate.
And so it was with Overte and AvaCon. I wouldn't say things started off distrustfully, but rather that I think we were just trying to feel each other out, both on an organizational level and on a personal level. Who were the individual people and what were their motivations and goals? What kinds of processes did Overte use to get things done and how would that mesh with how we at AvaCon did things? And we discovered that there were some culture.. clashes, for want of a better word, or maybe just different perspectives and approaches.
Open source projects tend to value action over talk (let me see your code) and the issues being resolved in software development tend to be a little more clear cut. There may be more than one path to reach the desired destination, but something either technically works or it doesn't – you can either log in or you can't, the packet got sent or it didn't – there's less mushy middle. And by their very nature, open source software development projects are fairly decentralized and count on individuals taking the initiative to make contributions when and where they can, often asynchronously, and perhaps with little coordination with others beyond some comments in the code.
Conference organizing, on the other hand, is a beast of a very a different nature. It's an extremely communication-intensive process that requires much advance planning and centralized decision-making. The right hand really must know what the left hand is doing, otherwise people get confused and processes get all tangled up and before you know it your event has a bad reputation before it even gets off the ground. It also involves a lot of softer, mushy, people-n-politics type negotiation that isn't always as clear cut as solving a technical problem. What's fair? What's just? What's the best way to resolve a dispute? What are people feeling and what do we want them to feel when they attend the conference? How do we want people to behave, and what happens if they don't? Those things come up when you're organizing an event with and for many hundreds of people and they involve making intuitive, moral, and ethical decisions as much as process or technical decisions.
For sure, organizing people and organizing code often requires different skill-sets, and in an event like OSCC where we needed both to mesh together well to have a good experience – the grid had to perform well and the people attending needed to know where to go and what to do and how to do it – I think it challenged us all to figure out the best way to make that happen.
How developers & users communicate with each other matters – a lot!
I mention these things not to highlight the differences between AvaCon and Overte. In fact, I think we all came to very deeply respect each other and the tremendous skills, commitment, and passion everyone contributed to make the event a success. But rather because I think there's a nugget of something important in the experience both groups had in learning to work with each other, in learning to respect the strengths and weaknesses of our different approaches for organizing code and organizing people, that is relevant to the broader topic of technology platforms and the communities of developers and users that grow up around them.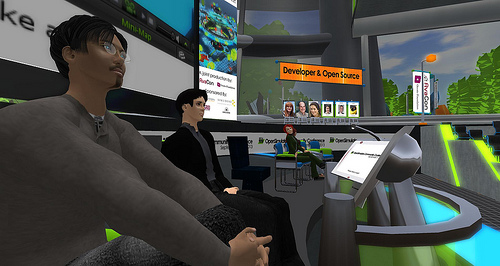 The Developer & Open Source track was heavily attended, this image is of Mic Bowman, Justin Clark-Casey, and Crista Lopes talking about the future of the Hypergrid.
There's often this feeling of disconnect between the developers who write the software and the user communities of any platform you care to think of, that I think has something to do with those different mindsets, different skills, different approaches. And I think there's some critically important .. ingredient.. in how those groups communicate with each other that makes all the difference between a healthy, growing, vibrant technology or platform, and a technology or platform that has an unhealthy community dynamic, or begins to stagnate, or fails to meet the needs of a critical mass of users.
It has something to do with the people involved being willing or able to negotiate through some of those different approaches, of being willing to have at least a little bit of good faith that the other party has good intentions, of being willing to extend a little trust. I'm not exactly sure when that got broken in Second Life, but it definitely did, and after that, trying to organize a community event in an atmosphere of anger and distrust and resentment was a stressful, hellish experience, at least for me, and I've been trying to put my finger on what made things so different.
It wasn't that the people who presented at SLCC weren't as knowledgeable or insightful as the presenters at OSCC, they totally were. It wasn't that SLCC volunteers didn't work as crazy hard as the volunteers at OSCC, they totally did. It wasn't even that the vast majority of SLCC attendees weren't as passionate about Second Life as OSCC attendees were about OpenSimulator, they totally are. But somehow, the communication and dynamic between the developers and the community wasn't good, and it left an undercurrent running through SLCC that no amount of good organization could overcome. As I wrote then about SLCC: "These kinds of community events require many things to be successful – but a company and a community that is actually supportive instead of antagonistic is essential."
Fortunately, the experience of organizing OSCC was refreshingly different. I won't say it was any less stressful on some level, or that it required any less hard work, but the outcome is so amazingly, amazingly different when you have developers who want to brainstorm with users and each other, when you have a community who wants to talk with one another, when people come to the event with the anticipation of sharing, exploring, and networking instead of complaining, griping, and arguing. There's just no comparison. It renewed my faith that there's something valuable and important in bringing together the people who write the code and the people who use the code that, if done well, can have a tremendously positive impact on not just the technology or platform itself, but in inspiring people to keep trying, to keep creating, and to keep pushing the boundaries of what's possible.
Conferences can be great catalysts, but only with the right ingredients
Even though I've been organizing conferences for many years, the experience of organizing OSCC helped me better understand what it takes for a conference to be a true catalyst for something beyond the event. Every conference gives you a due date, a framework for a community to focus their energies on a specific goal, and that in and of itself can be an important catalyst. I think it was in terms of the improvements made to the OpenSimulator software, for example. The developers and load testers worked week after week to discover the bugs and issues that would cause problems for the conference, and it had to be fixed by x date. All that effort led to over 1000 code commits to the software that resulted in new features and better overall stability. (Be sure to check out the 0.7.6 Release to get all these great changes on your grid!)
But it takes more than just setting a date and having a goal, and it takes more than just having a good organizational structure or technology platform, too.
I'm absolutely certain that the work we put into the organization of the conference and to making changes to the platform were only the necessary-but-not-sufficient foundation, especially if I think about the differences between OSCC and SLCC. We used many of the same organizational processes for OSCC that we used for SLCC. The website content was similar. The schedule was similar. The track topics were similar. The technology, obviously, is very similar. When you get right down to the heart of it, it wasn't the conference infrastructure or the specific platform that made the difference at all, it was the people. It was every planning committee member, every speaker, every sponsor, every volunteer, every attendee who came to the table with the right attitude. It was not just those of us doing the organizational work, but every person who put a little bit of their own hard work and passion and creativity into sharing and learning and discussing that made it one of the best conferences I've ever helped organize.
It was the very best example of a damned good pot of stone soup. And it's those many contributions by many people who are there for the right reasons that is the secret ingredient necessary to turn a conference experience into something transformative. And in that regard, OSCC exceeded even my most optimistic hopes.
For future events, I want to put more time and effort into figuring out what those right reasons are and how to amplify that message. Maybe it's about setting the stage properly (metaphorically speaking, though Crista was right that there's some element of paying attention to the interaction design that matters, too). Maybe it's about managing expectations. I definitely think there was something about starting a brand new conference that meant people weren't sure what to expect and that perhaps made them more open to having a positive experience than a conference like SLCC which had been going on for years and at times hadn't been well managed. Maybe it had something to do with the way the planning team communicated with the broader community. Maybe it was just a serendipitous collision of all those things and good timing, I'm not quite sure.
But I think it matters. I think these kinds of community building experiences and all the conversations they generate and information sharing that happens is critical to the long term goal of not just a better OpenSimulator but a better metaverse experience.
That's not to say there weren't things we could have done better, of course we made some mistakes, but in general the conference itself worked. All those functional things came together; the grid stayed up, we largely stuck to the schedule, the presentations mostly went off without a hitch, and we had a terrific group of volunteers committed to making the event a success. But it's those intangible, harder to put your finger on things that really made it memorable, exciting, and inspiring.
Keeping the momentum between conferences is the real key to making the Metaverse.
That spirit, that willingness to extend a little trust, to contribute to a larger effort, is what it will take for the metaverse to grow into what so many of us want it to be. We need to keep tweaking our stone soup recipes, and finding ways to bridge those differences in approaches, and adapting the technology, as we did very deliberately with OSCC, to enable the human experiences we want the technology to facilitate. It doesn't just require good code or good people, it takes both, and those long, deep conversations, and the patience and perseverance to keep testing, and failing, and trying again, that we must do to keep figuring out new and better ways to translate our human needs and desires into code that better serves us.
The trick for this conference, for OpenSimulator, and for the metaverse at large will be to keep that momentum going. To not lose touch with each other except at the annual conference, to continue to collaborate with one another, to keep the lines of communication open, to keep sharing and discussing.
How do we keep the momentum going between conferences?
Image: One of the landing zones at OSCC13, by Zuza Ritt.
As I said to someone recently in an email, if I've learned anything over the last few years, it's that it is so very easy to get lost in the weeds of your own work and your own projects, but when we're all doing that, we miss opportunities to collaborate and scale our efforts. We end up all individually recreating the wheel. OSCC reaffirmed for me that the value in an open source platform like OpenSimulator isn't just the difference between the walled garden or not, the ability to archive or save content or not, the availability of this or that feature or not, but rather that the free flowing sharing of ideas and content with the right group of people with the right attitude has the potential to be an exponentially positive catalyst for growth.
That's the main lesson I took home from OSCC13 and that's the energy and focus I hope AvaCon will continue to foster as we move forward with our plans to develop better ways to support the people making the metaverse happen. (Take the survey if you're interested in providing feedback.)
I know I've said it before in other places, but truly, thanks to the team at Overte, to the entire Planning Committee and all the wonderful, wonderful volunteers, to all the load testers, to the student builders, to the OpenSimulator community and the developers who submitted a zillion bug fixes, to the viewer developers, to all the companies and individual people who sponsored the conference, to every single keynote speaker and presenter who gave us so many great things to talk and think about, to every single attendee who came to the conference and had patience and understanding for our imperfections, to everyone involved. It was truly a community effort that reminded me why I got into doing this conference organizing stuff to begin with.
Thanks for renewing my faith.
Latest posts by Chris Collins
(see all)