How would you define a classroom? Some may think of it as a gathering place, others as a laboratory. Another may shudder with the memory of being confined in a crowded artificially lit room, all students facing in the same direction like workers in a garment factory.
To each member of a class, the environment has a profound impact on their experience and the learning memories made within it. If you teach, you have probably considered the environment you work in, and wondered how to enhance its capacity to support your teaching methods.
While you may not have much control over the real life environment, in a virtual world there are many possibilities to enhance the virtual environment for teaching. (Read more about the research on this topic here.)
In early 2012, I was teaching a class for the Harrisburg University of Science and Technology in the Learning Technologies graduate program about virtual worlds and how they could be utilized. Since the class was given online, we met in virtual worlds, to see and do things while planning and practicing skills for designing and building a virtual environment.
I learned some lessons there as a teacher which I would like to share here.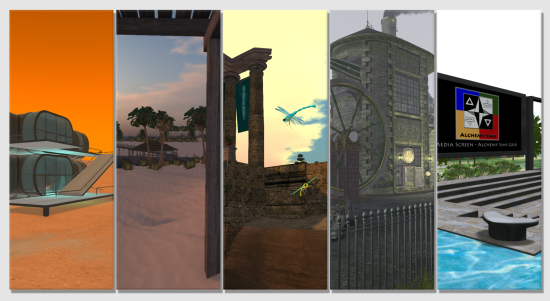 Fundamentally, you don't need to be a scripting wizard, or master 3D modeler to create a compelling virtual space for teaching and learning.
Instead, try dipping into the current of imagination around you, and let the flow carry you and your class to the discovery of new knowledge and memorable connections, supported by virtual spaces and objects you discover, collect, and assemble into a collective virtual archive.
For the purposes of this article, I am assuming you have access to a virtual world environment based in OpenSim or you have installed a copy of Sim-on-a-Stick or New World Studio. Perhaps you have even downloaded some of the OAR files with prebuilt environments on them. (See Where to get content for OpenSim.)
If this is not the case — fear not. You can find all sorts of virtual environments by logging into OSgrid or Kitely.
The only other thing you should know is how to make a snapshot or screenshot in a virtual world, so you can record images of various environments from many angles. For the purposes of the exercises listed below, the Firestorm viewer was used, which supports mesh and has a version specifically for OpenSim, although the Singularity or Imprudence viewers will also work.
The S.E.S.A.M.E. design process
The acronym S.E.S.A.M.E stands for Storytelling +Environment+ Sandbox + Accessibility + Mobile= Enhancement of your virtual teaching space.
Let's run through them one by one.
1. S is for Storytelling
What is the message of your lesson?
As you probably know, we remember story related information better. (Read more about that in this American Educator article.) Ask yourself, how does your lesson content interact with the virtual space?
For instance, if you are teaching about medieval history and the structure of a castle, do you have some castle parts that can be visited in your virtual classroom? Are you using other medieval objects that relate to the story in the space, such as tools or weapons of the time?
As you explain the lesson, what images and sounds can be used to support the information and intent of your presentation? Could the avatars of your students interact with it? Does the environment tell the story or get the students involved in making the story or lesson happen?
2. E is for Environment
Focus the attention of your class by fine-tuning the size and shape of the space. Make it comfortable with a clear visual field. Check the sightlines from every sitting position in the room, making sure that it requires little effort to get an avatars camera focused on the areas you intend to utilize for the lesson.
Remember the critical impact of good sound, and endeavor to provide that at all times. Make sure that your environment is colorful, but not distractingly so, and decorated with age appropriate colors.
Build in a change of pace, take field trips to other parts of the metaverse, and bring artifacts back. Let the students become involved in the design of their display. Having a clubhouse or a museum of virtual artifacts will create a personalized environment for all of them to share.
3. S is for Sandbox
In an open virtual environment, you have an almost unlimited "sandbox" available for your classroom. Let the virtual system be a teacher too.
In this space, students can learn about the uses of geometric form from the primitive objects with wireframe and shaded faces integral to the system.
You can use this virtual space as a place to teach about prototyping with 3D modeling and understanding of artistic form. Let them examine how the avatar is made, and learn how to change its form and surface.
This is also an opportunity for students to look "under the hood" of virtual worlds. Learning how a server works, how the virtual region is set up, what happens when you login is an interesting way to enhance math and science studies.
4. A is for Accessibility
As you prepare your content ahead of time, test it for accessibility. Will all students be able to see it, hear it, and manipulate it?
Make sure there is enough contrast in the images, and that it is colorblind safe, so all will see the images. Build awareness in your students of the Design for All concept so they instinctively create images, and structures that can be seen, heard and touched by all.
5. M is for Mobile
Go mobile — try out the Android- and iPad-based viewers, and try the chat clients like Radegast which now has some 3D access available.
For Android phones and tablets, try the Lumiya viewer. It's not a full replacement for a desktop viewer, but does include many features, including mesh support.
For iPad or iPhone, try Pocket Metaverse, which offers the ability to chat with friends and access inventories while on the go. The free version includes a limited selection of OpenSim grids — get the paid Pro version to access other grids, such as your own private world.
It adds up to E for Enhancement
Just as the words "Open Sesame" revealed treasures to Aladdin, using S.E.S.A.M.E. will reveal treasured knowledge to your students in an enhanced virtual teaching environment. This is just short tour through some of the possibilities these environments offer the teacher or trainer.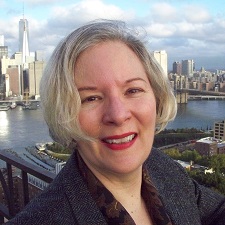 Latest posts by Ann Cudworth
(see all)