Press release: Disney's Katie Fico to keynote Immersion 2014
BOSTON, MA –  The Immersive Education Initiative today announced that Disney's Katie Fico will keynote IMMERSION 2014 in Los Angeles, California, this June. The award-winning Stereoscopic Supervisor at Walt Disney Animation Studios led the stereo team through the challenge of designing dimensionality for the Academy Award®-winning animated film Frozen to enhance the emotional beats and further immerse the audience in a vibrant and colorful world.
In her keynote address, Frozen: The Art of 3D Storytelling, Fico will share with IMMERSION 2014 attendees the ways in which Disney uses 3D technology to create unique and deeply compelling immersive experiences.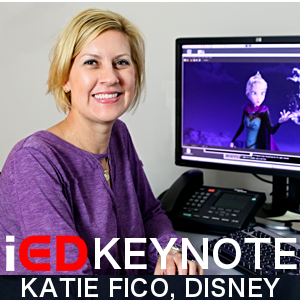 Frozen is a sweeping epic tale, filled with magical ice and swirling snow. For the film Fico and her team utilized stereo 3D and depth to enhance the story and emotionally engage viewers in a way that is not possible with traditional movies.
Drawing on her work on Frozen, Fico will explain how stereo 3D is used as a storytelling tool today what we expect to see and experience in future Disney films.
Her keynote will also address the importance of stereo 3D as a business tool, and how this relatively new technology is already impacting the world around us.
Recently awarded with "Best Stereographer" and "Best Stereo" by the International 3D Society for her work on Frozen, Fico has worked on a number of feature films during her career at Walt Disney Animation Studios, including Dinosaur, Chicken Little, Meet the Robinsons, Bolt, Tangled, and Paperman.
" Storytelling is a way for the audience to connect with a character, to feel their emotions and be a part of their journey," she said. "The use of stereo on a Disney film is relatively new and still evolving. Yet, Disney is on the forefront of technology and an industry leader with their 3D techniques. Here at Walt Disney Animation Studios we use 3D in a way that allows the audience to feel immersed within the emotional arcs of the film. During my IMMERSION 2014 keynote address I will focus on what our stereo process is and how we use 3D as a storytelling tool and also what to expect in our future films. I will also talk about why stereo is important from a business stand point, and how stereo is impacting the world around us."
About IMMERSION 2014
Building on the success of the previous eight years of Immersive Education (iED) conferences, the world's leading experts in immersion convene June 6-8 in Los Angeles California for IMMERSION 2014. Hosted by The Getty (J. Paul Getty Museum) and Loyola Marymount University (LMU) in collaboration with the Smithsonian Institution and the Western USA Chapter of the Immersive Education Initiative (iED West), IMMERSION 2014 is open to the global academic and business communities, the general public, and experts in immersion and immersive technologies.
Immersive Education : iED 2012 BostonIMMERSION 2014 #i2014 addresses the personal and cultural impact of digital technologies such as wearable computing (e.g., Google Glass and Samsung Gear), virtual reality (VR), augmented reality (AR), mixed reality (MXR), mechanical and neural interfaces, affective computing (systems that can recognize, interpret, process, and simulate human feelings and emotions), neuro-gaming technologies (that are used to create adaptive and radically compelling game experiences), 3D printing, personal robotics, virtual currencies and economies (universal digital micropayments, Bitcoin and related cryptocurrencies), telepresence, virtual worlds, simulations, game-based learning and training systems, immersive MOOCs (Massive Open Online Courses), and fully immersive environments such as caves and domes.
Immersive Education (iED) Summits are official Immersive Education Initiative conferences organized for educators, researchers, administrators, business leaders and the general public. iED Summits consist of presentations, panel discussions, break-out sessions, demos and workshops that provide attendees with an in-depth overview of immersion and the technologies that enable immersion. iED Summits feature new and emerging virtual worlds, game-based learning and training systems, simulations, mixed/augmented reality, fully immersive environments, immersive learning and training platforms, cutting-edge research from around the world, and related tools, techniques, technologies, standards and best practices. For more details visit summit.ImmersiveEducation.org.
About Immersive Education Initiative
The Immersive Education Initiative is a non-profit international collaboration of educational institutions, research institutes, museums, consortia and companies. The Initiative was established in 2005 with the mission to define and develop standards, best practices, technology platforms, training and education programs, and communities of support for virtual worlds, virtual reality, augmented and mixed reality, simulations, game-based learning and training systems, and fully immersive environments such as caves and domes. Thousands of faculty, researchers, staff and administrators are members of the Immersive Education Initiative, who together service millions of academic and corporate learners worldwide.
Chapters support the rapid and continued growth of Immersive Education throughout the world, and constitute the geographically distributed structure of the organization through which regional and local members are supported and enriched. Chapters organize officially sanctioned Summits, Days, workshops, collaborations, seminars, lectures, forums, meetings, public service events and activities, technical groups, technical work items, research, and related activities.

Latest posts by Press Release
(see all)