Vancouver-based Utherverse Digital Inc., a proprietary virtual world platform known for its adult content, is developing a new generation of its software that will not only be Oculus Rift compatible right from the start, but can also replace your current Web browser.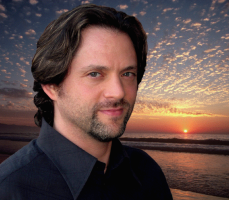 According to Utherverse CEO Brian Shuster, the new Curio browser is based on Chrome. You type in your address in the destination bar and if it's a Web address, it will take you to the website, and if it's an address in the company's proprietary Virtual World Web platform, it will take you to that region — and, possibly someday, even to OpenSim destinations as well.
The software, currently in Alpha testing, also promises more in-world building tools, better avatar shapes, and other functionality.
Curio is due out before the official release of the Oculus Rift, Shuster said, with some beta versions of Virtual World Web destinations out as early as next month.
Complete interface redesign
To make a virtual environment compatible with the Oculus Rift, it's not enough to just have a first-person view and enable the side-by-side stereoscopic display.
Users wearing the Oculus Rift have a hard time seeing menu elements on the edges of the screen, reading small text, and — unless they touch-type — using a keyboard.
"With the Curio browser, we're really re-working the whole way the user interface works when its displayed through the Oculus," Shuster told Hypergrid Business.
Typically, games do this by replacing pop-up menus with in-world objects that display data — screens, tablets, indicators attached to player wrists — as well as context-sensitive graphics that pop up when an object is touched and Google Glass-style augmented reality displays.
"The menus need to be able to appear in a way that they're easily viewable and able to be manipulated without the use of keyboard," Shuster said. "You need to intuit what menu the user is going to need."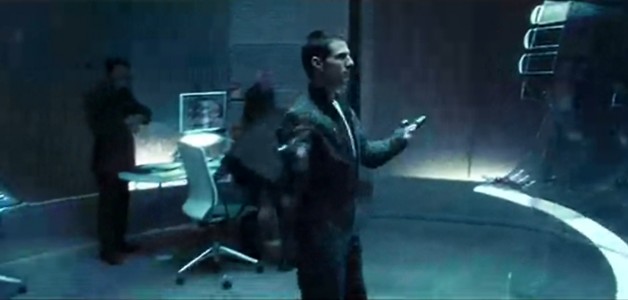 Minority Report-style gesture-based controls are also being developed, he said, as well as menus that stay just out of sight until they're needed, and then swing into view when the user turns their head.
"It's all in development," he said. "But what actually ends up working well — not just sounding good — remains to be seen."
The company is also looking at speech recognition. Speech recognition can be used not only for voice commands such as "stand up" or "start running" but can also be transcribed into text chat, for people who prefer not to use voice in-world.
"We are working on that, and that is going to be released," said Shuster. "But from my personal experience with it, its hard to get over the not wanting to talk to yourself. It may just be me — I'm navigating this environment, and it breaks the illusion to start talking and having it be converted into text. We'll see how that works out over time."
For those who do use voice in-world, but would rather not have it be their own voice, Utherverse already offers a suite of voice modifiers.
Moving around can also create problems, if the user has problems finding the arrow keys.
"When we've been demoing the new Curio package, we demo it with the Oculus Rift and hand the user a joystick," said Shuster. "Alternatively, we've been demoing it as a 'Holodeck version 1.0' where the user is using a Virtuix Omni for navigation, which we're also compatible with."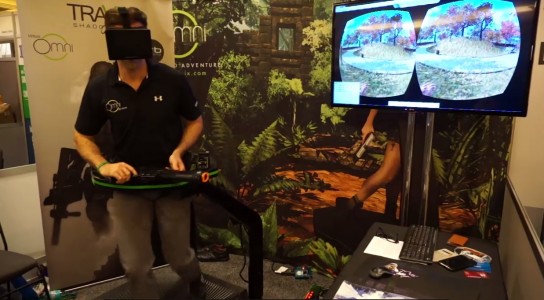 To try out the new Curio viewer, go to the download page — free registration required — download and install the viewer, then hitting F12 on the keyboard to switch into Oculus mode.
Utherverse vs. Virtual World Web
Utherverse currently has about a million actively monthly users, according to Shuster, which puts in roughly in the same ballpark as Second Life. However, while Second Life's primary focus is creative building, with a marketplace of millions of user-created items, Utherverse is more focused on adult social activities, including an official virtual escort directory — not safe for work, by the way.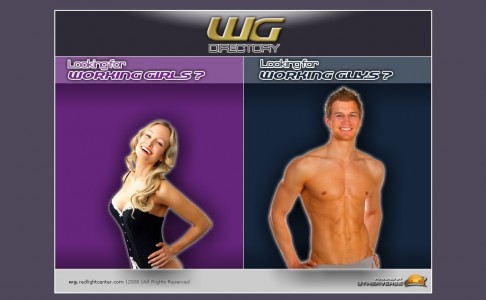 Utherverse users won't be able to teleport over to Virtual Worlds Web worlds, however, as the two platform are not compatible. Utherverse region owners will have to port their environments to Virtual Worlds Web.
Virtual World Web will allow for more in-world creativity. For example, today, Utherverse users have to choose their avatars from a pre-set selection of shapes.
"Regular users can't just create them and upload them," Shuster said.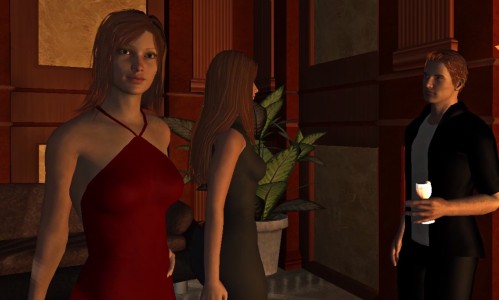 In the Virtual World Web, region owners will be able to offer custom mesh avatars to users.
In addition, Virtual World Web will offer both client-side and server-side scripting, allowing for more potential for interactivity in the environments.
But the biggest change is that the Virtual World Web software will be available as a stand-alone package, allowing customers to run their own worlds almost completely independently from Utherverse, except for the centralized login system.
Pricing hasn't been determined yet, but could run at "several thousand dollars," said Shuster.
Customers can even resell Virtual World Web hosting, he added.
"It's really unique — hosts will basically become ISPs," he said.
This is similar to the OpenSim model, where anyone can download the OpenSim software and set up an OpenSim grid hosting business, except that in OpenSim identities are completely federated — each grid manages its own login process. And the software, of course, is free.
So does that mean that we will soon see a metaverse where people can choose between proprietary and open source virtual world server software? We currently have that on the Web, where around 11 percent of active websites run on the proprietary Microsoft Windows Server, and 66 percent run on the open source Apache and Nginx platforms, according to Netcraft.
Access to other platforms
So will Virtual Worlds Web be compatible with OpenSim? Maybe.
Shuster said that he hopes to see the Curio browser become the browser for the whole 3D metaverse.
"We think we'll be the primary browser people will run," he said.
Curio might offer an OpenSim plugin that would allow people to visit OpenSim grids.
"There aren't really plans to do that yet," he said, adding that he expects current OpenSim grid owners to switch over to the Virtual Worlds Web platform.
"Honestly, I'm going to be very surprised if, once Curio is released, we don't see a mass adoption by anybody who's been using other platforms," he said. "With Curio, anything that can be done in OpenSim can be moved over and it will gain a substantial number of features without losing anything."
For example, he said, Curio has better graphics. If a region has a great deal of content, the viewer automatically scales the resolution to fit the user's computer capability, and focuses on the most important and closest content.
"We do all kinds of smart rendering," he said. "So if you land in a region that's very large, we're not going to render anything beyond what you can reasonably see. And we check your computer to see what your framerate is and downrez everything until we're hitting the framerate."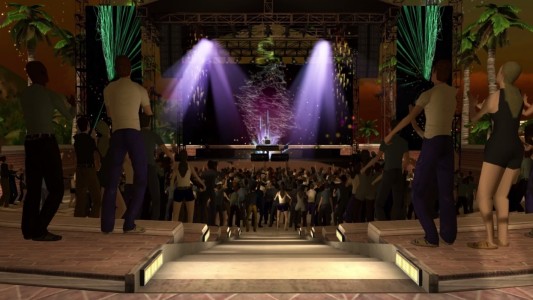 Curio also has no limits on region size or content or number of avatars, he said. Though, to be fair, if a single location holds more a certain number avatars, the extra users get moved to a duplicate copy of that region, which they call dimensions. In Utherverse, that maximum is 100 avatars, "and Utherverse doesn't have nearly the load carrying capacity per region as Curio does."
OpenSim also allows for unlimited region sizes and content, constrained only by server capacity and users' viewers, some hosting providers already support up to 100 avatars on a region, and the new Distributed Scene Graph functionality from Intel allows hundreds of avatars in a single location.
Second Life regions are fixed in size, prim counts are limited, and regions top out at 40 avatars.
However, whether or not Virtual World Web offers a better technology or not, Utherverse will have an uphill battle when it comes to name recognition, especially for non-adult applications.
According to Google Trends, the keyword "utherverse" lags far behind "second life" and "imvu," and Alexa and SimilarWeb also show Utherverse as having a lot less traffic.

However, should Shuster's expectations be disappointed and grids continue to stick with the OpenSim software, then Curio will support broader metaverse access.
"I'd wait and see how it plays out," he said. "If there continues to exist substantial numbers of virtual worlds that are not compatible with Curio after it's been released and the public is aware of it… we'll start working to make sure that Curio can view all the virtual worlds. "I want users who download Curio to be able to to browse to any virtual world. That will be on my plate, one way or the other."
Watch a demo of new Curio viewer here. Watch Curio used with the Oculus Rift and a Virtuix Omni here.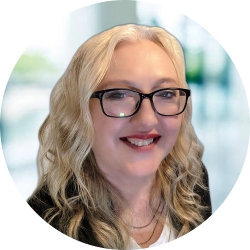 Latest posts by Maria Korolov
(see all)