One of the security features of the recent versions of OpenSim is the "My Suitcase" folder. It protects your content when you travel to other grids.
I hate that suitcase.
Half the time, I can't access the stuff in it. It just gets in my way.
So when Dan Banner, one of OSgrid's administrators, suggested that I get rid of it, I jumped on the idea.
He said that getting rid of the suitcase requires editing the robust.ini file, and setting HGInventory Service to HG 1.0.
"It's just a change of the LocalServiceModule," he said.
That meant nothing to me, so I passed the info on to my grid's hosting company, Dreamland Metaverse.
Dreamland CEO Dierk Brunner was hesitant at first to make the change.
"I am sure that the chances are high that this causes compatibility issues between different grids," he told Hypergrid Business.
Well, there was only one way to find out, and Brunner flipped the switch.
Kitely Market still delivers
The first thing I wanted to check was whether I could still buy stuff from the Kitely Market. I love that place, and if I couldn't shop there, I'd learn to live with the suitcase.
I logged into my grid — you have to be in-world to accept Kitely deliveries — went online and searched the market for what I wanted to buy, then had it delivered to my Hyperica grid avatar. I've done this before a few times, before getting rid of the suitcase, so I was familiar with the process.
The purchase came through immediately.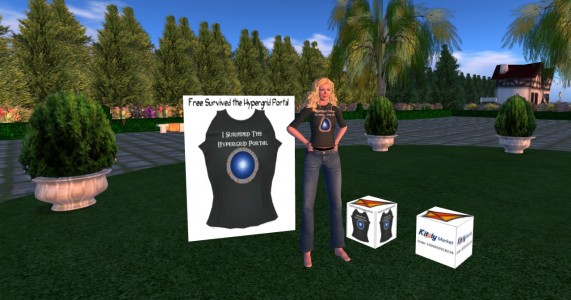 My only complaint was the packaging. I wonder how many virtual trees died to make those three boxes?
Getting content on other grids
Okay, so the Kitely Market still works, but I also like to do in-store shopping on other grids. Okay, okay, I like to scrounge for freebies.
Specifically, I need some shoes that go with this outfit.
Where's the nearest Linda Kellie mall? Since I already had the Kitely website pulled up, I checked there first.
Suzy's Shopping Mall PLUS? Perfect. I pasted its address in my map –Â grid.kitely.com:8002:Suzy's Shopping Mall PLUS — and jumped over. The region wasn't up, and I was going to take a picture of the "region loading — please wait" message but by the time I got around to pressing Print Screen, I was already there.
There was a nice pair of black work boots in the mall, and I picked up a copy.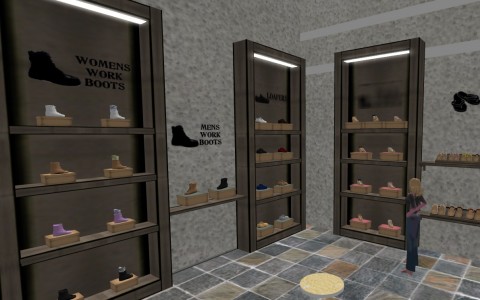 I made the mistake of putting them on right in the store, which, of course, just meant I had a flat-pack sticking to my back. I went outside to the unpacking area, and my purchase was right there in my "Objects" folder.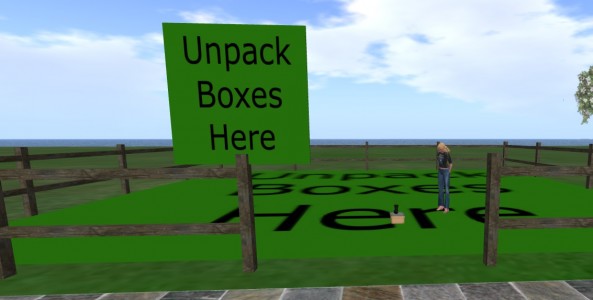 The container was  a little boot sitting on top of a wooden box. I opened it up, and put the boots on.
No mess, no fuss.
Here's a closeup of what they look like.
I teleported back to my home grid by typing in the address – for some reason, the "Teleport Home" button didn't work.
When I got back, everything in the inventory was still where it was supposed to be.
Excellent!
Security disclaimer
Now for the security disclaimer.
I am not a content creator with a bunch of expensive, unique items in my inventory. My inventory is a mess of thousands of objects, most of them named "primitive."
So if the lack of a suitcase means that hackers can grab stuff from my inventory, more power to them. Go nuts. I thought I had a pair of sneakers in there somewhere — maybe they can help find it for me.
And while there have been no reports of this happening yet, but a shady grid owner might also, in theory, figure out a way to delete my inventory. And I do enjoy visiting shady grids. For research purposes only, of course!
But Dreamland Metaverse not only makes regular backups of everything, but also allows me to easily make OAR region backups and IAR inventory backups to my home computer anytime I want. (Other vendors do, as well.)
I know by saying this I'm probably raising a red flag to all hackers out there. But if it's going to happen to somebody, it might as well happen to me. I'd be mildly inconvenienced, but I would get a story out of it.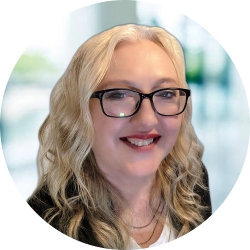 Latest posts by Maria Korolov
(see all)