Most virtual reality headsets these days follow one of two paths — they're either peripherals that plug into a PC or a gaming console, or they're hollow frames that users drop their smartphones into.
GameFace — for now, at least — is unique. The company behind it, San Francisco-based GameFace Labs, is building a fully self-contained virtual reality kit, using mobile components and the Android operating system.
But that's not the only thing that sets it apart.
The company is also building a virtual reality operating system.
If you think of Android as the old text-based DOS operating system, the GameFace OS would be the virtual user interface equivalent of Windows. Except instead of pointing at and clicking on file folders, users would look at or point to actual in-world objects.
That's pretty big news. Even bigger news is that the platform will be licensed to other headset manufacturers who want to make their own version of the GameFace. And even bigger still, the platform will be free to developers, and will come with an app store through which developers can sell their apps or in-game content.
But wait, there's more.
GameFace will also have a built-in virtual world browser that will support Second Life, High Fidelity, and OpenSim.
Window to the metaverse
GameFace Lab is already in talks with Linden Lab and High Fidelity, GameFace CEO Ed Mason told Hypergrid Business.
"We will have support for their platforms with the consumer version," he said.
Meanwhile, GameFace is reaching out to OpenSim developers as well. In the fall, the company will participate in the OpenSimulator Community Convention, Mason said.
"We're big believers in open source," he said. "We can't stress enough how much we're behind the idea of the open metaverse. We need the whole world joining together to create it, and we will be working with anyone who knocks on our door."
Mason said that GameFace engineers have already taken a look at the open source viewers for OpenSim, such as the CtrlAlt Studio viewer.
"They are working on an Android port," he said. "This is something we will end up support. And this is something we will be reaching out to other people with.
Access to the GameFace distribution platform could probably help OpenSim developers significantly, he added.
OpenSim developers who are interested in working with GameFace Labs should email [email protected] and ask for Vinny Rawlley, he added.
GameFace is also reaching out to other companies, including Google.
"Google has invited us to their headquarters a few times now, and asked us if we need anything," Mason said. "Â I wouldn't say they're backing us, but they can see the direction we're moving in, and are happy to see that we're making an Android-based virtual reality headset."
One possible reason? Facebook's purchase of Oculus Rift poses the possibility that Facebook will own the metaverse, which might not be as appealing as an Android-based, open approach.
The virtual living room
So you put on the headset and turn it on. You don't get a menu, or a desktop. You get a virtual living room. You're sitting on the couch. You look around and there's your TV. You can watch regular and 3D movies on that. There's your video game console, which runs emulations of your favorite old games. Look beyond them, and you've got arcade machines that run virtual reality experiences you've installed.
You can have your friends teleport over and play games on your machines.
Or you might teleport out with your customized GameFace avatar and travel to your friends' virtual living rooms or your  favorite virtual worlds.
"We have a demo of that already running," said Mason.
The hardware
There are several ways in which the GameFace hardware sets it apart from other virtual reality headsets, said Mason.
First, there's the high-resolution screen.
"We're the only 2.5K display," said Mason. "That's 78 percent more pixels than both the Oculus and Sony headsets. We have the highest resolution virtual reality headset in the world."
Then there's the fact that it's wireless. That means that if you turn around, you don't get a cord wrapping itself around your neck.
If the Oculus Rift or Sony's Morpheus headset tried to go wireless, it would slow down the system because cabled connections are faster, and they need to connect to an outside computer or console.
"We don't need to plug into a computer," Mason explained. "In my opinion, that's pretty important for virtual reality to succeed."
To download content, the GameFace has built-in WiFi.
One area in which the GameFace takes a hit is in processing power, since it runs on mobile chips.
But that's changing rapidly, said Mason.
"The new graphics card that we're including with our next headset is from Nvidia and it's benchmarked at 1.6 times the horsepower of a Playstation 3 — on a mobile phone chip," he said. "In the next two or three years, we'll be getting mobile phone chip sets that are as powerful as the consoles we're playing today."
The reason, he said, is that mobile technology is advancing faster than PCs.
"You buy a new cellphone every one or two years, a new PCÂ every four to five years, and a new console every five to six years or whenever they make a new one," he said.
But the GameFace isn't all standard smartphone components.
For example, the motion sensors that are typically used inside smartphones aren't accurate enough for virtual reality.
"We're using trackers that you can't get in mobile phones," he said. "They're very precise and sensitive."
As a result, the GameFace experience is far superior to what can be had with the virtual reality headsets that are simply holders for smartphones with a couple of lenses and a headstrap, he said.
"The phones-in-cases are great at getting people involved in virtual reality, but the experience is lacking," he said.
The total price tag for the GameFace? Around $500, he said.
"It's a little bit more expensive than you'd expect to spend on an Oculus headset [currently $350] — but with the Oculus headset you have to have a $1,000 computer."
A developers' kit will be ready by mid-December, and the consumer version will be out "sometime in 2015."
No price has been set for the consumer version yet.
"We want to keep it as low as possible," he said. "We do have a platform, so we don't have to make money from the hardware."
The platform
That brings us back to that virtual living room.
All other headsets on the market today, or scheduled to enter the market soon, are tied to an existing operating system — the PC, the Playstation console, or the smartphone.
That means that calling up any particular game requires starting out with that particular operating system. For headsets that are frames for smartphones, that can require a bit of extra juggling.
"You have to download the game," he said, "launch the game, put the phone in the headset, put on the headset, play the game, take off the headset, remove the phone, switch the game…"
With the GameFace, users can move from one application to another without having to take the headset off.
"It's based on a very famous book called Ready Player One," Mason said."Within the book, the author describes the users's individual home screen — imagine a living room scenario, and inside that virtual room I have arcade machines. When I look at one of them, it will load up that application. so I can move into that application itself. And when i'm done with that, I can look at the coffee table, where I have a Playstation sitting, and I can load up a Playstation emulator. We have a TVÂ on the coffee table, you can look at the TV, a big virtual cinema will open up, and you can watch any rectangular 2D and 3D movies."
GameFace has also built its own 3D chat demo, a cross-platform application that works with other devices as well.
"You can meet with people using Oculus Rifts," he said.
GameFace also has tools to convert existing content to stereo 3D, as well as a cloud distribution network that speeds up delivery of virtual content to the devices.
"We've now put together a very robust platform ready to use and we will license it out to other hardware manufacturers," Mason said. "We are speaking to people now who are making these devices, who are making very very good hardware."
He added that a license price hasn't been set yet for manufacturers.
There are no licensing costs for application developers, however, and SDKs — software development kits — are already available for developers who work in Unity and C++. Currently in the works is the Unreal Engine SDK, which is due out in the next two to three months.
GameFace app store will be like the iPhone app store, making it easy for developers to create, distribute, and monetize their apps through direct sales and add-on, in-game purchases.
"There will be a commission, but we haven't decided what that will be yet," Mason said.
The app store will be based on real money, like Apple's store, instead of a virtual currency like the Second Life Marketplace or the planned High Fidelity marketplace.
"I don't think we'll be messing around with any type of monetary scheme — just regular money, cash money," he said.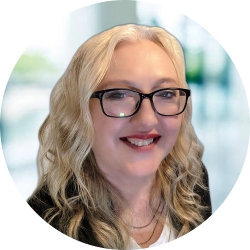 Latest posts by Maria Korolov
(see all)