Press release: Metaio R&D Lab Releases 6D Augmented Reality Holodeck Technology to Developers
MUNICH — Metaio, the world leader in Augmented Reality (AR) software and solutions today revealed its 6D Holodeck technology that places virtual environments directly in the real world allowing smartphone users to explore them with their on-board cameras. Metaio is today releasing the source code for the technology to developers so that they may build immersive and interactive experiences like next-generation Augmented Reality games.
"Virtual and 360 experiences need true immersion," said Metaio CTO Peter Meier. "If you're in a virtual environment, you should be able to move around as if it were the real world; that's what we want to enable with our 6D technology- we want to enable the Holodeck."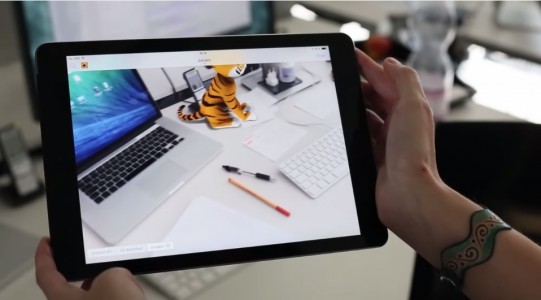 The 6D Augmented Reality Holodeck technology (or 6D-AR, for short), utilizes the latest Simultaneous Learning And Mapping (SLAM) algorithms working in tandem with the on-board motion sensors (IMUs) to anchor a virtual environment local to the user. Once the virtual environment is attached to the real world, the user can move and navigate in and around the virtual area as if it were there in real life, needing only the camera of their smart device.
Metaio is releasing the source code of two 6D example projects to developers today. Metaio hopes that these examples inspire developers and other creatives to design next-generation augmented and virtual reality experiences, like an action game someone could play in reality itself, or immersive educational experiences like visiting foreign places or navigating an electron shell of an atom at close range.
The source code for the 6D-AR Holodeck examples is now available. Developers can download the Metaio SDK and the source code here: http://dev.metaio.com/sdk/tutorials/slam-for-full-6d-vrar/
About Metaio
The worldwide leader in Augmented Reality (AR) research and technology, Metaio develops software products for visually interactive solutions between the real and the virtual world. Based on the Metaio Augmented Reality platform, digital and 3-D content can be integrated seamlessly into the user's camera view looking upon the real world. Serving over 100,000 developers and powering over 1,000 apps for enterprise, marketing, retail, publishing and industrial cases, over 30 Million consumers use Metaio's AR software. Learn more at www.metaio.com

Latest posts by Press Release
(see all)