Road to VR just had a nice review of the WalkMouse omni directional treadmill from Norway that works a bit like the Virtuix Omni or the Cyberinth Virtualizer except that it has no guardrails — and the device is motorized.
With the Virtuix and the Cyberinth the user walks along the inside of a slippery plastic plate. Both are due on the market at the end of this year, with the Virtuix Omni already available for pre-order for $500.
The WalkMouse takes up more than twice as much area as the Virtuix Omni — it's about six feet across, compared to Omni's 3 feet 9 inches.  It's also flat, where the Omni and the Cyberinth are curved. And where your feet slide on the Omni and Cyberinth, the WalkMouse has little motorized spirals embedded in the plate that automatically adjust their speed.
According to Road to VR, the company is currently selling these for military and police training applications, and it will eventually cost between $1,000 and $2,000. It might be an interesting alternatives for virtual reality arcades.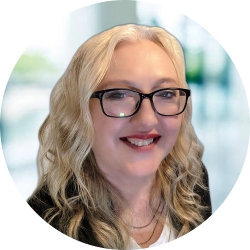 Latest posts by Maria Korolov
(see all)