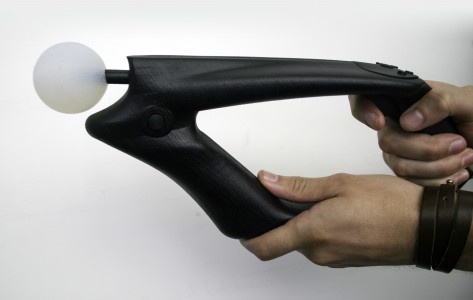 Press release: TRINITYVR ADDS 360 DEGREE OPTICAL TRACKING TECHNOLOGY TO TRINITY MAGNUM, ITS VIRTUAL REALITY AND PC SHOOTING MOTION CONTROLLER
Company Also Announces Additional Games and Compatible Technology for Trinity Magnum, Including Arcade-Style Racing and Dinosaur Hunting Games
NEW YORK – TrinityVR, a start-up company focused on building a scalable input platform for virtual reality (VR), today announced that the Trinity Magnum – a precision motion controller targeting first person shooters for head-mounted displays (HMD) such as the Oculus Rift – will support 360 degree tracking.
To leverage the most comprehensive tracking options for VR, the Magnum will support 360 optical tracking, utilizing both overhead and multiple camera configurations. With this setup, players will be able to use the Magnum with full 360 positional and orientation motion tracking in combination with omni-directional treadmills or fully body tracking systems.
Further establishing the Magnum as the leading accessory for third party input devices for virtual reality, TrinityVR has signed three new hardware partnerships. Two more games are also now compatible with the Magnum and will utilize the controller's precision and ease. The announcements coincide with the Trinity Magnum Kickstarter campaign.
Newly optimized titles and third party partnerships for the Magnum include:
Partnerships
Cyberith Virtualizer – An award winning concept, the Cyberith Virtualizer is an easy to use VR device that allows users to walk through any kind of virtual environment in real-time. With the Magnum serving as a hand input device, this omni-directional treadmill raises the level of immersion as players have the freedom to control games with their entire body.
PrioVR – Using high-performance inertial sensors that are placed on key points of the user's body, PrioVR captures movements, translating them on-screen in real-time. While PrioVR will provide body motion tracking, the Magnum's integration will serve as a hand input device.
Striker VR – Deriving its concept from the defense industry, Striker VR brings ultra-realistic recoil to virtual weaponry. With the Magnum's integration and motion controls, as well as Striker VR's force feedback haptics, players will encounter a truly intense first person shooter experience.
Compatible Games
Beasts of Prey – In this survival sandbox MMO FPS, players battle a horde of beasts within a randomly generated world. The Magnum adds a new depth to the first person shooter by enhancing movement, shooting and crafting. The game features epic battles with dinosaurs that will be augmented with Magnum.
Radial G – Developed by Tammeka Games, Radial G is a sci-fi arcade racer created specifically for VR devices and PC. With the Magnum's support, players will be able to use the motion controller to pilot their in-game ships and fully immerse themselves as they climb into the cockpit and tear up the track.
The Magnum is optimized to bring VR first-person shooter experiences to the next level. It also allows users to experience the independent freedom to look and aim with a natural dual-grip form factor, making them feel like they are interacting with the object in a virtual world. Featuring an SDK (software development kit) designed specifically for VR experiences, the Magnum will be available to developers, tech early adopters and enthusiasts this fall.
About TrinityVR
TrinityVR is the developer of the Magnum, a precision motion controller with a lightweight SDK designed specifically for VR applications. TrinityVR is augmenting human experience in VR with novel approaches to natural user interaction (NUI) using computer vision and inertial hardware systems that are affordable, platform agnostic, extendable and intuitive to establish a standard for VR's input ecosystem.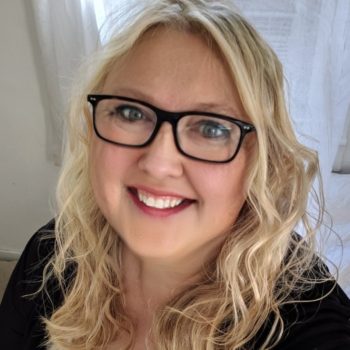 Latest posts by Maria Korolov
(see all)