Tangle Grid is rapidly becoming known as the Expo Grid for their high-profile, hypergrid-enabled events.
Tangle Grid's Fashion Expo, which ended on August 3, brought in 85 visitors — up 55 percent from June's Steam Expo on the same grid.
About half of the Fashion Expo visitors came via hypergrid, compared to about one-third for the Steam Expo, according to Tangle Grid consultant Kevin Klerks, also known as Winter Silversmith in-world. Klerks runs the Nordeggan regions on Tangle Grid and is also CEO of Corran Enterprises, one of the sponsors of the Fashion Expo.
"No grid can survive as an island and the hypergrid connects us to a new avenue of growth and building positive relationships with other grids," Klerks told Hypergrid Business.
The Tangle Grid expos were organized by committee manager IsambardKingdom Brunel, entertainment and builds were provided by Sandie Shores and Leslie Kling — who also exhibited. Grid co-founder Tmac Carolina provided technical know-how and Corran Enterprises provided financial support for events and contests.
More Expos are in the planning, including an Air & Space Expo starting on August 27, a Watercraft Expo on September 27, an Indiana Jones-themed world history expo on Oct 25, a Winterfest Expo on November 22, and a Home & Garden Show on December 27.
Each expo promises to be better than the last.
"Brunel and I have already been discussing hunts, gift bags and contests," Klerks said. "If someone has experience in these and would like to help we'd love to hear from them. I have some real life community interest and would like to explore charity fundraising too."
He had a few pieces of advice for other grids looking to do expos for hypergrid visitors.
Establish strong communication channels
At first, the Expos were organized by volunteers who got together on an informal basis.
"We had a few issues in the early days that jeopardized the Expos, but once our team started communicating better we were able to get past them," he said. "Our Steam Expo was put together by a few like-minded volunteers who were stretched to their limit at times. It can be hard to balance real life and still devote every online minute you can to the cause."
To improve communications, and to prepare for more Expos in the future, the volunteers organized a formal expo committee.
"Our committee is comprised of eager open minded volunteers – builders, landscapers, advertisers, entertainers, and financial supporters," he said. " With targeted events like Steam or Fashion you [also] need at least one committee member familiar with the subject."
Communication was also helped by the creation of a private in-world group, and a private Facebook group for committee members.
"We can [now] coordinate schedules and openly discuss ideas both inworld and out," he said.
Start marketing early
According to Klerks, planning for an expo should begin at least six weeks before it opens.
"Choose a topic for Expo that will attract the largest audience," he said. "For example 'fashion' is of interest to most of the metaverse while 'Velvet Elvis posters and art products' have a far more targeted fan base. This doesn't mean you shouldn't cater to their interests it just means that if you do you should expect a smaller traffic count."
Advertising is also important, he said, and needs to start at least three weeks in advance.
"Social media and strategically placed conversations in other grids — particularly with people the Expo is targeting — work best," he said. "Plus free ad groups or target groups in your own grid are always a must. Word of mouth is still the cheapest and most effective advertising."
Line up tech support
The committee has to have someone around who is technically inclined, either a committee member, or on-call support.
"You should have a good tech person handy," Klerks said. "We almost didn't have any bot models for our fashion displays, thankfully TanGLe's tech guru Tmac got them working at the last minute."
Keep it short
The Tangle Grid expos only last seven to ten days.
"They are special features which we promote heavily and then they are over," Klerks said. "Short term events … attract more attention – come see our show now or you are out of luck."
Set up a dedicated region
TanGLe has "Expo Isle" which was donated by the grid owners.
The donation comes with conditions, Klerks said. For example, an Expo should occur regularly, be open to all members to participate, and feature an event of interest to a large target audience.
"A successful Expo should benefit the grid as a whole community not just an individual," he said.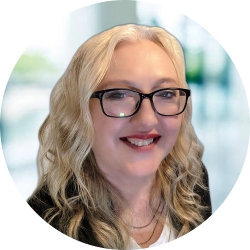 Latest posts by Maria Korolov
(see all)