The European Union is giving away more than 80 million Euro — US $103 million — as part of the FIWARE Accelerator Programme for tech startups using cutting-edge technologies such as realXtend, an early off-shoot of OpenSim.
The funding is in the form of a direct grant — no equity or loan repayments required.
But there are some conditions.
"You either have to use some realXtend stuff or some other stuff from the other parts of the program, which are basically related to cloud hosting infrastructure," Toni Alatalo, realXtend's development coordinator, told Hypergrid Business.
In addition, the project has to fit into one of eight sector, such as "smart cities," "e-health," "energy & environment" and "agrifood."
The application page is here. Grant amounts and deadlines vary by sector, but applications for the first round are mostly due by the end of October.
One possible idea, Alatalo said, is for a startup or small business with less than 250 employees to submit a project for adapting realXtend's Web-based WebTundra client for OpenSim.
What is realXtend?
The realXtend project branched off from OpenSim back in 2008, when a team of developers in Finland decided to add mesh support.
There have been some attempts to bridge the two projects in the past — specifically, the modRex module for OpenSim made it possible for grids to have mesh as early as 2009. But it didn't go anywhere, because it wasn't compatible with any of the popular Second Life viewers. Later on, when Second Life finally enabled mesh in 2010 — and OpenSim followed suit the very next day — it used a different, incompatible mesh format.
Meanwhile, realXtend evolved in a set of libraries used by developers to build virtual reality projects.
Today, the leading companies in this space, all based in Finland, are Adminotech Ltd., Cyberlightning Ltd., Ludocraft Ltd. and Playsign Ltd.  The Center for Internet Excellence at Finland's University of Oulu also uses realXtend for its 3D research projects.
Today, realXtend is not so much a virtual world platform like OpenSim as a tool set for virtual world development, like Unity 3D. said Alatalo, who is also the co-founder, CTO and chairman of Playsign.
"We haven't duplicated Linden Lab," he said. For example, there are no in-world modeling tools.
Meanwhile, with OpenSim, for example, anyone can install the software and have their own virtual world running in a few minutes — a fully-functional virtual worlds, with avatars, users inventories, friendships and group, chat and messages, plus the in-world creation tools. By comparison, realXtend does not offer avatar inventories, friends and groups either– though developers can build them for particular projects.
In addition, even though users can "teleport" to any public scene by clicking on the link, it's not a teleport in the OpenSim sense, since there are no assets — clothing, landmarks, or friends — that belong to the avatar and need to be accessed while traveling.
In fact, although realXtend started out looking like OpenSim, it ended up being much more like Unity 3D.
realXtend versus Unity 3D
Both realXtend and Unity 3D allow developers to create immersive, 3D environments that run in the browser.
It's a good platform for companies, educational institutions and non-profits who want to put up 3D content like games, simulations, or virtual tours that anyone can access through a Web browser.
But there some significant differences.
The realXtend web viewer — WebTundra — is HTML 5, no plugin required. Unity requires users to install the Unity plugin.
WebTundra is also multi-user out of the box. Unity 3D is by default a single-user environment.
The entire realXtend project, including the WebTundra viewer, is open source. Unity 3D is proprietary.
realXtend showcase project: MeshMoon
For non-developers, the best way to try out realXtend is to visit MeshMoon, realXtend's equivalent of Kitely. Several scenes are available to tour, including an undersea world, a church, and the German Firefighting Museum.
Anyone can create a basic scene for free for up to five users, with bigger environments or additional services are available at a price.
The basic level, for example, called "Rock Moon," is up to 10 concurrent users, three scenes, and up to 500 MB of asset storage for 10 Euros (US $13) per month. Educators get free hosting, with up to 100 concurrent users, five scenes, and 500 MB of storage.
Third-party developers can also sell pre-build environments through the platform's AppStore. Right now, it's just one app, a conference room that can hold up to 25 simultaneous avatars is 49 Euro (US $63) and comes with voice, chat, Web display boards, collaborative whiteboards, and moderation tools.
There are no in-world content creation tools. All objects must be created in 3D modeling tools and imported, or pulled from the built-in libraries.
In fact, the scenes don't even have to have avatars — a virtual tour application, for example, might just offer an interactive 3D view of an environment.
Can WebTundra be used for OpenSim?
According to Alatalo, the WebTundra viewer can be repurposed to allow Web-based access to OpenSim grids.
"At last years OpenSim Community Conference, I presented some collaboration options," he said.
"You can hack together something in two or three days but if you need something usable, it would take a month," he said. "You would need to add WebSocket support to OpenSim, and if you want to have prims, you need to have prim rendering."
In August, there was a discussion about this topic on the OpenSim developers list.

Kitely CEO Ilan Tocher was one of those backing the WebTundra idea.
"RealXtend is …  a project that has been written from scratch with similar goals to the ones being discussed by people in this thread," he said in a comment. "It was developed by multiple groups of professional game developers working full time over the course of several years. It would take a similar amount of time and effort to create a similar solution from scratch."
Kitely, with it's focus on usability, would benefit a great deal from a simple, Web-based OpenSim viewer, but many other grids and hosting companies would, as well.
That viewer wouldn't need to have full building functionality right away and could use the HTML 5 and WebGL support available in modern browsers to avoid any kind of downloads at all.
"I also think a viewer with the graphics capabilities of WebGL would be a great boost to OpenSim.. even if it is a simple 'Exploration Only'
viewer for now," said 3rd Rock Grid founder Terry Ford — also known as Butch Arnold in-world — in a comment. "If we could produce a WebGL based viewer capable of simple exploration and chat, it could be used as a building block for a more advanced viewer as we move forward."
Other OpenSim users stand to benefit from such a viewer, as well.
"I have been needing a viewer that is compact, has only minimal features … forever," said Chris Rouly, a researcher in the Computational Social Science at George Mason University, in a comment on the discussion. "Such a viewer would allow me to give my sponsors view-only access to my work."
Rouly added that he would even be willing to pay a license fee for such a viewer.
Meanwhile, creators and other advanced users already have viewers they can use.
"We could continue to use … the Linden Lab viewers for authoring — aka building — but have a Web-based viewer for experiencing the final
environments," said Crista Lopes, OpenSim core developer and inventor of the hypergrid, in a comment. She is also known as Diva Canto in-world.
"I want this to happen," she added in a follow-up note. "I just don't know anything about rendering, so I'm useless wrt developing a WebGL renderer, and I'm waiting for the  hero who does that in open source. But you can count on me — and I'm sure others here — to jump in on everything else."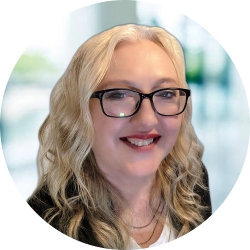 Latest posts by Maria Korolov
(see all)