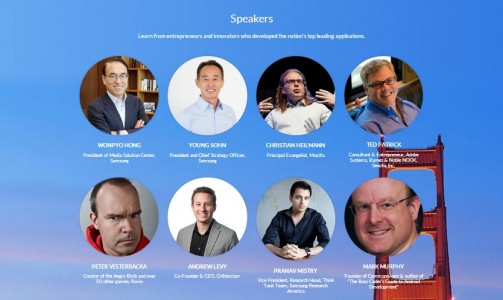 Press release: Second Annual Samsung Developer Conference to Focus on Global Developer Opportunities in Smart Health, Wearables, Virtual Reality and Smart Home
SEOUL, South Korea–Samsung Electronics today announced the global Samsung Developer Conference will gather the growing community of developers and partners to explore software and services opportunities in smart health, wearables, virtual reality and smart home.
"Our app is really about finding the best places for food on the go, so figuring out how to make it work on a wearable is a big goal for us"
The event occurs on November 11 through November 13 and will be held at Moscone West in downtown San Francisco. This year's theme is "Connected Living. Connecting Developers" and attendees can register at samsungdevcon.com.
"We are excited to host our second Samsung Developer Conference at San Francisco's Moscone West and showcase the future of apps and services development in smart health, wearables, virtual reality, smart home and much more," said Wonpyo Hong, President and Head of Media Solution Center, Samsung Electronics. "The conference will also highlight one-of-kind demonstrations that illustrate the strategic opportunities in these growing market topics."
The conference will feature more than 10 topics, encompassing around 90 sessions, including a variety of themes such as:
Smart Health : The Samsung Developer Conference will feature technical sessions and workshops on a variety of smart health topics this year. Attendees will learn more about using wearable sensors and how they can leverage the resulting data to uncover new discoveries and breakthroughs in health.
Wearables : As the leader of wearable technology, Samsung will include a series of sessions dedicated to this burgeoning segment.
Virtual Reality : The conference will also provide developers the insight and tools to create contents for Samsung Gear VR Innovator Edition powered by Oculus. Developers will learn about new opportunities in the virtual world, how to create an immersive mobile experience, and move from development in 2D to a 3D virtual environment.
Mobile : The Mobile topic shares tips and know-how to help developers fine-tune or update their Android apps to work that much better. Experienced developers will share their findings on power and memory management, working with camera APIs, quality assurance recommendations and design. Partners will describe how they have implemented solutions using Samsung SDKs for fingerprint, audio, edge screen, motion and more.
Smart Home : Samsung will offer collaboration opportunities for many different players in the market as Smart Home is a service in which these players can not only participate but also, in extent, enrich the user experience. Samsung plans to construct an open ecosystem that can embrace the diverse needs of these players. Various channels for collaboration will be provided for app developers, device manufacturers and service providers in coming months, starting with a few that are to be shared at this conference.
Game : Another topic dedicated to mobile game development will provide programmers targeting the number one application segment with new insights and techniques for creating compelling, high performance games.
The conference will feature industry experts discussing how to design, develop and perfect applications that take advantage of the unique features of products that are always on.
"Our app is really about finding the best places for food on the go, so figuring out how to make it work on a wearable is a big goal for us," said Joe Perez, Founder, Tastemade. "Getting immersed in the software side of Samsung and learning how to develop our app for its devices has led to development of our app for wearables, which is a great place for us to be. We look forward to returning and learning even more at Samsung Developer Conference in a few weeks."
"The Samsung Developer Conference brings together some of the most creative minds in mobile app development," said Dan Faulkner, Senior Vice President, Nuance Mobile. "The conference was an opportunity for us to showcase what is possible with voice innovation and created the opportunity for collaboration with the Samsung developer ecosystem. And with the rapid innovation underway in the Internet of Things, smart home and in smart health, this year's conference will no doubt drive the next generation of applications that Samsung consumers won't want to live without."
For the latest updates, follow @SamsungDevelopers and connect on Facebook and Google+ using hashtag #SDC2014.
About Samsung Electronics Co., Ltd.
Samsung Electronics Co., Ltd. is a global leader in technology, opening new possibilities for people everywhere. Through relentless innovation and discovery, we are transforming the worlds of TVs, smartphones, tablets, PCs, cameras, home appliances, printers, LTE systems, medical devices, semiconductors and LED solutions. We employ 286,000 people across 80 countries with annual sales of US$216.7 billion. To discover more, please visit www.samsung.com.

Latest posts by Press Release
(see all)