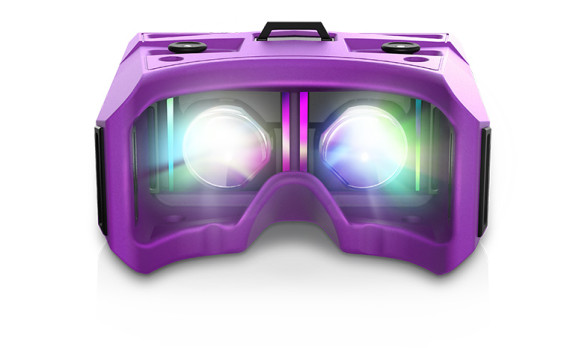 SAN ANTONIO –Â Merge VRÂ has announced that its soft, foam goggles are available for pre-order through Amazon, and will ship before holidays. The Merge VR Goggles are among the top tech products debuting in the consumer entertainment market this holiday season.
Compatible with any iOS or Android smartphone from the last two years, the Merge VR Goggles are available on Amazon.com at a family-friendly consumer pre-order price of $79.
"We're thrilled to offer our product on Amazon.com to deliver a high-quality, easy to use headset to consumers this year," said Dan Worden, Executive Vice President. "Virtual reality is here and has a very bright future. There are already so many VR games, 360 videos and other fun experiences available, with more being developed all the time. We are providing consumers with a comfortable, durable and affordable virtual reality headset that works with the mobile phones they've already got in their pockets."
Created with soft, flexible foam, the durable Merge VR Goggles are made to be tossed in a bag, taken on the go, and easily shared among friends. Innovative dual input buttons allow users to explore and interact in ways not possible before; you can run AND jump, or move forward AND backward while fully immersed in virtual reality. Additional features include adjustable custom lenses, anti-fog ventilation channels, audio ports, camera access for augmented reality, and an optional top strap for added comfort.
Merge VR will soon be launching Merge Start, where users can find the latest and greatest in high-quality, curated virtual reality content. The Merge VR Goggles also work with the hundreds of virtual reality apps and 360 videos already available in the iOS App Store and Google Play.
With adjustable lenses, comfortable head straps, and lightweight foam that fits the contours of any phone and any face, Merge VR Goggles makes virtual reality available to anyone, anywhere.
About Merge VR
Founded in 2013, Merge Labs, Inc. is a Texas-based startup focused on mobile virtual reality and immersive entertainment. Compatible with iOS and Android devices, the Merge VR Goggles, wireless hand-held VR Controller, and Merge Start app are built to be accessible, affordable, portable, durable and easy to use. The privately funded company and its team is led by Founder Franklin Lyons and Co-founder Andrew Trickett, who have backgrounds in gaming, technology, design, content development and hardware creation.

Latest posts by Press Release
(see all)