Moscow-based Fibrum Ltd., known for its excellent virtual reality apps, has put Russia in the lead in the virtual reality hardware race — temporarily, at least — by getting its headset into retail chains this summer
According to company spokesman Alexey Svirskiy, the company was founded just a year and a half ago.
Then, this past July, the Re:store electronics chain — the official Apple outlet in Russia — began carrying the Fibrum Pro in all 86 of its outlets. Plus, Fibrum negotiated a demonstration area for the headset in each store.
In September, the headset has also been available at MVideo, another consumer electronics chain, and online from both of these distributors as well as the company's official website.
"We picked these retail outlets because they share our philosophy of our brand, and virtual reality in particular, with demo areas in the stores," Svirskiy told Hypergrid Business. "Customers can get demos and talk with consultants — this is very important because we didn't want to be just in a retailer where we're just be on the shelf. Our first priority was in-store demonstrations."
The company also has plans to hit the retail markets in the U.S. and Europe.
Mobile roots
Fibrum CEO and founder, Ilya Flaks, is best known for also having helped found Immo Games, a social gaming company with 65 million users on the Russian social media site V Kontakte ("In Touch").

"My boss has a serious background in game development," said Svirskiy. "He created his first commercial game at 15, then he made social games, browser games, and then mobile games."
But the mobile approach — as opposed to the tethered approach of headsets like the Oculus Rift, HTC Vive and Playstation VR, which connect to PCs or consoles — had advantages for virtual reality, he said.
"The mission of our company is to make virtual reality accessible to everyone," said Svirskiy. "So that anyone could immerse themselves anywhere, anytime. Most people already have smartphones, and smartphones powerful enough for a quality image. So we went in this direction."
Headset details
The Fibrum headset works with any smartphone with a screen diagonal of 4 to 6 inches, including Androids, iPhones and even Windows phones.
It's pricey — the headset is $135 without an external controller and $150 with. That's an unusually high price for a headset, even if you do get $50 worth of apps for free with your purchase.
The price is particularly high given that the headset itself doesn't have any built-in electronics. Like most Google Cardboard-style headsets, it consists of a holder for the smartphone, a couple of lenses. There isn't even any way to adjust the distance between the lenses.
"By our data, about 90 percent of people can see well with our headset," said Svirskiy. "But we understand that the other 10 or 15 percent will also need a headset, and we are working to address that and update the headset."
By comparison, Samsung's Gear VR headset, which boasts a built-in trackpad, focus adjustment, and volume control — and additional sensors — will retail for just $99 when it hits the market this Thanksgiving.
On the other hand, the Fibrum works with any smartphone, unlike the Gear VR, which only works with Samsung's latest models.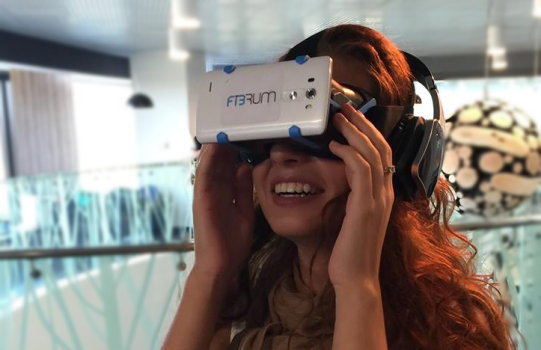 It's also very light, at 4.2 ounces, about a third of what the Gear VR weights. Plus the field of view is 110 degrees, compared to the Gear VR's 96 degrees.
The wider the field of view, the more immersive the experience. The Gear VR's 96 degrees is like looking through a diving mask. At 110 degrees, the headset practically disappears — you really have to pay attention to your peripheral vision to see it there.
However, the large field of view depends on having the largest possible smartphone screen — and a high-resolution display, to avoid the screen door effect.
Finally, from my experience with the Gear VR and the videos I've seen of the Fibrum headset, the latter makes it much, much easier to get smartphones in and out. Since smartphones are not yet optimized to work in virtual reality mode, you have to take the smartphone in and out of the headset each time you switch apps, or need to change settings in an app, or need to restart an app.
Is the headset worth getting? If you happen to be in Russia, near a store that carries it, then definitely go and try it out.
Otherwise, I would wait and see what else is coming out this holiday season.
The gaming platform
Before I heard of the Fibrum headset, I had been showing off the company's apps. Their Roller Coaster VR, for example, is my go-to app for both iPhones and Android devices.
According to Svirskiy, the Fibrum developers came up with more than 100 versions of the roller coaster app before they were happy with it.
When it was released, most other virtual reality games in the app stores were extremely simple demos. The Fibrum game stood out with its lush graphics, sound effects, and intuitive controls. And it paid off — the app has been download about 4 million times on the Android and iOS platforms, he said.
Although it is just a simple roller coaster ride, it makes for an excellent first-time virtual reality experience. And the fact that it is a short experience means that users don't get a chance to start feeling uncomfortable.
Today, Fibrum has 19 apps in the Google Play store, 12 apps on iTunes, and half a dozen apps on the Windows Phone app store.
But the apps are just the start — the company is working on a whole separate platform for virtual reality apps, similar but different from the Google Cardboard development kit.
"We are building a global ecosystem for virtual reality," Svirskiy said.
The Fibrum software development kit offers several improvements over Google's, he said.
For example, Google Cardboard games will occasionally start to drift. You will start out looking straight ahead, but the app will turn slightly and you'd have to turn with it to keep looking forward.
"We have solved this problem, simply by using math," he said.
The Fibrum SDK also supports multiple types of joysticks and gamepads, as well as no external controllers at all. For example, the roller coaster app is activated by looking at a lever for a couple of seconds. The SDK is based on Unity 3D and allows a developer to create a game once, and then deploy it to all smartphone platforms.
"Based on our own experience, for developers who know Unity, developing a virtual reality game takes about two months, faster than other SDKs," he said. "We work with a lot of groups of developers throughout Russia."
Fibrum also has its own app store, which works on all Android phones, and is open to third-party developers.
There are a number of videos on the company's YouTube channel. Most are in Russian, but the following is an English-language review of the product by Russia Today: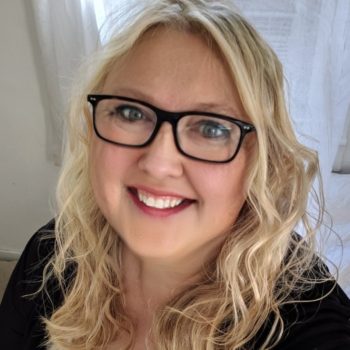 Latest posts by Maria Korolov
(see all)