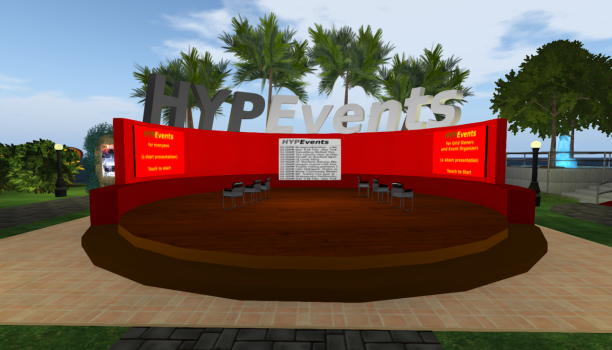 At AVATARFest 2015, a virtual festival celebrating life on the hypergrid, HYPEvents.net launched a website that lists events from all over the hypergrid so avatars can find out what is going on right now, and where.
The website scrapes the web and parses event info from grid event calendars. The site provides a single overview of the events found, with easy timezone conversion and the location — as a hypergrid address — of each event.
"I was fed up with missing events," said site creator Tom Frost. "There is so much going on, but the information about what is happening where and when is scattered. There really is no single directory, no overview of all the events in one uniform format. Until now."
Instead of creating yet another site that event organizers have to post each individual event on, Frost created HYPEvents to pull in the information that is already published on grid websites and public calendars.
Frost is always on the look-out for new event calendars that are not yet included on the site, and encourages grid-owners to publish their events in an easy-to-parse format:
"Many grids don't publish their events, or publish them only in-world or on internal forums that are only for members," said Frost. "If you are not a member of such a grid, you won't know about the nice events that are going on! And the events miss out on a large potential audience. Publishing an event calendar is a win-win for everyone."
Grid owners or event organizers that maintain an event calendar can let the site know about their calendar to have it added. Information on registering a calendar, or on how to set up an event calendar if there is none yet, can be found on the website.
"The website is still under construction, and probably always will be," Frost added. "I have many features I want to add, so in the spirit of Google, consider the site a permanent beta."
The website also has an in-world event board. By simply clicking on an event, the avatar will teleport directly to the event region. The HYPEvents exhibit on the AVATARFest region has a version of the board with full permissions. Teleport in via hypergrid at avatarfest.net:6000.
For more information, contact Tom Frost at [email protected].

Latest posts by Press Release
(see all)