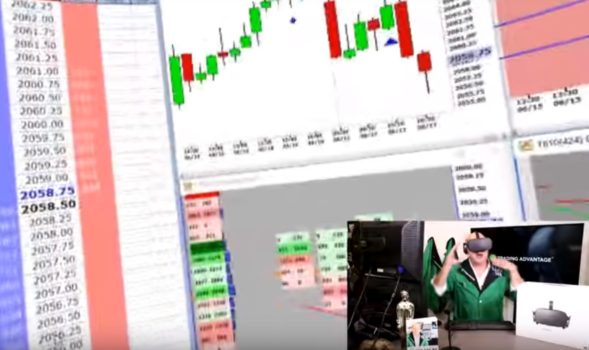 Trading Advantage President and CEO, Larry Levin, made the first ever live virtual reality commodity trade using Oculus Rift, a virtual reality system that completely immerses the user inside virtual worlds.
As one of the premier trading organization in the nation, Trading Advantage is leading the industry with its innovative practices.
"Trading Advantage is constantly working on new and innovative ways to trade the markets," said Larry Levin. "We believe virtual reality is that new way! Everyone will be trading and investing with virtual reality in a few short years."
Using Oculus Rift's immersive technology, trading in virtual reality is an entirely different experience from conventional methods. The Oculus Rift headset totally surrounds the user with what they would normally see on a monitor. Software applications, charts, graphs and trading programs are no longer squeezed onto a 2D screen, but blown up in an expansive 3D view.
This completely new way of trading takes virtual reality out of the world of video games and into a whole new industry.
Trading Advantage members will be able to experience virtual reality trading for themselves at Trading Advantage Live Fly-In Events. These three-day, exclusive mentorship events are hosted once a month and include one-on-one coaching with Larry Levin and his team of top mentors.
As well as the unique opportunity to experience trading in virtual reality, the Fly-In Events also include an all expenses paid executive trading excursion, round-trip airfare and luxury accommodations in Chicago's financial district, CME trading floor experience, a simulated trading competition, and more.
About Trading Advantage
Trading Advantage, founded by Larry Levin in 1994, is a leading trading firm that offers extensive programs in futures, options, stocks, day trading, and commodities. The company boasts a professional and experienced trading team of more than 40 industry leaders committed to providing the best trading techniques, strategies, and training. Trading Advantage has been featured on Bloomberg TV, CNBC, Fox Business, BNN, and CME Group. To learn more, visit https://www.tradingadvantage.com.

Latest posts by Press Release
(see all)