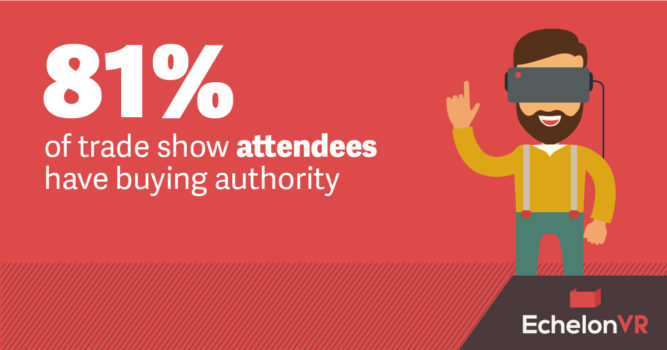 There are many reasons why virtual reality is starting to be used at trade shows, including the fact that VRÂ experiences are both memorable and impactful.
At the Society for Mining, Metallurgy & Exploration annual conference, in Arizona this past February, we showcased heavy equipment in virtual reality. The attendees got to look at excavators, front loaders and more through a Samsung Gear VR headset.
People were wowed by the experience and this attracted more visitors to our booth. For many, it was the first time they experienced virtual reality, and they were going to remember it for a long time.
If you have decided to demo a product in VR, here are eight questions you should answer before getting started:
What is your goal? Who is your target audience?
If you are presenting a virtual reality demo at a tradeshow, you must have a primary objective. The demo could help you generate awareness about your product, attract genuine prospects or engage visitors. This goal should help you build a VR demo accordingly.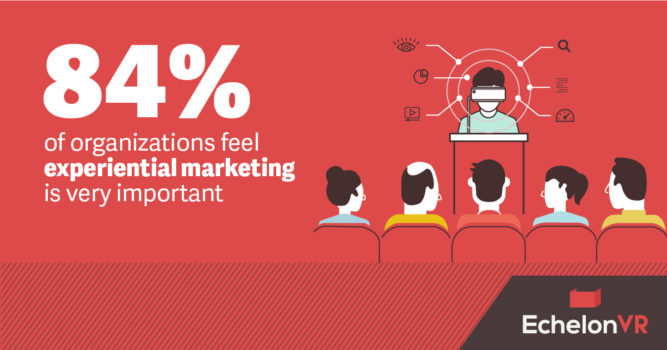 What do you want to showcase?
Is there a ready-to-use product that you want to showcase in VR? Do you want to present the technology behind it? Or do you offer some kind of a service? Do you want to educate the audience about the process? Decide on the most important elements of your VR demo.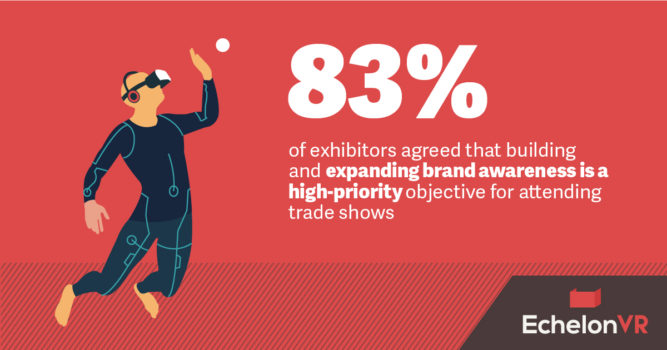 What is your story?
Think of ways you can tell your story. Be innovative. When you are thinking of a plot, don't forget the liberties that virtual reality offers. VR lets the viewer look around and explore on his own. Utilize this to showcase elements that are not possible with traditional videos. For example, if you are a manufacturer, you could show the production process to the viewer as if he were present in your factory.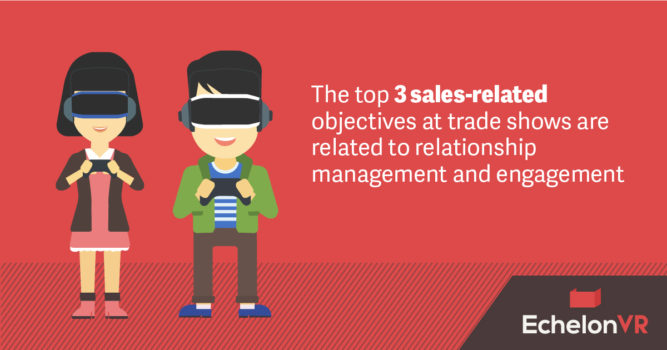 Immersive or interactive?
In a purely immersive experience, viewers can only look around. If you make it interactive, it presents the opportunity for users to interact with elements in the virtual environment. Choose what works best for your product demo.
Real or simulated?
Shoot a 360-degree video if you want to showcase something like a location or facility. But if you want to demonstrate a product and highlight its technology and features, VR content created using computer graphics can do it better.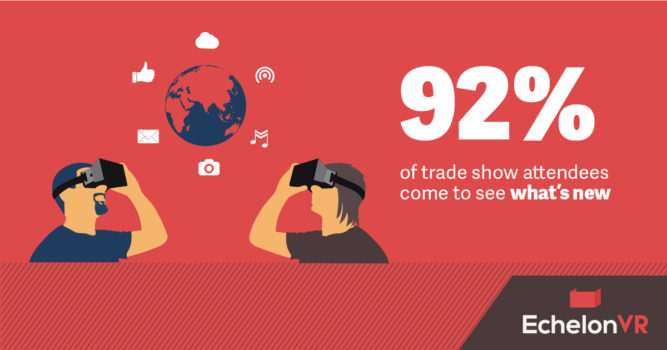 Which headset?
There are many kinds of VR hardware available: Google Cardboard, Samsung Gear, Oculus Rift etc. The headset you pick depends on the level of depth you want to create in your experience. If it's only an immersive experience, even Google Cardboard works just fine. Of course, an Oculus Rift is more immersive. But, you need more computing power, sensors and motion controllers if the experience is to be interactive. If you choose to showcase using Oculus Rift at your booth, make sure there is a version of VR content compatible with Google Cardboard.
With a 360-degree ready virtual reality experience, you can launch a teaser on YouTube and promote it to build up for the tradeshow. At the booth, you can distribute custom-branded Cardboards which can make excellent giveaways. This will allow visitors to view more of your virtual reality content in the future, thereby increasing brand engagement.
For interactive experiences, we recommend using the Unity 3D development engine, which works on all virtual reality platforms.
Here are our top three recommendations for devices:
Requires a PC or laptop, and uses the Oculus software development kit. The most immersive, but also more difficult to set up and to use.
Price: $600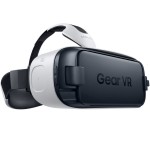 Samsung Gear VR
Requires a late-model Samsung Galaxy smartphone, uses the Samsung software development kit. Almost as immersive as the Rift, but much easier to use.
Price: $99
Google Cardboard
Works with both iPhones and Android smartphones, uses the Cardboard software development kit. Very easy to use, and is reasonably immersive, especially for videos and simple interactive experiences.
Price: Less than $2 each at AliExpress. For nicer models, try the Leji VR Mini, Dscvr and Powis headsets.
How long should the experience last?
Decide on the length of the demo. Two to three minutes is good enough. But if you plan to show it to executives or investors, you can take up to 15 minutes to build a comprehensive product demo.
Can you do it yourself?
Creating a virtual reality experience isn't very difficult, but creating a high-quality experience is a little tricky.
A poor VR experience can make viewers feel motion sickness, and you don't want that kind of association with your brand. There are some rules that make a comfortable VR experience. You need to have appropriate frame rate so that the transitions are smooth.
If you are new to VR, you might have to invest a lot. You can save your time and money by hiring companies that can build virtual reality experiences for your business.
I hope this article helps you build a great virtual reality demo for your next trade show.
Latest posts by Satish Penmetsa
(see all)