Public speaking is the single most common phobia, according to numerous studies. Now, virtual reality provides a low-stress way to overcome this fear and improve speaking skills.
It can also help companies in the business of public speaking training and clinicians whose clients have related challenges.
Here some virtual reality applications to try.
Virtual Orator
Czech Republic-based Virtual Human Technologies has just released Virtual Orator, an application that helps users practice public speaking in front of a virtual audience using the Oculus Rift or HTC Vive headsets. The software costs $300 for individual users, and $3000 for enterprises.
Users can choose from different target audience according to their training needs. It can help beginners  and professionals improve their public speaking skills, The app ca also be used by businesses in the field of public speaking training and therapists who help clients overcome their public speaking phobia. The company can even customize a virtual venue to resemble a particular physical venue.
"We currently have six unique venues with twelve layouts, plus configuration such as lighting and lectern placement," Kristopher Blom, CEO of Virtual Human Technologies, told Hypergrid Business. "While the offering provides a basic selection of the most common venues, we plan on adding a large variety of venues over time so people can prepare as effectively as possible for any speaking need."
The largest venues can currently hold 125 virtual people, but the company is planning to have these rooms hold more. This week, they will also be announcing a new laser pointer functionality for HTC Vive controller along with improvements to the recording functionality.
They also intend to add audience reaction capabilities such as triggering audience behaviors such as falling asleep or coughing, or challenges such as the projector breaking down. Other features include venue creation functionality where users can create their own venues, improvements to the recording functionality and expanding support for new head mounted devices. Users will also be able to track their performance in the training.
"Relatively little exists in terms of objective feedback for public speaking, and we are eager to develop new mechanisms, such as the slide timing feature we just released as beta," said Blom.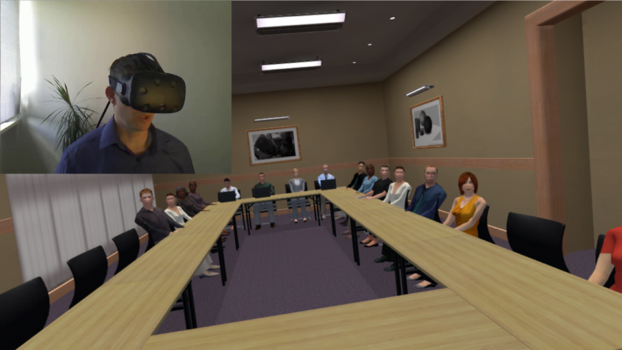 The company is focusing on high-end virtual reality headsets rather than mobile-based viewers like Gear VR and Google Cardboard in order to reduce motion sickness.
Feeling queasy, light headedness, or other mild symptoms as a result could be very damaging in public speaking training, said Blom.
Spending too much time in a virtual environment can also cause problems for some people.
"For longer experiences, breaking up the in-world time is known to help. Based on that experience, we have implemented a forced pause functionality," said Blom. "After a configurable time period, Virtual Orator moves into a paused state, permitting the user to step into the real world for a minute or two before continuing."
They will, however, add in a 'lite' version for mobile phones, which will have a reduced offering due to the limited graphical and computation capabilities of phones in comparison, said Blom.
Motion sickness is often exacerbated by in-world movement, so some mobile virtual reality applications reduce this by having the main avatar or camera stand still, allowing user to look around, or teleport from spot to spot, without any in-world movement.
BeFearless
Samsung's BeFearless, free for Gear VR, was launched last year to help individuals practice public speaking using the $99 Gear VR headset. It works like the Virtual Orator in that it simulates a variety of audience types, and the user can practice speaking and presenting, but at a significantly lower cost.
The software is itself based on research from Yonsei University's Gangnam Severance Hospital in South Korea, which showed that virtual reality training the fear and anxiety of public speaking by up to 90 percent.
Samsung itself also ran a series of tests, and the test participants were able to improve their public speaking and presentation skills.
Watch the promo video below:
The app offers a choice of three training scenarios and public situations — a school setting, an office setting, and a business meeting. The app also includes tests that that lead to more advanced levels.
The app is also compatible with the Gear Manager for the Samsung Gear S smartwatch, which can be used to measure heart rate in order to make the evaluation more accurate.
Public Speaking VR
The Public Speaking VRÂ app from Virtual Speech is free for Android, iOS and Gear VR.
Virtual environments include a small conference room and a large auditorium with a 400-plus capacity with animated audience and noise.
Users can also select audiences in different regions such as United States and England and upload their own presentation slides.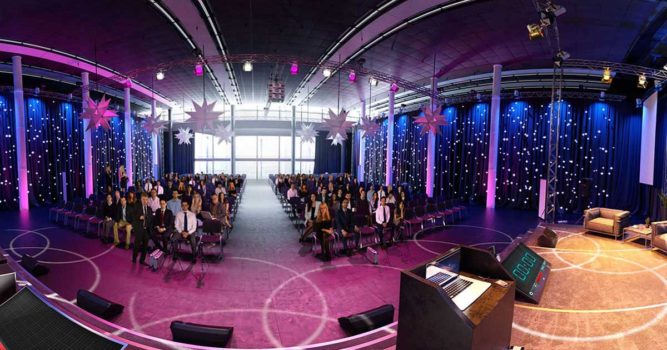 They company will soon be adding a TedTalk Room, a 360-degree VR training room, and a job interview simulator.
Watch the promo video below:
Public Speaking Simulator VR
AncientC's Public Speaking Simulator VR is free for iOS, Android, and the Oculus platform,  and is a light-weight alternative to the other apps in this list.
The app is a simple office setting simulation. The size of the audience can be adjusted, and users can turn on friendly and unfriendly voices.
Watch the promo video below: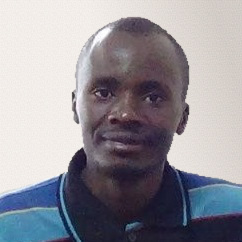 Latest posts by David Kariuki
(see all)