More than 400 responses came in for this year's Eighth Annual OpenSim Grid Survey, and Littlefield received the highest overall scores, followed by AllCity, Virtual Brasil, and DigiWorldz.
DigiWorldz also had the largest number of readers who said it was their primary grid, followed by Kitely. This is the second year in a row that InWorldz did not take the lead in the number of responses.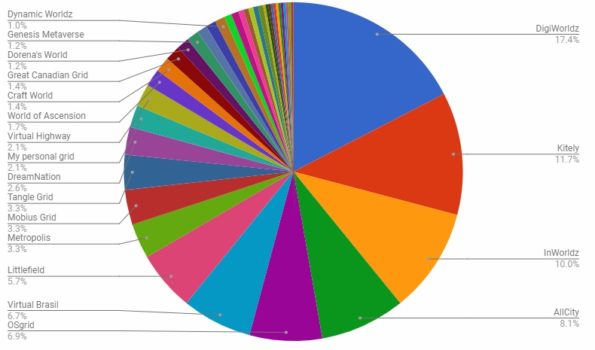 People rated 40 different grids, of which 11Â made it past the 10-rating-minimum cutoff point.
The big difference in the distribution of responses, compared to previous years, is that InWorldz received fewer total responses than six other grids. In past years, it had always been the leading grid, since it is the most popular grid in OpenSim. This could be a reflection of the changing readership of Hypergrid Business, or the fact that InWorldz' traffic advantage over other grids has been shrinking over the past few years. InWorldz' share of all active OpenSim users has shrunk from a peak of 39 percent in 2012 to a low of 18 percent this month.
Write-in Littlefield makes a strong showing
With about 300 public grids (see full list of active OpenSim grids here), we only list the most highly trafficked as the default options in the survey, but respondents are free to also write in any other grid they want.
Each year, at least one write-in grid does extremely well in the poll.
This year, that grid was Littlefield.
Littlefield received a perfect score for support, and had the highest scores for technology and community. In content it scored a very close second to AllCity.
However, the fact that it was not listed as a default option means that people who did not choose it as their home grid did not choose it as a grid they had visited, either. That means that Littlefield didn't make the list of most-visited OpenSim grids — even though it may have been, but people just didn't think of writing it in among all the grids they've ever been to. Littlefield is hypergrid-enabled, and does regularly hold events that are marketed to the broader OpenSim community, so it's highly likely that this survey undercounts this grid's total impact.
OSgrid scored the worst overall of all the grids, with the lowest score for community, second lowest for technology and content, and third lowest for support.
I suspect that the reason is because OSgrid is a non-profit grid, run by volunteers, and anyone can connect a region running on their personal computer. Self-connected regions, especially when running part-time on underpowered computers, can be problematic for residents.
OSgrid is also the largest OpenSim grid by both land area and active users, which puts significant stress on both servers and support teams. Finally, OSgrid is the main testing ground for OpenSim, and runs the latest, bleeding-edge code. Testing out new features on a world the size of OSgrid is a great way to ensure that they're stable enough for any other grid, but can negatively affect OSgrid residents.
Meanwhile, OSgrid, in addition to being the largest grid, is also the most visited. While only 29 percent of the respondents to this year's survey said that OSgrid was their home grid, 74 percent had said they visited it. The grid's welcome area, LBSA Plaza, is sometimes referred to as the "crossroads of the hypergrid" since there are usually people there, hanging out, helping other users, and answering general OpenSim questions for people from many different virtual worlds.
The following is a chart of the grids that were visited by at least 10 percent of our respondents. OSgrid has been visited by 74 percent of respondents, followed by InWorldz at 55 percent, and Kitely and Metropolis tied for third place with 51 percent each.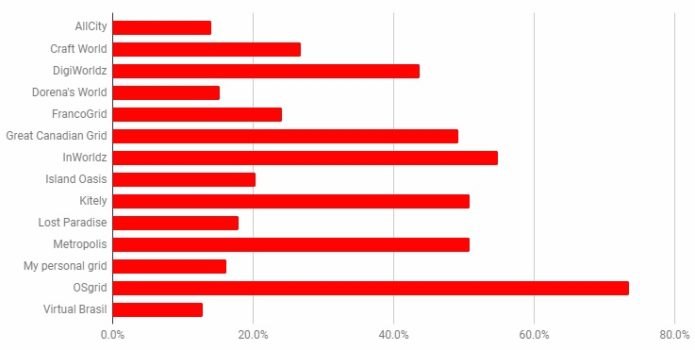 The number of people who had spent time on their own, personal OpenSim grid went up slightly from 15 percent last year to 16 percent.
Another score that went up was whether people would recommend their grid to others. Last year, 89 percent of respondents say they would do so. This year, that percentage went up to 91 percent.
Only 2 percent of respondents said that they would not recommend their OpenSim grid to others.
Littlefield, AllCity, Kitely and Virtual Brasil lead in technology
Littlefield, AllCity, Kitely and Virtual Brasil had the highest scores for technology, though none of them received a perfect rating.
"I have found that Ilan Tochner's commitment to offering a reliable, robust service that is both fast and makes it easy for a user to create new worlds on the fly is unique in the OpenSim ecosystem," said one resident of the Kitely grid. "The cost is competitive or better than anything else I've seen, and the company's commitment to protecting creators rights while maximizing their ability to sell across the hypergrid is fantastic."
DreamNation scored lowest.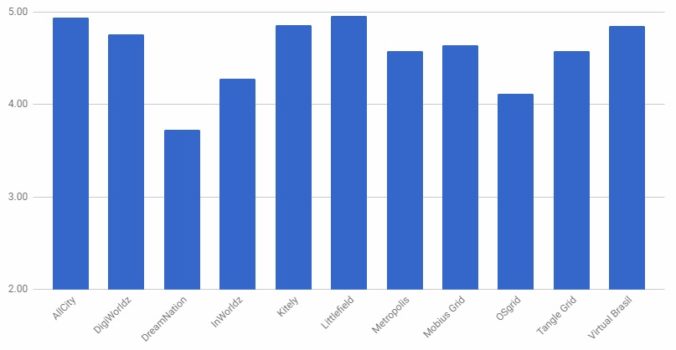 AllCity, Littlefield, Metropolis get perfect marks for support
OpenSim grids tend to do very well with support since the owners and managers often have strong personal relationships with their user communities.
The three grids with perfect scores — AllCity, Littlefield, and Metropolis — are known for their relationships with residents.
"I've been there since day one," said one Littlefield resident. "My sim has never gone down not even once. It's lag free, and anytime I've needed anything the admins reply almost immediately. What more can I ask?"
"AllCity é a melhor plataforma brasileira," said one AllCity resident, which translates to, "AllCity is the best Brazilian platform."
"Very friendly support!" said a Metropolis resident.
DreamNation and InWorldz tied for last place in support compared to the other grids.
But these two grids, as well as each of the 11 grids that were ranked, had a "very good" or "excellent" overall score for this category.
 Littlefield and AllCity get top community scores
Littlefield was ranked highest for community, followed closely by AllCity. Littlefield is known for its community of specialized content creators.
"The sense of community provides a wonderfully friendly and social atmosphere," said one Littlefield resident. "Highly recommended for overall magnificent quality."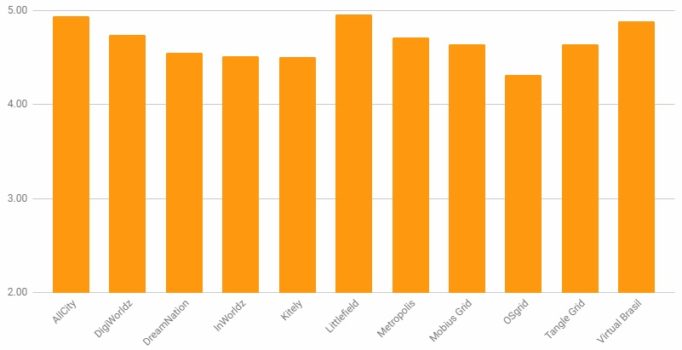 AllCity and Littlefield get best scores for content
AllCity, a grid based in Brazil, got the best scores in content, closely followed by Littlefield.
"This grid has the best BDSM content out there, and the nicest community I ever met," said one Littefield resident. "Everyone is helpful and friendly. The support people are great also, they respond to any questions I have right away."
Kitely came in third, and several respondents mentioned the Kitely Market in their comments.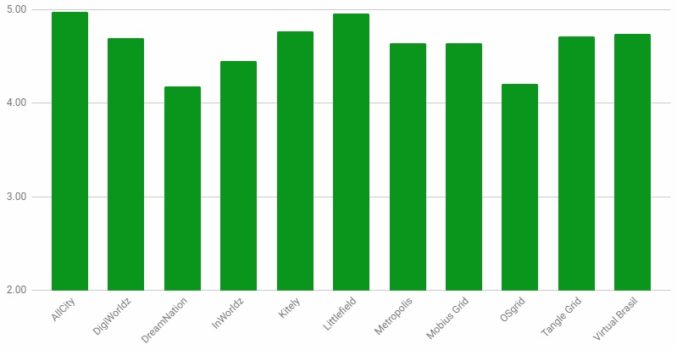 Other Comments
The following are representative comments about the grids. There were 195 comments in all, some of them quite lengthy, and if anyone wants to see them, just email me at maria@hypergridbusiness.com. In addition to leaving out some of the repetitive comments, I've also skipped those that had negative personal attacks or that seemed libelous and edited out any personally identifying information.
3DLES
"The support is very fast, within a few hours it is all fixed. And the grid is running great."
DigiWorldz
"Best grid I have ever spent time on. Support is outstanding and the people are very friendly and helpful. I have been on Digi for nearly two years and have never experienced any drama."
"Best grid, of course!"
"Best value and absolute best customer support!"
"DigiWorldz is the best grid I've found. Cheap, friendly, works great, and fast help."
"DigiWorldz is the best grid… period. Support is the best, more features than many other grids, stable, and great performing."
"DigiWorldz is the best OpenSim that there is around. It even beats out Second Life. I have avatars in Island Oasis, Craft World, Great Canadian Grid, Kitely and last but not least, the best of them all, DigiWorldz 😉 Island Oasis occasionally, but the rest of my avatars that are in the other worlds that I mentioned here, kinda lie dormant. I am SO BUSY with DigiWorldz, I can't keep up with all of them . . . hehe. DigiWorldz has the most friendly and most cooperative and helpful people of all the grids that I am on. Their things are not expensive, if not free."
"DigiWorldz's friendly, active community and excellent support make all the difference for me."
"Feels like family with friendly people, fast help when I need it, and my region never crashes."
"Great technical as well as community support certainly helps to make a person feel at home. I feel very lucky to have found a home here, where I feel free to create and follow my dreams. Compliments to the grid owner, and my fellow citizens for their kind and helpful attitudes."
"I can not convey how much I love DigiWorldz. The community is like one large family which is so great to be a part of."
"I feel that anyone that wants a drama free and friendly home grid should come and join us in digiworldz. I have been very happy about being there as a transplant from seven years in Second Life. It is so much cheaper to have land there and so easy to build there. Also being able to hyypergrid to other grids just to visit or shop makes it so nice."
"I have been active in virtual worlds since 2006 and am currently in the process of moving my investment in virtual worlds to DigiWorldz, which seems to fit my interests best."
"I would send any of my friends to this world. It is the best I found."
"Nice people. Good value. Creative ways to rent land."
"The best community, best support, best technology, best features, best stability."
"This grid has great support – any issue I have needed help with has been solved in minutes."
Dynamic Worldz
"One of the very best grids I have ever been to."
"This grid is slowly growing, the people are supportive and friendly. The prices are great, I love it here."
FrancoGrid
"FrancoGrid is a very good place to learn 3D modeling, residents are helpful and very inventive and creative, pushing OpenSimulator to its limits."
Genesis Metaverse
"Does not provide service to meet reasonable expectations."
Great Canadian Grid
"If your focus is community, the Great Canadian Grid is the place to be. People are more in tune with each other, more supportive. The grid owner goes to all lengths to make sure his residents are happy."
InWorldz
"Despite your trashing reports on InWorldz, it still is — by far — the superior grid. As a content creator, trust in a grid and the technology is key."
"I also own land at DigiWorldz, 3rd Rock Grid and Great Canadian Grid. They all are good in their own ways and I am so happy we have multiple grids in the metaverse to explore and do new projects. Each has its own flavor and variety is great. Also, the lower prices of the hypergrids give creators like myself more opportunity for new builds. Although, I am more firmly at InWorldz, I love my other grids too. Its like children, you don't want to choose one over the other."
"I have had homes on a lot of grids, and they all have lots of great things about them, but InWorldz is home to me."
"I was gone for a while. I am amazed how lifeless things are now. There are more bots than people. No wonder they hide their stats. Second Life did the same thing when their numbers began to decline too."
"Technology-wise, InWorldz server code has been rewritten for most of it and is now far from its OpenSim origins. It has best scripting engine (Phlox), best Physics engine (Nvdia PhysX), best sim crossings performance and reliability, and enjoys a vibrant, passionate community. A grid worth to invest in as a merchant, builder, or designer. It's InWorldz Explorer Hud asset is also unique and not available in any other grid, with more than 800 verified locations under 60 categories, making exploration of the grid easy for all and not only newbies. Our scripts have double of memory here and execute way faster than anywhere else."
"The founders should care more."
Kitely
"Awesome community, great for beginners, very supportive, easy to navigate, awesome market place. Great for educators and family."
"I have been on Kitely for six years and I would not change. I have 14 worlds I maintain on the Kitely grid, and the support, community and technology has been superb."
"I love a lot of things about Kitely, but the lack of active arts and events community is a problem for me."
"I've found Kitely to be the most stable, best for the price, best tech support – something I often need. I'm an artist, not really a techie."
"Kitely has the best grid and market in all of OpenSim."
"Kitely is the best functioning grid and has the added feature of an amazing online market that exports to most OpenSim grids. The support is the best I've seen on any of the many grids I've used. This combined with super affordable land makes it an A+. I want others to come and join me in Kitely and help it continue to grow and thrive."
"My wife and I are very happy with Kitely. We've been using Second Life for over a decade and finally decided to give OpenSim a chance. After trying DigiWorldz, Inworldz, Great Canadian Grid and Island Oasis we decided to build our new home in Kitely. It's the best alternative in terms of content and community, it's stable and the customer support is amazing. The marketplace is also the best we've seen outside Second Life. Our only gripe is that there aren't enough mesh avatars in it."
"The community at Kitely is extremely friendly and interactive. There are premium entertainment and educational opportunities present Live every week. Technology and cost far better than Second Life, and technical support is par excellence!! Support issues are addressed personally and immediately by grid founders and gurus."
"Thoroughly pleased that I moved various components of my medical laboratory training and HIV/AIDS awareness projects to Kitely in 2011. It has been an ideal grid to expand my 'Real to Virtual; Virtual to Real' vision for laboratory science and public health awareness."
Littlefield
"Everyone I have met on this grid are friendly and helpful. Most beautiful builds in OpenSim."
"FINALLY a real BDSM grid in OpenSim! Now I can leave Second Life!"
"I have been a member of Littlefield Grid for almost four years and in that time the management has always provided optimum performance and support. The range of content is superb and always updated and the sense of community provides a wonderfully friendly and social atmosphere. Highly recommended for overall magnificent quality."
"It should be noted that Littlefield Grid admins actually live on the grid, and interact extensively with the other residents."
"Littlefield Grid is a hidden jewel featuring so many uniquely themed sims. The sims are so cheap to rent, the prim count allowed to the user is amazing and the support is extremely professional, fast responses too. It's my number one OpenSim grid since leaving Second Life."
"Littlefield has by far the most effective and responsive admin team. The regions run smoother than anywhere else. I respect their content policy which makes me feel that they respect creators. And they are really friendly and welcoming, and fun to be around."
"Lots of great role play and public sims to investigate. Great weekly dance party!"
"The content here is amazing and it's all free, and all original content not like you see on any other grid."
"The grid runs more smoothly than any other and the content available is unsurpassed, but the emphasis on COMMUNITY is what really sets Littlefield apart. This is a grid where people matter and they really take good care of us. It's not a wild west situation like some grids, on Littlefield bad actors are not tolerated, and that means that it is a safe place. It is not just a tech toy for the owners; it is a welcoming, friendly community of real people. I would never live anywhere else."
"This grid has the best BDSM content out there, and the nicest community I ever met. Everyone is helpful and friendly. The support people are great also, they respond to any questions I have right away."
Metropolis
"Helpful people, good infrastructure, based in Europe — so short ping times for me."
"I'm only interested in free grids, I'm not interested in payment grids. OpenSim should be free. Do not buy items in OpenSim."
Mobius Grid
"Amazing place with a very welcoming community. Often funny punishments of trolls, greifers and hackers."
"Mobius Grid is in a unique position because it taps a very large, mostly-untapped market in the form of an already-existing community, the Mobian — characters resembling the Sonic style — community, which already has its own unique traits and aspects. Much of the community environment does stem from the community it was based around on, though it's not exclusively for Mobians. It's a very good grid for a more gamer-oriented community, because the Mobian community stems from a video game franchise, Sonic the Hedgehog, and Mobius Grid does well to market itself as such."
"Because it's still in technological development and progress, Mobius Team isn't out to market it publicly. Because of that, the in-grid userbase itself is often inactive most of the day, more of the activity centering on its chatroom."
"It's not uncommon to see the server completely deserted most of the day. This could be easily remedied with more community-based marketing approaches, because the Mobian fandom itself is already quite large as it exists, however not monolithic, many scattered throughout different communities."
"From what I see, it has great potential, and already a burgeoning, positive community. Grid support is excellent, because the community members themselves are happy to assist *anyone* with issues, no less the staff themselves. "
"Mobius Grid is pretty amazing, and have a super friendly community, people are very nice."
"Staff and users of this grid are pretty friendly, don't hesitate to help each other out and is developing nicely as time passes, adding new things along the way such as improving areas and building up other ones."
My personal grid
"I enjoy having a personal mini-grid for friends and family. It's not a smooth as the bigger grids, but it mostly does what I need it to."
Nara's Nook
"Great writer's community."
Neverworld
"Neverworld is a great grid. The team there is keen to help with any problems. Neverworld has some interesting events through the year and some great free original content to help people get started and also for building. A great place that is drama free to build or to bring your role play group."
"Staff and residents are very helpful and friendly."
Opensim Life
"A wonderfully hosted grid that provides us with no technical hassles so we can build our regions for people to come and do stuff with us. I love the sense of community on the grid and this is its strength going forward."
"Fantastic support from the owner."
OSgrid
"IÂ have been in OSgrid for over seven years. Like every grid, it has its ups and downs, but over all the ups out weigh the downs."
"I would give OSgrid a higher score if they were to actually LISTEN to their users. I have reason to believe that their agenda is more important than supporter feedback."
"The Admins listen to their users and the community has grown stronger. It's my home."
Tangle Grid
"Tangle Grid is a place you know you will feel welcome. All the residents are the best. They are always willing to help and just be there if you have a question. The founders do their best to make sure you have everything you need to get started and even if you are having trouble they will lend a head."
"The EXPO they run a few times a year is a great why to see what is out there in OpenSim."
"Land prices are great and even have free land or homes for the ones that just want someplace to call home away from Second Life or another grid. They also try to get all of OpenSim involved in projects that will improve new peoples experience in OpenSim."
"Leslie and Gary Kling are awesome owners. Very stable grid and reasonably priced land. This grid is very stable. Quiet and no drama."
"Tangle is awesome and so welcoming to all. Free homes, hunts, shopping, events and support from the truly helpful founders and their staff. I appreciate the advantages of having a small grid as my OpenSim home base, but I fully support all activities that Tangle implements like to EXPOs or OpenSim Hunts and their willingness to work together with all residents, regions or grids to increase exposure and the number of Open Sim users."
Virtual Brasil
"This is a great grid to play, great support and the users are friends and as if it were a family."
"To recommend the grid for sure, it needs to improve on some points, such as support and user communications."
"Uma grade muito boa, um ambiente com pessoas agradáveis e alegres, muito bom para interagir e se diverti, recomendo a todos a vir conhecer." Translation: "A very good grid, an environment with pleasant and cheerful people, very good to interact and had fun, I recommend to everyone to come to know."
Virtual Highway
"A definite sense of community on this grid."
"Great place, great people."
"I visited a lot of grids before finding Virtual Highway and making it my home … I love it!"
World of Ascension
"This is amazing grid to be."
ZetaWorlds
"I been to tons of other grids, but none of them were quite like this one. Stuff loads faster then any grid I been in, great OSgrid alternative."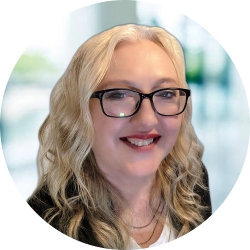 Latest posts by Maria Korolov
(see all)