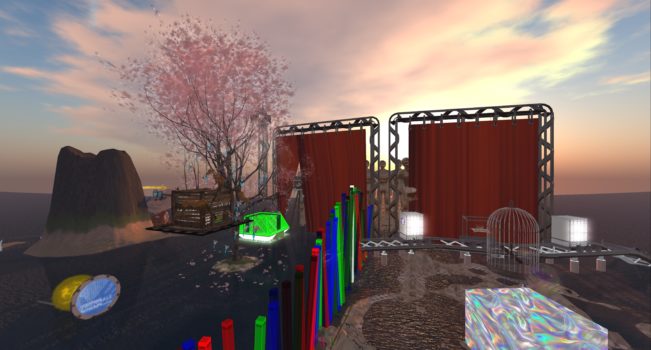 The 1st Digital Bienniale immersive interactive art exhibit will open to the public on September 20 on the Metropolis Grid.
There is also companion physical world event organized by Berlin's KW Institute for Contemporary Art on September 17 for press and contributing artists. There will also be a OpenSim basics workshop that day for artists, teachers and creative people. Berlin web engineer Daniel Jung, also known as "Art Eames" in world,  will lead the workshop, which will feature a web-based OAR loader so that region builds can be swapped with a mouse click via a web browser.
A book featuring the exhibits, Living in a Coded World, is available in PDF for $8 and as a large glossy hardcover collectible volume for $350.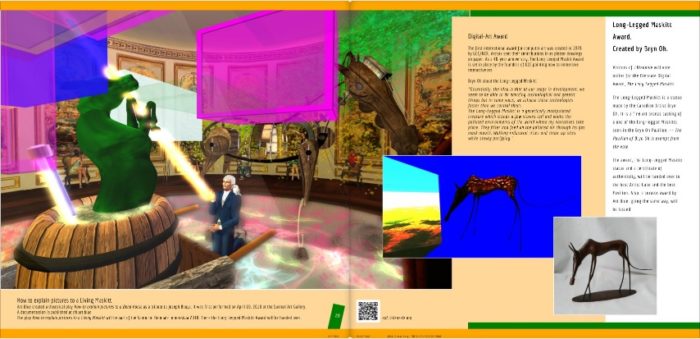 The Biennale spans a nine-region area on the Metropolis Grid accessible via hypergrid teleport, created by Biennale co-curator Juliette Surreal-D.
It includes a number of different pavilions created by OpenSim builders Art Eames, Barry Richez, Betty Tureaud, Bryn Oh, Cica Ghost, Hyde Hackl, Paul Atreides & Erico Lecker, Space Cadet, Uan Ceriaptrix, and Venus Adored.
OpenSim artist Art Blue first announced the idea for the exhibit at the 2017 OpenSim Community Conference. Other OpenSim artists participating include Betty Tureaud, Blue Tsuki, Cherry Manga, Elle Thorkveld, Freewee Ling, Gaianed, Gem Preiz, Jadeyu Fhang, Kerupa Flow, Lampithaler, Louis Wu Cyberklon, Moewe Winkler, Molly Bloom, Paul Atreides, Pipilotti Winslet, Rory Torrance, Seraph Kegel, Sh Tutti, Thoth Jantzen, Tryad Destiny, Vagabond Wanderer, and Venus Adored.
Cherry Manga, known as the driving force for the arts in FrancoGrid, contributed the Cherry Tree for the Grand Opening build. This build, also made by Juliette Surreal-D features as a static set the Maskitt Pavilion by Bryn Oh with the artist cube Tea Time with Tutti by SecondHand Tutti and a dynamic build, the Pavilion Mondrian Recoded by Art Eames which recreates the first interactive art machine made by Herbert W. Franke in 1979 on a Texas Instruments TI 99/4. Mondrian features the Magic particle emitter machine, created by Venus Adored. On a click you can become your own Visual Jockey. Also you will find a miniature on the land, the Chicken, by PatriciaAnne Daviau, the long time coordinator at Linden Endowment for the Arts. The miniature is hold by a statue made by Fushia Nightfire.
Prizes will be awarded for the best Pavilion and the Best Artist Cube through public voting. Art Blue will also give a Curator's Choice Award.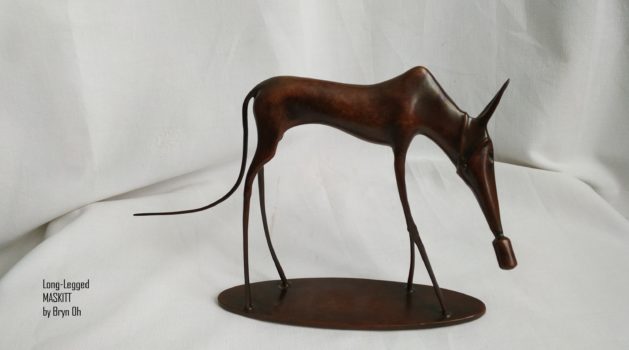 The bronze award statue was created by Canadian Artist Bryn Oh, originally in digital format, and is named Long-Legged Maskitt.
"Essentially, the idea is that at our stage in development, we seem to be able to do amazing technological and genetic things but in some ways, we release these technologies faster than we control them," said Bryn Oh. "The Long-Legged Maskitt is a genetically manipulated creature which stands a few stories tall and walks the polluted environments of the world where my narratives take place. They filter and feed on the polluted air through its gas mask mouth. Walking industrial cities and clean-up sites while slowly purifying."
The public voting for the Maskitt Award will start September 20 and end October 30, 2018. On November 1, the awards will be handed out at the grand opening of Santorini Biennale, an arts festival in Santorini, Greece. Italian videographer WizardOz Chrome will also show machinima based on the exhibits from 1st Digital Bienniale at the Santorini festival.

Latest posts by Press Release
(see all)