The total number of active users on OpenSim's public grids dropped by just over 500 active users, which is typical of the summer months. But land area was up by nearly 5,000 standard region equivalents, to 88,512, a record high.
OpenSim grids also registered 3,948 Â new users this month, for a new total of 425,035 registered users. The number of active users went down by 506, for a new total of 37,153.
OpenSim is a popular platform for educators, so traffic is routinely expected to drop during the summer months.
These stats do not include most of the grids running on OutWorldz' DreamGrid distribution of OpenSim, or private company or school grids who used other installers. OutWorldz, in particular, reports more than 17,000 private grids set up with their installer.
OpenSim is a free, open source virtual world platform that's compatible with the Oculus Rift. It allows people with no technical skills to quickly and cheaply create virtual worlds, and then teleport to other virtual worlds. Those with technical skills can run OpenSim worlds on their own servers for free, while commercial hosting starts at less than $5 a region.
A list of hosting providers is here. Download the recommended Firestorm viewer here. And find out where to get content for your OpenSim world or region here.
You can also add your grid in the stats if it is not being crawled by OutWorldz. OutWorldz also provides OpenSim users with free mesh items, OARs and free seamless textures that you can download and use on your grids.
Top 25 grids by active users
When it comes to general-purpose social grids, especially closed grids, the rule of thumb is: the busier, the better. People looking to make new friends look for grids that already have the most users. Merchants looking to sell content will go to the grids with the most potential customers. Event organizers looking for the biggest audience… you get the idea.
Top 25 most popular grids this month:
Brazilian social grid 3D Love made another surprising showing, in second place this month. The grid launched earlier this summer, at a time when other Brazilian grids are struggling or have closed down. There is a very large and vibrant Brazilian social community in OpenSim. 3D Love gained 198 new actives this month.
The grid that gained the most active users this month was 92 Miles Grid, which more than doubled its traffic. AviWorlds, back against from the dead, also showed some life this month, gaining 193 active users.
The actives list is based on active, unique 30-day user login numbers that grids report on their stats pages. Those grids that don't report their numbers might be just as popular, but we wouldn't know. The active user stats are also used to generate the popular hypergrid destinations list, which is useful if you have a hyperport and want to put up gates to the most popular grids, or include the most popular grids in an in-world directory.
This list is also a good place to start if you want to open up new stores or hold events, or are just looking for places to visit.
I measure active users by counting both local residents and hypergrid visitors. After all, hypergrid visitors attend events and spend money just like anybody else. If I'm looking for a happening grid, I want one with a lot of people on it — and I don't really care where their home avatar is based. In fact, several grids are encouraging users to have their avatars on other grids, such as Kitely or OSgrid, in order to reduce the load on their own servers. Many grid owners are also increasingly willing to rent land to visitors, and even give free store space and homes to visitors as well. Their money, after all, is just as good.
Yes, this means that people are double-counted, based on all the grids they visit. But they'd also be double-counted if they created new avatars on each grid. So it comes out even in the end.
Here some information on how and why you should set up a stats page for your grid. Of course, not all grids need a stats page, especially grids that aren't open to the public, like school grids, private company grids, small family grids, and so on. From prior surveys, this "dark metaverse" of OpenSim grids might actually be bigger than the one we know about, because those grids don't need to promote themselves, and we never hear about them.
Kitely Market update
According to Kitely co-founder and CEO Ilan Tochner, the Kitely Market has delivered to 359 OpenSim grids to date, both hypergrid-enabled and closed, private grids.
There are currently 15,517 product listings in Kitely Market, with a total of 31,646 different product variations, of which 26,614 are exportable.
The Kitely Market passed the 30,000 item milestone in May.
The Kitely Market counts listings differently from how they're counted on the Second Life market, or on the Tag Grid marketplace. For example, a red dress and a blue dress might be two separate products elsewhere. On the Kitely Market, they're grouped into a single product, but with two variations — more like how things are sold on Amazon and other online retail sites.
The Tag Grid Marketplace , the only other significant OpenSim marketplace, currently lists 20,323 items but each variation is a separate product listing — so it's comparable to the Kitely Market product variations.
While offering only two-thirds as much content as the Kitely Market, the Tag Grid Marketplace is growing nearly twice as fast. Since May, it has gained 2,815 product listings, while the Kitely Market gained 1,486 new product variations.
The Tag Grid Marketplace is only accessible to grid residents, however, and none of the content can be exported to other grids since Tag is not on the hypergrid. Kitely Market merchants can choose whether their content can be exported to other grids, or is limited to just Kitely residents.
However, 84 percent of all Kitely Market items are exportable.
In fact, exportable content — the green area above — has been growing at a much faster rate than non-exportables — the red area in the chart — since Kitely turned on the hypergrid export functionality, as merchants increasingly become comfortable to selling to the hypergrid.
For example, since this time last month, Kitely Market merchants added 1,269 items that can be taken to other grids, but uploaded only 32 non-exportable items.
By default, Kitely Market deliveries are available to residents on all hypergrid-enabled grids. However, owners of non-hypergrid grids can also choose to allow residents to shop on the Kitely Market, giving their residents ready access to a wide, legal, and ever-growing collection of content.
The single most popular category of items was landscaping, accounting for a little over 24 percent of all Kitely Market sales revenues, Tochner told Hypergrid Business. Structures were in second place, with 15 percent of sales. However, the market has become slightly more diverse over the past three years, with the "Other" category rising from 20 percent of sales in March of 2016 to 31 percent today.
Tag Grid launches premium memberships
Tag Grid is busy building on its status as the most popular non-hypergrid OpenSim world, and the only one with its own marketplace, by announcing the availability of new premium accounts.
The cost of the premium account $5.95 a month, and users get weekly virtual currency stipends, a free 2,048-square meter mainland plot, and a $5 discount on land rentals. A basic region on the grid is $15 a month for up to 15,000 prims, available as both a single standard region and as a two-by-two varregion. If the user already rents land, then they can get a free scenic region instead, normally $5 a month. So basically, the membership immediately pays for itself, and there are other benefits as well, including a private sandbox, a signup bonus, and a refer-a-friend bonus.
Residents don't have to get the premium account if they don't want to.
"We have retained the free account but have also added the premium account," said grid spokesperson Emma Townsend, also known as Emily Slinkycub in-world.
Free account holders can still rent land, ask for technical support, get free classifieds and groups, and get other standard OpenSim features like free uploads.
Click here for more information.
Utopia Skye grid celebrates one year anniversary in September
The Utopia Skye grid is celebrating its birthday next month with parties, shows, and weddings.
The grid is also officially coming out of beta, and will begin selling land. A standard sized 25,000-prim region will be $20, and there will be prim packs and tier discounts, grid spokesperson Calliope Andel told Hypergrid Business.
"Our one year anniversary events are going to take place in the early part of September," she added. "This will include the wedding of the founders — in real life — as well as the virtual wedding on September 14, a Golden Touch theater show September 21, and a Pyromusical show put on by PyroVR fireworks. Every Tuesday we now have Edison Rex and Phoenix Enigma performing on our music in the park's venue. Once a month we also have a LexxTech Particle show with Edison Rex composing and playing live — truly an amazing duo of artists — Located on the Skye Sanctuary."
The hypergrid address of the park's venue: utopiaskyegrid.com:8002:Skye Botanical Gardens
The hypergrid address of the Skye Sanctuary: utopiaskyegrid.com:8002:Skye Sanctuary
"Every Saturday we have music from 12 to 6 at Fetish Fire, an adult club that enjoys a lot of visitors," Andel added.
The hypergrid address of Fetish Fire: utopiaskyegrid.com:8002:Fetish Fire
In other grid news, Abranimations, one of Second Life's biggest animations vendor, has made Utopia Skye their OpenSim home.
"We're so very excited about this," said Andel.
The company offers original, high-quality motion capture animations, and accepts the multi-grid Gloebits currency. Utopia Skye is the only place to get official copies of their products.
"One of the reasons I have decided to enter OpenSim now is actually to combat this widespread content theft with a legitimate offering," owner Abramelin Wolfe said in a comment on the company's OpenSim World listing. "If anyone buys these dances elsewhere they are in fact buying stolen content. I have never released our content in OpenSim before, even when it is claimed it has been released with CC0 it is just someone else copybotting and making that claim. I hope honest folk would support us rather than use the stolen copies floating around."
Xmir grid hosts regions on Raspberry Pi
The Rasperry Pi is one of the world's smallest fully-functional computers, and it's now running OpenSim regions on the Xmir grid.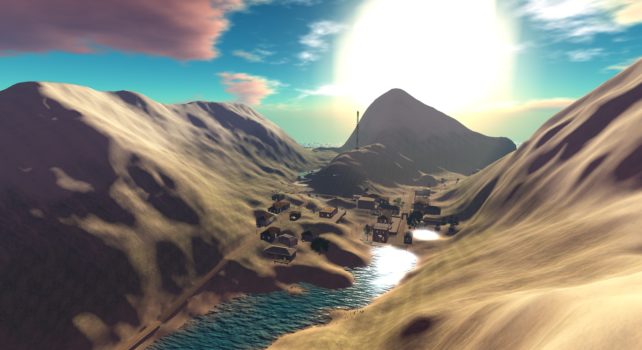 The nine new regions were added after Xmir founder Geir Nøklebye experimented with running the OpenSim region server on the tiny device, and found it worked well.
The landscape is based on OAR files developed by the US Army's MOSES project for their Keating regions, and includes a fjord, a village, and a dramatic gorge, all based on a real location in Afghanistan.
"This comes in addition to the Dayturn variable-sized region that runs on another Raspberry Pi 4B 2GB model," Nøklebye told Hypergrid Business.
Dayturn is a virtual world viewer specifically built for OpenSim. Nøklebye is the main developer on the viewer project, which has been worked on heavily in recent months.
"There are new viewer builds this week with improvements in inventory search, and for the macOS version a pretty nice improvement in region crossings," he said.
GeVolution Grid shuts off hypergrid access
Even as grids and merchants increasingly adopt the hypergrid as a way to reach more customers and get more visitors, some grids are bucking the tide.
This month, GeVolution joined the small group of grids that are closed to hypergrid travelers.
"The market has become saturated with hypergriddable grids and after looking at things it's basically just become a price war between grids that are on the hypergrid," GeVolution grid founder Cliff Hopkins told Hypergrid Business.
Before GeVolution made the change, there were only two closed grids with more than 20 active monthly users — Tag Grid and DreamNation. GeVolution brings that number up to three.
There are two dozen other closed grids on our list, many of them school grids or small private or non-profits or personal grids that don't report their stats. There are also a couple of private role-playing grids that are closed to hypergrid travelers, requiring users to create new local avatars in order to participate in the community. That makes sense for role-playing grids with proprietary game content.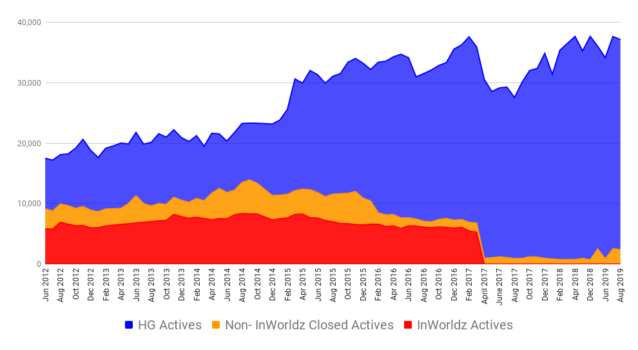 The main problem with having a closed multi-use social grid is that there are only so many avatars that users want to have to create and outfit. They might have their main avatar on Kitely, OSgrid, or Digiworldz that allows them to travel everywhere, and another avatar on their favorite closed grid, such as Tag Grid. But if visiting a new grid requires creating a new account and setting up a new avatar, that's a lot of work to put in. If that new grid also has few users and little content, that work is even harder to justify.
A new grid that's hypergrid-accessible, however, can attract visitors to its parties, stores, or other events and destinations by showcasing them on OpenSim World or social media sites. Since visiting is as easy as clicking a link, it's easier to get people to try the grid out.
GeVolution is not a new grid, however, having been founded more than three years ago. It has about 500 registered users, and reported 171 active users this past month, down from more than 2,000 actives in the spring of 2018.  Since then, the grid has lost users in seven of the nine stats reports we published.
Hypergrid travel does make it easier for people to compare grids, and, if another grid offers better content, more people, or great events residents might be inspired to move to that grid, to be closer to their friends and virtual property.
The hypergrid does allow people to have lists of friends on other grids, send messages across other grids, make landmarks, go shopping, and even rent land. Some smaller grid who don't want to maintain the overhead of user inventories actually encourage their users to keep their avatars on a larger, more established grid. Using an avatar on a large, stable grid also allows OpenSim users to protect themselves from smaller grids that go down for maintenance, close, or have database problems that result in loss of data.
With GeVolution closing its hypergrid doors, for example, its residents are now cut off from their friends and favorite locations on other grids.
For many closed grids, lack of hypergrid access also means a lack of content for its residents. Often, this is promoted as a way to keep out copybotted content, though if users are still allowed to upload objects then this is not much of a deterrent. Grid owners also claim that it helps protect local content creators, since their content can't be taken to other grids. Again, since most content is copybotted on closed grids — such as Second Life — this is also not much of a deterrent to criminal activity. A more significant impact is that it forces grid residents to do their shopping with local merchants, instead of buying content on other grids or the Second Life Marketplace.
New welcome area on 92 Miles Grid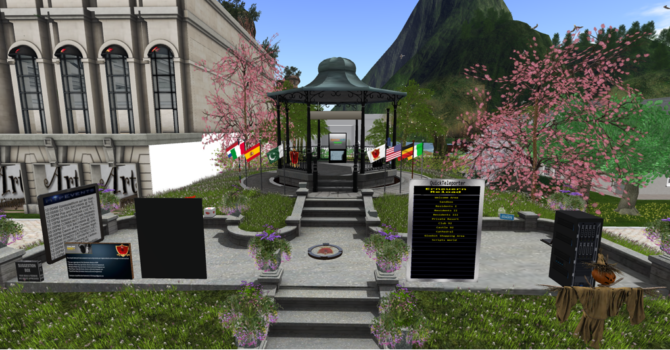 92 Miles Grid, which more than doubled its active user base this month, has been busy.
There are new regions, and a new design for the welcome center.
"Ballroom and Miles Ccity will be upcoming major attractions," grid owner Ehson Miles told Hypergrid Business. "Miles City will focus on community service for counseling and help for people who have special needs and have depression and need counseling. This will be a 'love and live life' concept, and we will try to help them make the right decisions."
Tranquility raises land prices, opens amusement park
Tranquility Grid has raised its land prices, from $4.90 to $7 a month for a 16,000-prim residential region, and the price of 20,000-prim region went up from $7 to $9 a month. Varregions also went up, with the largest, a four-by-four varregion with up to 120,000 prims now $41 a month, up from $38.
I feel ridiculous even writing this, though, because the prices are so low either way.
But if that's too steep for you, the grid also offers free residential parcels, with no time limits, as well as free stores for merchants.
Or you could run OpenSim on our own servers or home computer, and deal with all the hassles of patching and upgrading, maintaining content backups, and troubleshooting router port forwarding issues so that people can visit your land. (Hey, some people like doing that! For them, I recommend the easy DreamGrid OpenSim installer from OutWorldz.)
The price change isn't the only news on Tranquility grid this month.
"Also, we are opening a new Amusement park, with 12 sailing regions attached, on Sunday," grid owner Steve Stewart told Hypergrid Business. "We have been working very hard to make it very low lag, unlike other parks we have visited."
Tranquility is a mid-sized commercial, residential, social and creative grid that typically sees a few hundred visitors a month. It's on the hypergrid, so residents can travel the metaverse freely for business, pleasure, and shopping.
To find out more about what's happening on the grid, join its busy Facebook group or stop by its Discord channel.
Top 40 grids by land area
The list below is a small subset of existing OpenSim grids. We are now tracking a total of 1,447 different publicly-accessible grids, 305 of which were active this month, and 237 of which published their statistics.
All region counts on this list are, whenever available, in terms of standard region equivalents. Active user counts include hypergrid visitors whenever possible.
Many school, company or personal grids do not publish their numbers.
The raw data for this month's report is here. A list of all active grids is here. And here is a list of all the hypergrid-enabled grids and their hypergrid addresses, sorted by popularity. This is very useful if you are creating a hyperport.
You can see all the historical OpenSim statistics here, including polls and surveys, dating all the way back to 2009.
Below are the 40 largest grids by total land area, in terms of standard region equivalents.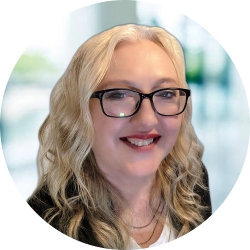 Latest posts by Maria Korolov
(see all)