I belong to a business group in my area that recently expressed interest in setting up a virtual space for its members. The idea is that they could have meetings there, and individual members could get office space to use for their own projects and collaboration.
I was pleasantly surprised to realize that OpenSim can now offer them everything that they need — but not, unfortunately, all in one place.
Maybe there's a vendor out there who can assemble the pieces?
First piece: easy install
A Facebook or Web page plugin like SpotOn3D's — while not perfect — can make it easy for the organization's members to find the world and to load the software that they need to get in.
In fact, SpotOn3D's plugin would work, if the other pieces were there. This particular organization doesn't have a position one way or another about software patents, so the controversy would be a moot point. They'd even be willing to pay extra for the license.
Second piece: easy login
With a click of a button, Kitely takes your Facebook identity and uses it to create your first avatar — then launches the world and takes you right in to your starting area. SpotOn3D's plugin does something very similar.
For this organization, we'd want to create generic, business-appropriate starting avatars — one male, one female — that are automatically picked for the user based on their Facebook gender. Once in-world, they'd have more dress choices, but the main idea is to eliminate any need for decision making prior to world launch.
Third piece: voice
For business meetings, good in-world voice is a must. Second Life and Avination currently offer Vivox voice, the gold standard for virtual environments.
However, Whisper-Mumble would also work, as long as the users didn't have to do anything to install it. Instead, the plugin mentioned in the first piece would have to install the Whisper-Mumble software code to replace Vivox.
Fourth piece: OAR and IAR exports and imports
There are some wonderful pre-built OAR files out there, and more coming out all the time. Self-serve OAR imports would allow the organization to use any of them, to buy custom-made ones, or to create its own. Self-serve exports would allow it to save existing OAR files for later use.
For example, the organization could create a set of OAR files for its annual meeting, with space for vendor booths, panel discussions, and other conference-type features. These OAR files could be stored away when not in use and replaced with more generic, general-purpose meeting space.
IAR exports and imports would also allow the organization to move avatar inventories as well — a must when switching vendors. The organization is a non-profit, so if another vendor comes along with a better deal or better service or better features, the move should be as easy as possible.
As a side benefit, vendors that make it easy to leave also tend to be the same vendors that make it easy to stay, keeping up-to-date with technology and pricing.
Another factor that comes into play here is ownership of content. The organization would not want to give up any intellectual property rights. Instead of a Second Life-style Terms of Service (TOS), it would need a Web hosting-style Service Level Agreement (SLA), instead. The difference is that the TOS limits the rights of the users — while the SLA mandates a certain level of performance on the part of the vendor.
The organization would take upon itself to police its grid and its members to ensure that there are no intellectual property violations.
Fifth piece: hypergrid switch
Since the organization plans to use their virtual world as a starting point from which to learn about the technology, the ability to teleport to other grids is a must.
However, hypergrid connectivity may be inappropriate at certain times or during private events. This requires a self-serve hypergrid on-off switch, as offered by PioneerX Estates and Talent Raspel.
Sixth piece: Maintenance and support
The organization doesn't intend to get into the virtual worlds hosting business, so the vendor would need to take care of the OpenSim install and upgrades, backups, and technical support.
The vendor doesn't have to provide in-world services, however, such as new user orientations, building or design, or event management — the organization will take care of this on its own.
The vendor would have to ensure that the organization's grid is running the latest stable version of OpenSim, and have staff on hand to reboot servers or restore backups as necessary.
Seventh piece: price and scalability
Obviously, with infinitely deep pockets the organization could hire developers and have all this put together for them. Unfortunately, that's not the case.
Instead, the organization would need to start small — with just four regions — but have the option to add more regions as requirements increased.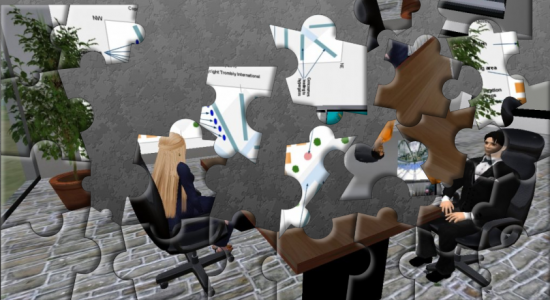 All of these pieces are already available — from different vendors. Many OpenSim vendors have great prices and allow customers to start small. A couple of vendors offer self-serve exports and imports and hypergrid switches, and a couple offer Facebook-based avatar creation.
But nobody has it all in once place — as far as I know.
But then, I've been offline recently, dealing with storms and holidays. Maybe somebody has put it all together while I wasn't watching?
Latest posts by Maria Korolov
(see all)