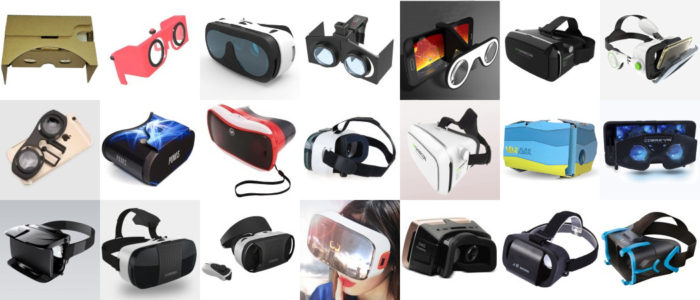 Did you just get a Cardboard-compatible virtual reality headset?
You can tell if you have a mobile headset by the fact that it weighs very little, costs very little, and does not plug in to your computer. Instead, it has a place where you put in your smartphone. Then, if the package does not say "Gear VR" on it, you have a Cardboard-compatible viewer.
Before you do anything else, download the Google Cardboard app from the Google Play store for Android or from the iTunes store for the iPhone.
Configuring your viewer
Now you have to tell your phone what kind of headset you have. This is important, because different lenses distort the picture differently, and the phone has to know the curvature of the lenses, and how far they are from the phone, and so on. To do this, you need a Google Cardboard QR Code.
It looks like a regular QR Code, except that there's a Cardboard outline in the middle. For example, here's the Google Cardboard QR Code for the Mattel View-Master: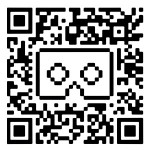 You might find one printed on the headset itself, in its instructions, or on the box it came in. If you can't find it, check to see if it's on our QR Codes page. Keep in mind that some headsets are sold under multiple brand names, so make sure that the picture matches your particular headset. If you still can't find your QR Code — there are hundreds of manufacturers and I don't have the codes for all of them — then I recommend that, first, you contact the seller and complain. Then, email me and ask for help, at [email protected]. You can also try the QR Codes for other sets until you find one that is close enough, or create your own — it only takes a few minutes.
Okay, you now have a Google Cardboard QR Code.
Now open the Google Cardboard app and click on the three dots in the top right corner of the screen.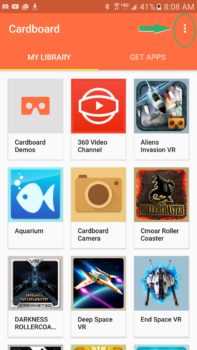 That brings up the settings menu.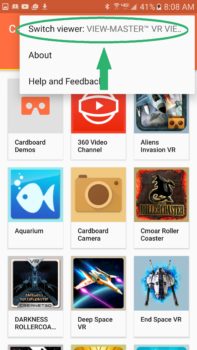 Click on the first option, "Switch viewer."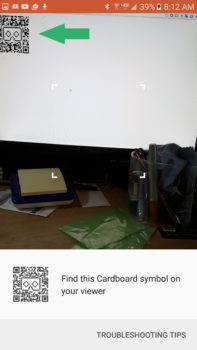 This activates your phone's camera. Point the camera at a picture of your QR Code. If you use our QR Code page, click on the QR Code first to open up the image, so that it's the only QR Code on your computer screen.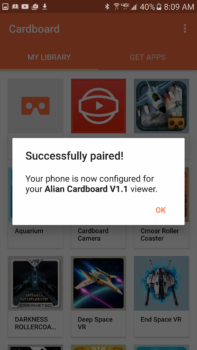 You should then get a confirmation message.
Where to get VR apps
You can run any of the apps that are recommended in the Google Cardboard app.
There is also a list of VR apps that Google recommends on its featured Cardboard Apps page.
There is also a large catalog of VR apps for both Android and iPhone, as well as other VR platform, at WeArVR.com. They also have ratings and lists of recommended apps in various categories.
AppZoom also offers a complete list of all Google Cardboard applications for Android and iOS, which you can sort by popularity, user rating, price, and other features.
Finally, you can search for the keyword "VR" on either app store.
The most popular app for Cardboard users is YouTube. Here is how to watch YouTube videos in VR.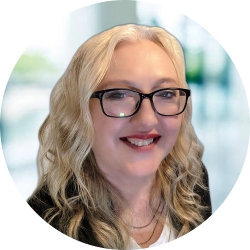 Latest posts by Maria Korolov
(see all)