A couple of years ago, I described how we were using the Open Wonderland virtual environment platform to host polls for users to express their opinions about proposed governmental policies, as part of  the +Spaces project.
In the next stage of the project, we have taken a look at another way of engaging citizens: debates.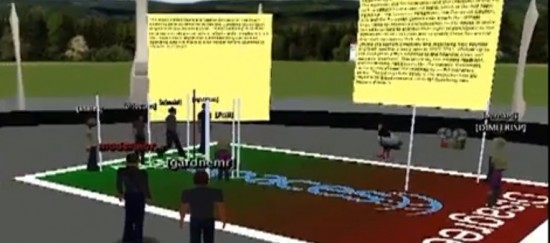 The video below is a very shortened version of a test debate that took place in the middle of February 2012. The participants were students from the University of Essex in the UK, along with project partners from the National Technical University of Athens (NTUA) and the Hellenic Parliament. The debate is fairly formal: it has a fixed time slot, a moderator — in this case a researcher from NTUA — and participants who are asked to comment on a particular topic under discussion, suggested by someone taking the role of a policy maker — a representative of the Hellenic Parliament.
You can see from the video, that we've developed a couple of extra modules to enable the debate. These are:
A "carpet" in which participants can vote, by pressing a button
A "pigeon" that displays messages arriving from other virtual spaces — in our case Facebook and Twitter — that are also hosting the debate
A list of links with URLs relevant to the topic under discussion.
The debate uses existing Wonderland modules such as the Sticky Note and the Audio Recorder.
(Unfortunately, the audio at the beginning of the video is poor due to a high latency wireless connection, it improves once we were able to patch the recording from the audio recorder into the video.)
The feedback we received from the participants was positive.
Generally, they really liked the "carpet," but there was some discussion about whether or not users' names should be displayed on the poles that represent votes. Some valued anonymity, and others wanted to know who had voted for or against.
In the next stage of the project, we are looking at using Wonderland to host role-play simulations of policies. We hope to complete that by Summer 2012.
(Adapted with permission from Wonderblog.)
Latest posts by Bernard Horan
(see all)