A new online publication, Grid Press, is looking for writers to cover OpenSim grids. Contributor Linda Henson — better known as Linda Kellie of LindaKellie.com — urged writers to submit reviews of grids and of individual regions, to write about their virtual lives, and to contribute news and opinion articles.
"You can write about anything that you think would be of interest to the virtual world community," she wrote.
Writers can submit pieces that have appeared on other blogs, and grid managers can submit articles about life on their grids.
"You can submit press releases there or you can do feature stories on your newest technology or new pricing changes or just about anything," she wrote.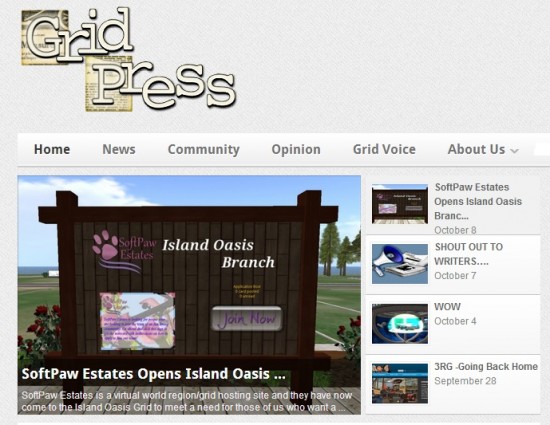 Previously, consumer-oriented OpenSim coverage was limited to occasional articles in Second Life-focused publications and the occasional Hypergrid Business article, but  Hypergrid Business is primarily focused on business aspects of OpenSim rather than lifestyle issues. In addition, Hyperica occasionally runs lifestyle articles, but since the site is primarily a hypergrid directory, coverage is limited to hypergrid-accessible destinations.
Individual bloggers, including Ener Hax, Linda Kellie, Virtual Christine,  Gaga Gracious, Daniel Voyager, Gwyneth Llewelyn Fleep Tuque, and Wagner Au of New World Notes, also regularly or occasionally touch on OpenSim-related topics. These blogs either present just one person's point of view, however, or only touch on OpenSim once in a while.
A site dedicated to just OpenSim, from the residential consumer or casual visitor point of view, is a great resource not only for grid managers and event planners looking to connect to these users, but also for advertisers looking for a way to reach the OpenSim-specific retail audience.
Grid Press was founded by virtual world entrepreneur Timothy Rogers, head of OpenSim hosting company SoftPaw Estates.
Latest posts by Maria Korolov
(see all)