Last updated Feb. 19, 2015: Please click here for latest list of Metaverse Communities.
Staying on top of metaverse news and developments is hard. And getting help when you need it can be even harder. Fortunately, there are several online communities where OpenSim users share information and advice. Join in, ask away, and help out when you can.
OpenSim Virtual and other communities on Google Plus
OpenSim Virtual has rapidly become the go-to place for discussions about OpenSim, with more than 1,100Â members.
Lots of discussions going on here. People post links to useful articles, share content, post event announcements and special offers, and ask for advice.
It's a friendly, open and welcoming community.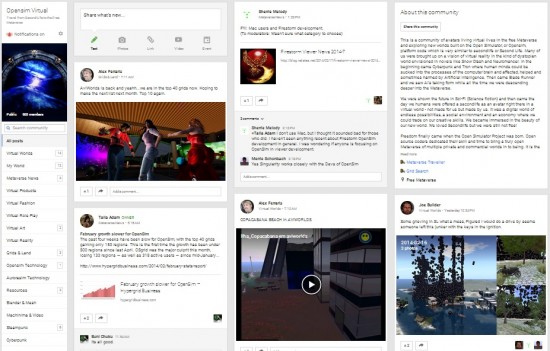 Other useful OpenSim and hypergrid-related Google Plus communities include:
You can also follow the Google Plus Hypergrid Business page.
Community websites
A few sites have come and gone, trying to become the central meeting place for OpenSim users.
Avatar Social Network has become a popular place last year, with a big marketing push. SL Universe is an online discussion board that occasionally goes beyond Second Life issues to OpenSim. Similar online social networks include  Second Friends, SLX Connect, Moolto,  SL Space, and 2ndhub.
For content sharing, OpenSim Creations used to be the number one destination, with a wide variety of content, a large number of contributors, and an instant chat function, but closed down a couple of months ago due to technical difficulties.
OpenSim City is still active, with a forum, a place to share content, personal blogs, and a multi-grid events calendar.
And other social media platforms are used by avatars as well, including Flickr, Pinterest, Twitter, YouTube, and LinkedIn.
Grid forums
Many of the larger grids, both commercial and non-profit, have forums or discussion boards on their websites. These forums are often excellent resources for events, content, and advice.
The OSgrid forums are the most comprehensive, and a great resource for any OpenSim user, including those on other grids and running private grids and regions. It's very active, with event announcements, technical discussions, building and scripting help, tutorials, viewers, and more.
Other grids with active forums include InWorldz, Kitely, Avination, Metropolis, Littlefield, FrancoGrid, GermanGrid, Virtual Highway, and Dorena's World's GridTalk.
Mailing lists, Twitter and IRC groups
OpenSim Users is a great mailing list to subscribe to, and very active, with 357 members. You can sign up for the list here.
And, for educators, the SLED mailing list is a must, and people discuss both Second Life and OpenSim. You can sign up for SLED here. A more OpenSim-focused list is the Opensim Educators Mailing List, with 26 members. You can sign up for it here.
And when I first tried to set up my own mini-grid, the IRC chat rooms wesere a great, fast place to find help — if people are around. You might need to check in a few times, however, to find a time when there are people on who can help. The OpenSim IRC channel is here. The OSgrid IRC channel is here.
Many grids and individual OpenSim users also have Twitter accounts — too many to list them all! However, for your convenience, you can check out my Virtual Worlds Twitter list which follows 453 people and companies. You can follow individual accounts on this list, or just follow the entire list — it currently has 104 subscribers. A slightly more narrowly-focused list, of just OpenSim grid accounts, is my OpenSim Grids Twitter list, which covers 77 grids and has 15 subscribers.
Facebook groups
There are several large groups on Facebook where people discuss virtual environments and related issues.
Singularity Network, with 10,247 members, is a closed group that you have to ask to join.
Virtual Worlds, with 5,126 members, is an open group, that covers Second Life and beyond. Virtual Worlds Association covers Second Life, OpenSim and the hypergrid, with 824 members. And there's another group also called Virtual Worlds, with 444 members.
More OpenSim-specific, there's New OpenSim, with 593 members, Open Simulator, with 185 members, Opensim Standalone & Co., with 162 members, and OpenSim News is also pretty active, with several recent announcements and 125 members.
Other groups include Virtual Worlds – Best Practices in Education, with 1,525 members, Virtual Worlds Education Roundtable, with 1,081 members, Immersive Worlds Plus, with 1,280 members, and Virtual Reality, with 482 members, which seems to have started out as just a group for Virtual Reality Grid members but has grown to encompass a wider array of people. There's also Immersive World Education Outreach, with 468 members, Virtual World Educators, with 310 members, and Federal Virtual Worlds Challenge, with 114 members,
Facebook is also a popular place for grids to post news and event announcements, since more people check their Facebook feed than visit a grid's home page.
Grids either have groups with members or pages that people can like — including InWorldz Creators & Builders, with 1,840 members, Avination, with 450 members, Another World, with 389 likes, Logicamp, with 367 likes, Kitely, with 252 likes, Everything about InWorldz, with 215 members, Craft Grid, with 182 members, OSGrid, with 166 members, InWorldz.com, with 164 members, the Unofficial InWorldz Advertising Group, with 151 members, Island Oasis LLC, with 136 likes, 3rd Rock Grid, with 109 members, VIBE, with 92 members, AviWorlds - Brasil, with 91 members, GermanGrid, with 90 members, Metropolis Opensimgrid, with 65 likes, FrancoGrid, with 61 members, Virtual Worlds Grid, with 50 members, Avination Live Music, with 33 members, and Littlefield Grid, with 16 likes.
LinkedIn groups
For the more professionally inclined, LinkedIn also offers some resources and professional networking opportunities for OpenSim users.
You should also check out the LinkedIn pages for Virtual Worlds, with 4,134 members, Virtual World Professional Networkers, with 1,595 members, Virtual Worlds Roadmap, with 915 members, Virtual Currency, with 872 members, Serious Games and Virtual Worlds, with 802 members, 3D Serious Games and Simulations For Training, with 730 members, OpenSimulator, with 506 members, the OpenMetaverse Foundation, with 147 members, Kitely, with 42 followers, the MOSES grid, with 68 members, and OpenSIM – Virtual Worlds, with 9 members.
There's also the Hypergrid Business LinkedIn page, with 177 followers.
Are any communities missing? Please add them in the comments!
Latest posts by Maria Korolov
(see all)