Designing Digitally, Inc. Develops HTML5 Version of Drive Vermont – DMV Drivers Training Online Learning System for the State of Vermont.

Drive Vermont has helped over 10,000 permit drivers learn the rules and regulations of driving in the State of Vermont.

Franklin, OH  – Designing Digitally, Inc., a full-service interactive design company, has partnered with the State of Vermont's Department of Motor Vehicles to create an innovative learning experience for learner's permit drivers in Vermont.
This HTML5-developed free interactive program has been designed to help residents of Vermont learn to drive safely. The user-friendly system is visually appealing and accessible across multiple devices.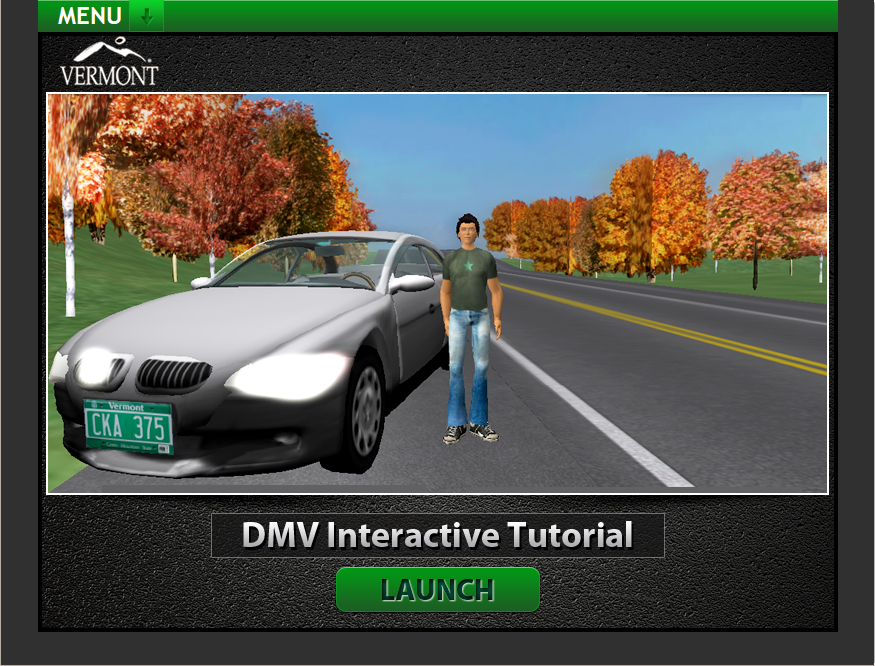 The specifications for the project included accessibility features as well as access for users with low bandwidth or limited computer systems. With this in mind, Designing Digitally, Inc. built a fully HTML5 interactive learning experience that works on all major platforms and tablets. Logging in allows users to start back where they left off at any time, leaving them free to explore each 3D lesson at a comfortable pace. To reinforce what they've learned, users will encounter scenario-based questions that include multiple choice, drag and drop, matching, and even controlling a virtual vehicle. At the end, learners will take a simulated drivers exam which prepares them for the DMV-issued exam they must pass to receive their driver's permit.
The HTML5 learning experience was developed with a web-based back-end learning management system to make it user-friendly for Vermont DMV's administrators. By logging into the control panel, administrators can review all analytical data about students, groups, quiz questions, and the learning experience as a whole. They can also edit assessment questions at any given time. This allows the State of Vermont the freedom to update the system on their own as their policies and procedures evolve.
Abby Hughes, Director of Business Affairs at Designing Digitally, Inc., remarked that, "Developing this tool for the Vermont DMV has been a great experience. It is always a delight to work with them."
You can visit Drive Vermont at:Â http://drivevermont.vermont.gov/
Latest posts by Maria Korolov
(see all)