Press Release: Duke Center to Participate in White House Science-Education Effort
DURHAM, N.C. — Duke University is playing a major role in the new White House campaign to encourage students — especially in middle and high school — to pursue science, technology, engineering and math (STEM).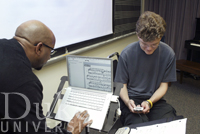 The third-annual Digital Media and Learning Competition will award $2 million in support of participatory learning experiences that incorporate STEM principles. The competition launches Dec. 14 and winners will be announced in spring 2010.
The competition, funded by The John D. and Catherine T. MacArthur Foundation, will be administered by a network of educators and digital innovators called "HASTAC" (the Humanities, Arts, Science and Technology Advanced Collaboratory). HASTAC was founded and is primarily operated at the John Hope Franklin Humanities Institute at Duke and the University of California Humanities Research Institute at the University of California, Irvine.
"Lifting American students from the middle to the top of the pack in STEM achievement over the next decade will not be attained by government alone," said President Obama at an event today (Monday) announcing the "Educate to Innovate" campaign. "I applaud the substantial commitments made today by the leaders of companies, universities, foundations, nonprofits and organizations representing millions of scientists, engineers and teachers from across the country."
Duke professor Cathy N. Davidson, who along with David Theo Goldberg of the University of California are the co-founders of HASTAC, said she is proud that an interdisciplinary humanities-inspired network like HASTAC has a leadership role in administering the Digital Media and Learning Competition "and is so central to President Obama's vision for education in the 21st century. We welcome a new era of literacy that extends across all of the human, social and natural sciences, and we are inspired by this opportunity for innovation in education."
Awards will be given in two categories:
— 21st Century Learning Lab Designers will receive awards for learning environments and digital media-based experiences that allow young people to grapple with social challenges through STEM-based activities. Digital media of any type (social networks, games, virtual worlds, mobile devices or others) may be used. Proposals are also encouraged for curricula or other experiences that link or connect to any game, especially but not limited to Sony's LittleBigPlanetâ"¢ on PlayStation®3.
— Game Changers awards recognize creative new games or additions to Sony's LittleBigPlanetâ"¢. These games and game expansions should offer young people engaging game-play experiences that incorporate principles of science, technology, engineering and math.
As part of their prize, awardees will receive special consultation support on everything from technology development to management training. Winners will be invited to showcase their work at a conference that will include venture capitalists, entrepreneurs, educators and policy makers seeking the best ideas about digital learning.
"MacArthur is pleased to team with Sony and National Lab Day to encourage the next generation of innovators to focus on science, technology, engineering and math. Digital media, including games, are the learning labs of the future and this open competition encourages people to consider creative new ways to use digital media to create learning environments that are engaging, immersive and participatory," said Connie Yowell, MacArthur's director of education. "This competition will help ensure that the new and highly engaging approaches to science, technology, engineering, and math find their way into schools, libraries, museums, and other spaces for learning."
_Â Â Â Â Â Â Â  _Â Â Â Â Â Â Â  _Â Â Â Â Â Â Â  _
The HASTAC competition is supported by a grant from the John D. and Catherine T. MacArthur Foundation to the University of California, in collaboration with Duke. The University of California Humanities Research Institute and Duke's John Hope Franklin Center are the principal administering bodies for the grant on behalf of HASTAC.
For more information about the competition, visit dmlcompetition.net.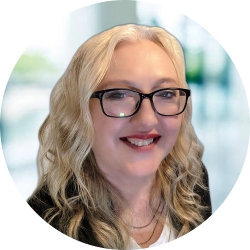 Latest posts by Maria Korolov
(see all)