PRESS RELEASE: Introducing the New COMDEX, the Next Generation in Virtual Events
Creating a Global Connection for the Technology Sales Community
Framingham, MA, March 4, 2010 – Everything Channel, a UBM company and the leader in technology sales channel media and services, today announced the re-launch of COMDEX as a virtual event.  The virtual COMDEX is the only show designed exclusively for the global technology sales channel where they can come to see product and technology they can bring to market.  Everything Channel is returning COMDEX to its original vision as Computer Dealer Expo, an event designed exclusively for the technology sales channel, a community that drives $424 billion or two-thirds of technology sales in North America. (Source: Dataquest)  The virtual COMDEX will be built on a cutting-edge, globally-enabled virtual event technology platform which will feature the city of Las Vegas and its neon lights – but no cross town traffic, no unruly crowds and no taxi cab lines.
The virtual event, scheduled to take place November 16-17, 2010, will offer a unique and progressive platform for technology vendors to connect with new business, new revenue streams and monetize new opportunities.   It will also provide a forum for the sellers of technology to visit with technology vendors to view new products and technology roadmaps.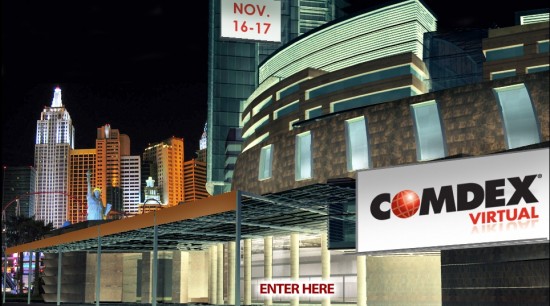 "The technology sales channel drives two-thirds of technology sales worldwide," said Robert Faletra, CEO, Everything Channel.  "We live in a globally connected world and a virtual COMDEX gives us the ability to connect this powerful market which is now untapped.  When COMDEX first launched it was positioned as a show for the technology sales channel, we are pleased to bring it back to its initial mission."
With time constraints and an audience that cannot always travel, COMDEX will complement Everything Channel's live events by building new relationships and connecting existing relationships.  Additionally, COMDEX will showcase Everything Channel's extensive offerings including superior content, media services, education, consulting, research as well as field sales and marketing.
COMDEX's virtual environment, created by UBM Studios, a creative and strategic marketing agency which specializes in building next-generation virtual media business solutions, connects a global audience of technology sellers through a robust virtual event environment with an intuitive user interface and appealing visuals.
The Grand Hall of Masters will showcase the events keynote speakers.
The Conference Hall will offer technical, product, channel and business training for the sellers of technology through a wealth of content and conference tracks.  Everything Channel journalists and analysts as well as technology industry leaders will present sessions.
The Exhibit Hall will offer booths and pavilions where technology vendors can meet with technology sellers to communicate strategies, product value and programs.
Hospitality Suites will be available to host private meetings, briefings and cocktail parties with customers, partners and media.
The Media Room will host registered journalists and industry analysts and will provide exhibitors with a venue to brief media contacts.
The CRN Test Center will offer live reviews and demos of the industry's most compelling and leading-edge technology solutions.

The key components of COMDEX include:
To register to attend the event, visit: www.comdex.com
To follow COMDEX on Twitter visit https://twitter.com/COMDEXvirtual and to follow COMDEX on LinkedIn visit COMDEXvirtual.
.
For sponsorship or exhibitor opportunities, contact Nancy Hammervik, SVP of Events, Everything Channel at [email protected] or (516) 562-7679.
Media interested in pre-registering to attend the event, contact Nancy Hammervik, SVP of Events, Everything Channel Events at [email protected] or (516) 562-7679.
About Everything Channel (www.everythingchannel.com, www.channelweb.com)
Everything Channel, headquartered in Framingham, MA, is a technology marketing and sales solutions company.  Through its "Complete Technology Channel Solution," Everything Channel offers the right business tools to accelerate technology sales.  From branding and recruiting to marketing and sales, Everything Channel offers technology marketers the unmatched breadth and depth of global brands and market intelligence combined with unparalleled audience loyalty and credibility serving all technology sales channels through an extensive database.  Everything Channel provides innovative field sales and marketing solutions to the sellers of technology to achieve measurable and significant results.
About United Business Media Limited
UBM (UBM.L) focuses on two principal activities: worldwide information distribution, targeting and monitoring; and, the development and monetisation of B2B communities and markets. UBM's businesses inform markets and serve professional commercial communities — from doctors to game developers, from journalists to jewelry traders, from farmers to pharmacists — with integrated events, online, print and business information products. Our 6,500 staff in more than 30 countries are organised into specialist teams that serve these communities, bringing buyers and sellers together, helping them to do business and their markets to work effectively and efficiently. For more information, go to www.ubm.com

Latest posts by Press Release
(see all)